Live Action Fan-Film 'Odyssey: A Star Wars Story' Gets A Brand New Trailer
The most awaited moment for Odyssey: A Star Wars Story fans is here. MAV Films, LLC has finally released the official trailer for their upcoming fan film. Check it out!
"You wanna believe you just joined a cause. But you became a soldier."
MAV Films, LLC has debuted an official trailer for an unofficial Star Wars fan film titled Odyssey: A Star Wars Story. We covered the Kickstarter project led by writer/director Mark Vogt in great detail back in early February. So far, we've only seen one teaser trailer and a few behind-the-scenes reels for the fan film. That's left people following its progress hungry for more juicy details. However, recently their website unveiled a countdown for the official trailer, and now we have it to share. Finally we have a trailer for Odyssey that gives us a fresh look at what looks to be an emotional roller coaster ride that rewards Star Wars fans with simplistic storytelling.
For those unfamiliar with Odyssey, the story follows Quinn, a boot rebel on his first recon mission. When the mission goes horribly wrong, it's up to him, along with a group of reconnaissance rebels, to fight for their lives and beliefs against the rising Empire.
For most fans, their favorite Star Wars adventures go much deeper than the official series of films and television. Star Wars is a big galaxy, and fan films like these leave their mark on those hungering for more Star Wars beyond the films. The trailer itself is pretty much perfect from start to finish, but the realistic fighting scenes, all the smoke and the hail of blaster fire create something very beautiful. That's not easy to do in a low-budget Kickstarter fan film.
There are few nods to Rogue One: A Star Wars Story in the trailer, such as battle scenes set against tropical beaches that give it a World War II feel and the desperation the reconnaissance squad feels in accomplishing their mission and surviving it. But more than that, in just over a minute, you get a real sense of weight and meaning not felt in other films of this genre.
Though this trailer doesn't really give any indication as to the film's plot or main premise beyond its epic battle scenes, there's nonetheless a lot going on here. What really intrigues me is how the short trailer shows us the constant pressure soldiers face on the battlefield and how it can follow and strip them of their humanity. That is something that's going to separate this film from other fan projects.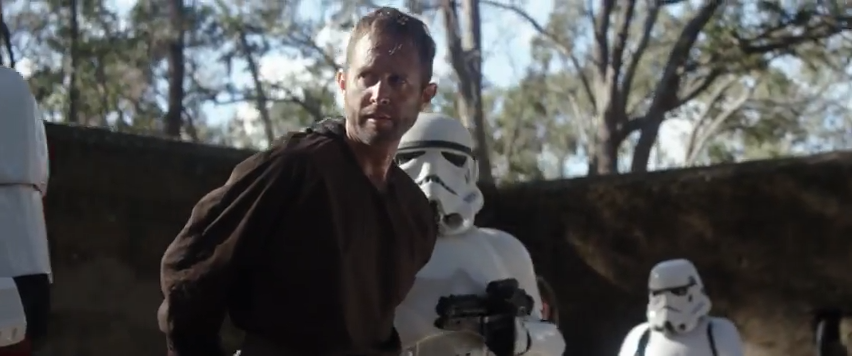 Fans that have been following the project are still eager to learn even more about the film, but for now, we can sit back and watch a brand new trailer.
Check out the new Odyssey: A Star Wars Story trailer below:
You can follow along with the production via their Facebook and official website. Odyssey: A Star Wars Story will make its online debut May 25, the same day Solo: A Star Wars Story hits theaters.
May the Force be with you….