'Obi-Wan Kenobi' Full Trailer Breakdown and Speculation
The final trailer for Obi-Wan Kenobi has arrived, and what kind of fan-run Star Wars news site would we be if we didn't write a proper trailer breakdown article? So here it is, let's dive into the new trailer for the upcoming Disney Plus series. If you need to watch it again before proceeding, by all means. You must do what you feel is right, of course. 
The trailer opens with a new arrangement of Duel of the Fates, which almost sounded like the musical theme from a Saw movie at first. Star Wars is well versed in lost limbs, so that fits, I guess. Jokes aside, it is interesting we didn't get Battle of the Heroes, which in my opinion is a closer tie to the connection (and battle) between Obi-Wan and Anakin. Perhaps they are saving that to thread into series itself. 
The first shot after the Lucasfilm logo (above) has the Fifth Brother of the Inquisitors leading eight stormtroopers through the streets of our new Blade Runner-looking planet Daiyu, which I said in a previous piece, reminds me a lot of the unfinished Star Wars 1313 television series George Lucas was developing. In other shots at this location, we saw Obi-Wan hooded and doing some detective work of his own. Are we in for a cat and mouse chase at this new location? We've seen Reva, the Third Sister, on Daiyu as well. It will be interesting to see exactly when Obi-Wan heads here, and why. If you've been following some of our other reports on Obi-Wan Kenobi, you might have figured out the impactful reason that pulls the legendary Jedi out of hiding and off of Tatooine.
I think this all will take place after the Inquisitors arrive on Tatooine and threaten the locals in an effort to obtain any information they might have on Obi-Wan's, and other Jedi's, whereabouts. The line "They're coming. Stay hidden, or we will not survive" might be Kenobi talking to another Jedi on Daiyu after he somehow learns that they are on his trail to the neon-lit location. I have seen several speculate Kumail Nanjiani could be a Jedi on the run, so it might be him. From the one shot he appears in, he seems to be in distress and dressed Jedi-ish.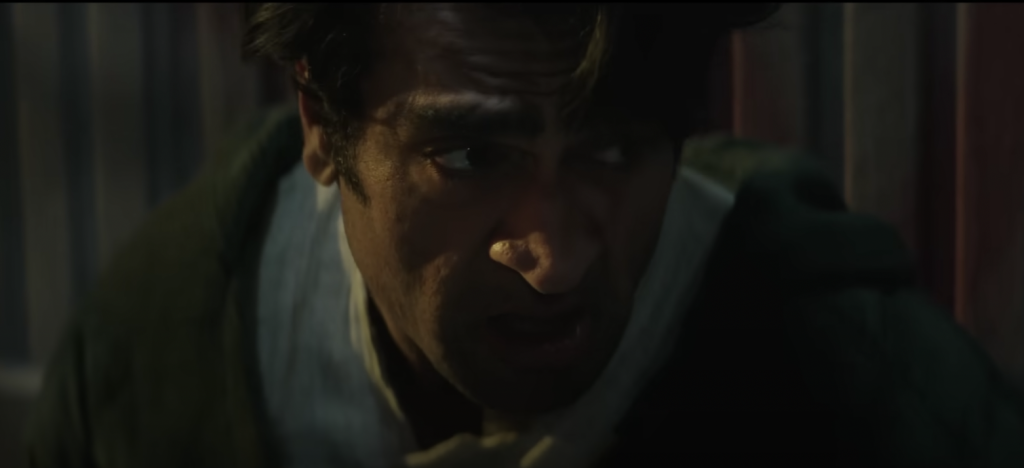 The trailer then takes us to a classic Star Wars arrival scene. We've seen Darth Vader walk down many ramps surrounded by dramatic amounts of smoke and steam, or dry ice, or whatever. Now it's the Inquisitors' turn, specifically, the Grand Inquisitor played by Rupert Friend.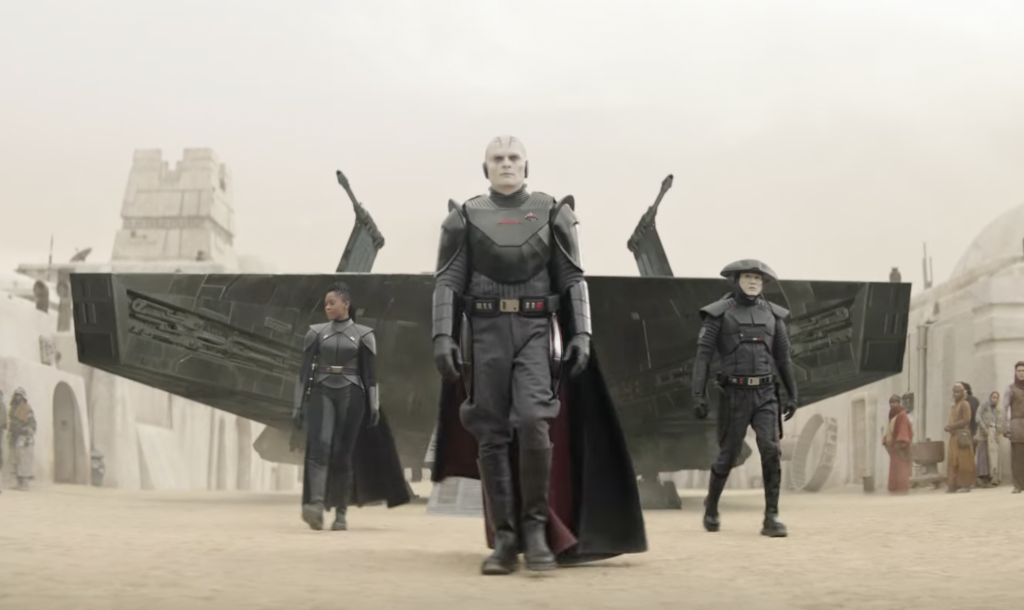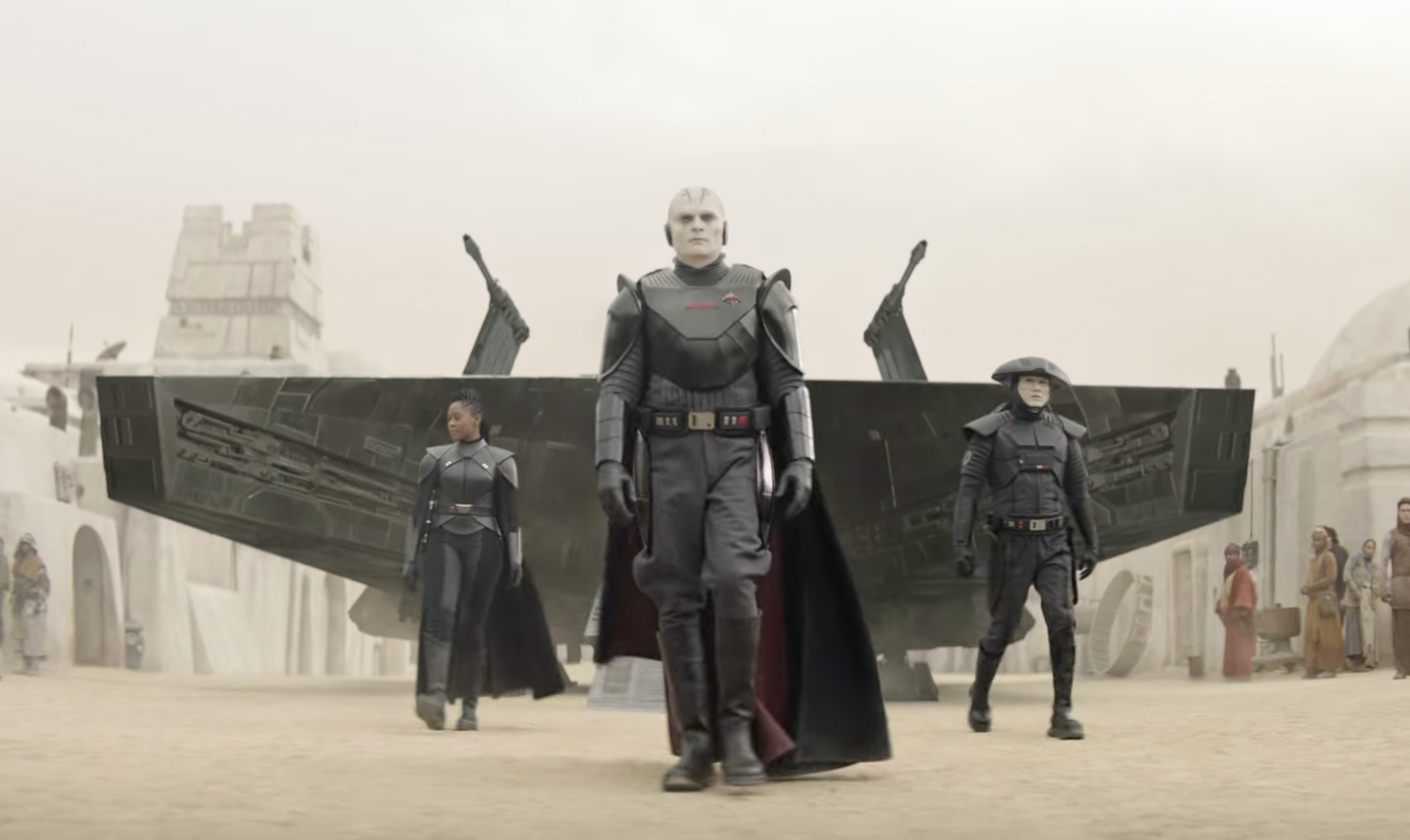 He is flanked by the aforementioned Fifth Brother and Third Sister, so I believe this takes place before they head to Daiyu. Obi-Wan is likely already gone at this point, or they JUST missed him, which would check off another exhilarating Star Wars trope, the always exciting narrow escape. As we reported back in March, Obi-Wan will more than likely leave Tatooine from a familiar location on the desert planet that will be making its on-screen debut after 45 years.
Another Inquisitor that hasn't been talked about as much as the Fifth Brother and Third Sister, who has been confirmed by a caption in an official image for Disney, is the Fourth Sister on the left of the image below, played by Rya Kihlstedt. On the right we have Indira Varma as an Imperial captain.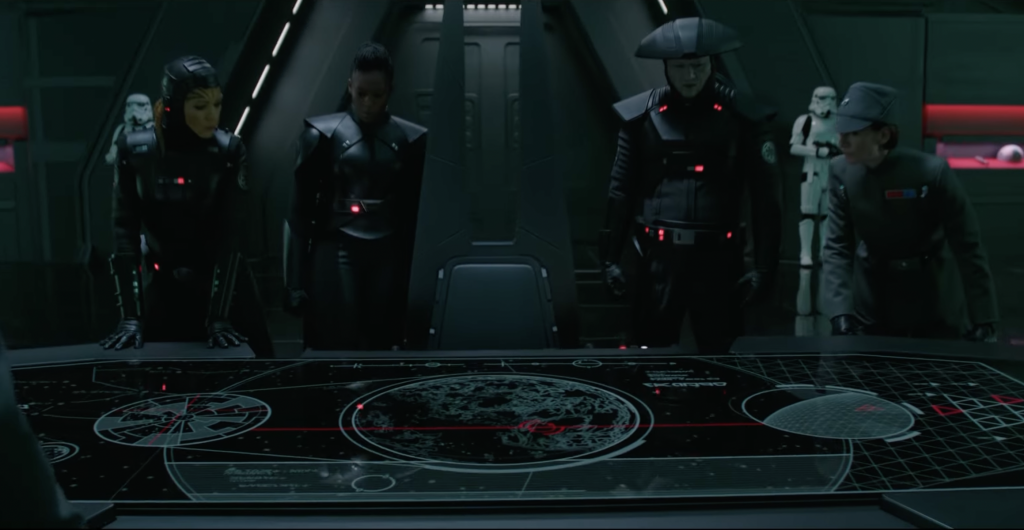 We get a few shots from the first teaser again, specifically the MEME-generating shot of Obi-Wan watching over Luke with a fresh set of macronoculars from a distance, and are immediately thrust into the meat of the trailer fortified by a protective Owen Lars confronting a dedicated and promise-holding Obi-Wan Kenobi. The purpose of this series isn't to fool us, but deliver a dynamic story that will enrich what we already know, especially since we know who survives the series and what their beliefs and convictions are in A New Hope, nine years later in the canon timeline. If social media is any indication, this has been the most talked about and quoted part of the trailer, a trailer that includes brief shots of the franchise's golden goose Darth Vader, which speaks volumes.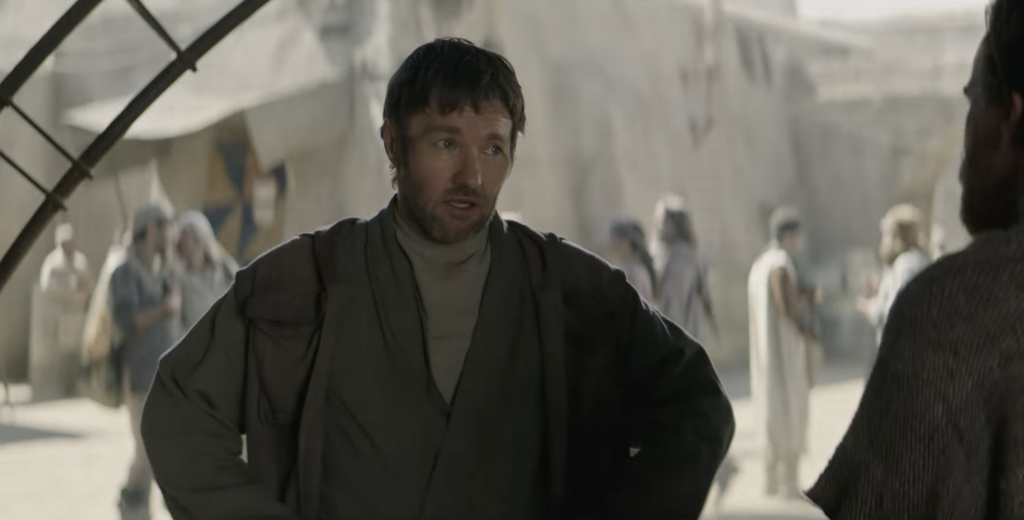 Owen Lars: Leave us alone.

Obi-Wan: When the time comes, he must be trained.

Owen: Like you trained his father?
That GIF is from the movie Easy A, which has nothing to do with Obi-Wan Kenobi, but that was a sick burn by Owen.
Okay, I'd better get on with my exercises. Back to business. When I watch that back-and-forth between Owen and Kenobi (which will have a lot more to it without question) and juxtapose it against Owen standing face to face with Reva (the Third Sister) from the officially released images a few weeks ago, I can't help but feel Owen reluctantly, but with some sort of obligation he doesn't quite understand, is covering for Kenobi. I feel as though Owen believes Obi-Wan is good and trying to do what's right, but it's not enough for Owen to allow him to put Luke in danger.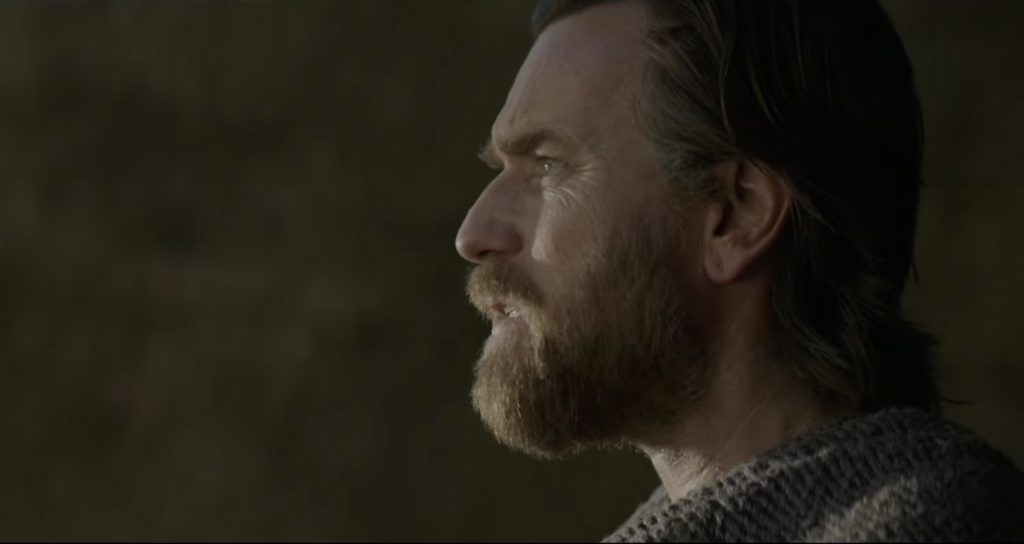 Now for the quote that is out of context, out of place, and leading to a lot of speculation:
"You still want Kenobi. He's gone."
So, who is this? Is this the Grand Inquisitor talking to a likely obsessed Darth Vader?
We have Imperial Probe Droids pods being launched out of the Inquisitor's headquarters, as if you listen closely, you can hear their distinct sound ("man over the fence" for my TRB faithful) as they whiz through space to their destinations in an effort to find Jedi, and perhaps the big fish himself, Obi-Wan Kenobi.
We then hear Reva, the Third Sister, saying "Maybe you've been looking in the wrong places."
So, are the probe droids a method proven to have not worked, forcing the need for the Inquisitors and bounty hunters? Is the Empire feeling pressure, from the top of the food chain? Palpatine? Okay I am really running away with this, but Ian McDiarmid did recently all-but confirm an appearance in one of the upcoming series set during the time Palpatine was very much alive and running things, so it's either Obi-Wan Kenobi or Andor, or both! Sorry, but very much not sorry to anyone tired of Sheev.
Okay the shot above is just clumsy and random, and quite frankly, uncivilized. Look at the downed probe droid and stormtrooper. Has Obi-Wan has become Dirty Harry in the decade since cutting down Anakin over the fiery coals of Mustafar? Onward.
Some other very dynamic shots from the trailer that add to the spectacle of what should be a very grand and cinematic looking series.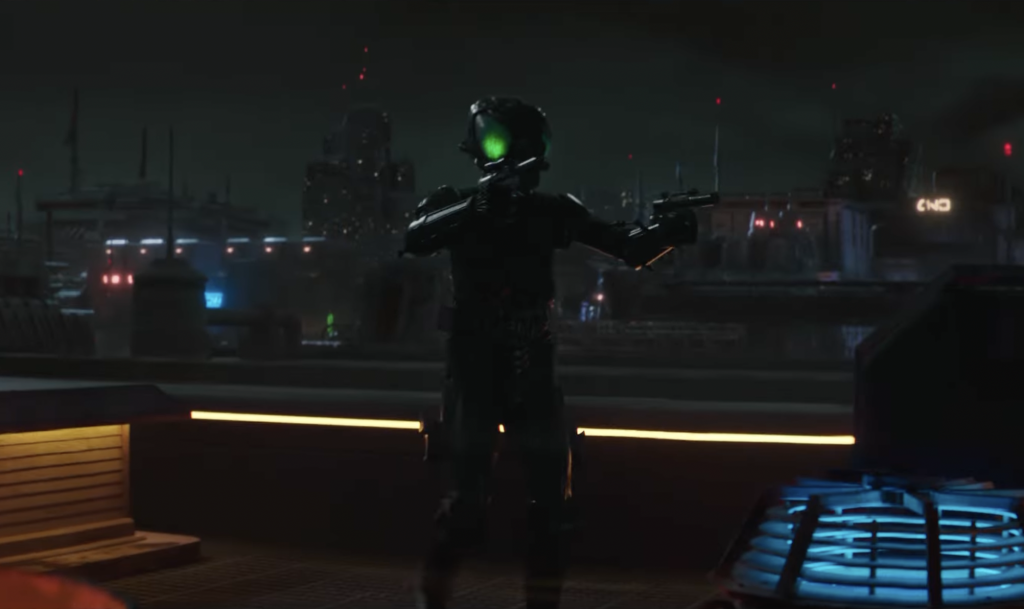 Many have been wondering about the image above, but we can 100% confirm that this is indeed 4-LOM, one of the droid bounty hunters first famously seen briefly in The Empire Strikes Back.
Reva continues, "I want every low life and bounty hunter to squeeze him." followed by a goosebump-inducing sequence of her screaming, "You can't run Obi-Wan! You can't escape him!" as we see Darth Vader's limbs and chest plate being attached to what is left of his body. This is just one of those moments from a trailer that no matter when you watch it, whether it is now, or 20 years from now, the hair on the back of your neck will stand as a chill shoots up your spine.
DARTH VADER!
I applaud the choice to not show us Hayden's face as Anakin, or even Vader's helmet. We all know what both look like, but for whatever reason it still feels like an appropriate non-reveal. It feels fresh, when it has absolutely no business feeling that way. I love The Mandalorian and I enjoyed The Book of Boba Fett, but Lucasfilm has known for a decade that if they ever revisited Obi-Wan in a movie or film, it cannot miss, and has to be great. It seems like they have checked off every box and made sure to go the extra mile in every facet of producing this series.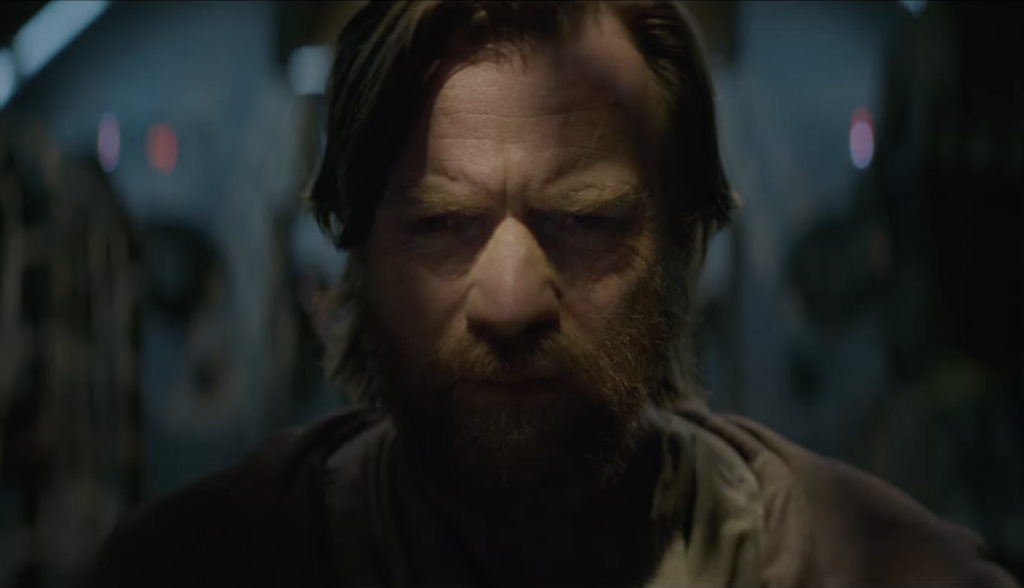 I don't know what wizardry Deborah Chow is pulling off here using these shadows, but Ewan McGregor looks more Alec Guinness than he ever has in this single shot, which I believe is still on Daiyu.
The trailer is short, clocking in at a brisk 88 seconds, which is about 10 seconds shorter than the very first teaser from The Force Awakens, to put it in perspective. This is a very short "official trailer" and that is perfectly fine. Cancel the TV spots, this is enough. Just let Ewan McGregor and Hayden Christensen make the rounds on the late-night talk shows, release some toys to keep the hype at a nice simmer, and when May 27th hits, blow the lid off of our collective minds.
We can't end the breakdown without pointing out this cute little droid. We exclusively reported on this last week, and if you want to know more about it, you can read all about what it is, what inspired it from a creative standpoint, and what its purpose is. But it will no doubt be on some Christmas and holiday gift lists later this year if it is released as a toy/collectible. So look out, Grogu!
The Obi-Wan Kenobi series debuts its first two episodes of six on Friday May 27th, and will release the remaining four on Wednesdays thereafter, all exclusively on Disney Plus.
Here is the new official poster for the series, which will find its way in frames and onto walls in homes everywhere, including mine. I hope you enjoyed this breakdown, leave a comment below with your thoughts. More importantly than anything, I hope everyone enjoys the Obi-Wan Kenobi series, which will come and go quicker than Kenobi versus Maul in Rebels, so let's enjoy the ride.
John Hoey is the Lead Editor and Senior Writer for Star Wars News Net and the host of The Resistance Broadcast podcast
"For my ally is the Force, and a powerful ally it is."