There's More Than Meets the Eye to that New Denny's Commercial + New Character Names and Details Revealed!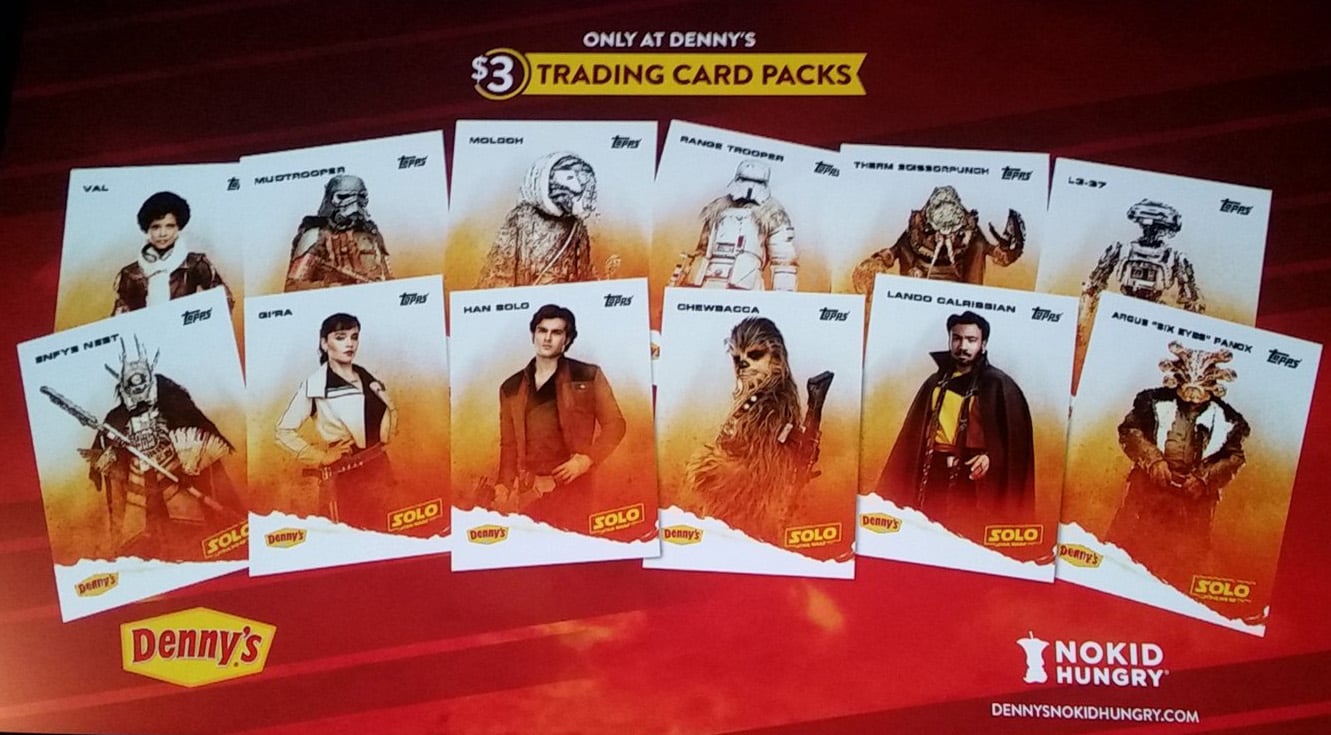 If you've seen the fun new Denny's commercial with mini-Han and Lando playing sabacc, you may have written it off as a simple movie tie-in ad without realizing that you were actually getting a glimpse into the actual film itself. While there is no actual movie footage in the commercial, io9 revealed yesterday that Solo production designer Neil Lamont and creature supervisor Neal Scanlan were involved in making the commercial. The commercial set is evidently a replica of the actual set used in the movie, so you can expect to see a scene very similar to this on the big screen (though with slightly older gamblers). Read on for more on this, as well as a look at the new character cards which can be collected at Denny's restaurants. The cards reveal a brand new character, and we finally get a name for the many-eyed alien that Lord and Miller revealed during a Force for Change video last year.
First off, here's the tweet from io9's Germain Lussier (check out the full article here):
For this Denny's commercial, Neil Lamont and Neal Scanlan made an exact replica of the set from Solo where Han and Lando play that fateful game of sabacc. So… https://t.co/6ji9XqCLwl

— Germain Lussier (@GermainLussier) April 2, 2018
Nerd Reactor also tweeted a nice photo revealing all the character cards that can be collected at Denny's. In the top row (second image from the right), we are introduced to a brand new character named "Therm Scissorpunch" (what a name!), and we finally get a name for the many-eyed alien from the Lord and Miller Force for Change video last year (Argus "Six Eyes" Panox):
Here's a look at some of the new characters from #SoloAStarWarsStory! You can collect these cards from @DennysDiner to help @nokidhungry. pic.twitter.com/59TNbS0d3B

— Nerd Reactor (@NerdReactor) April 2, 2018
You can get a better look at Scissorpunch and Moloch below (via Catrina Dennis and DR Movie News).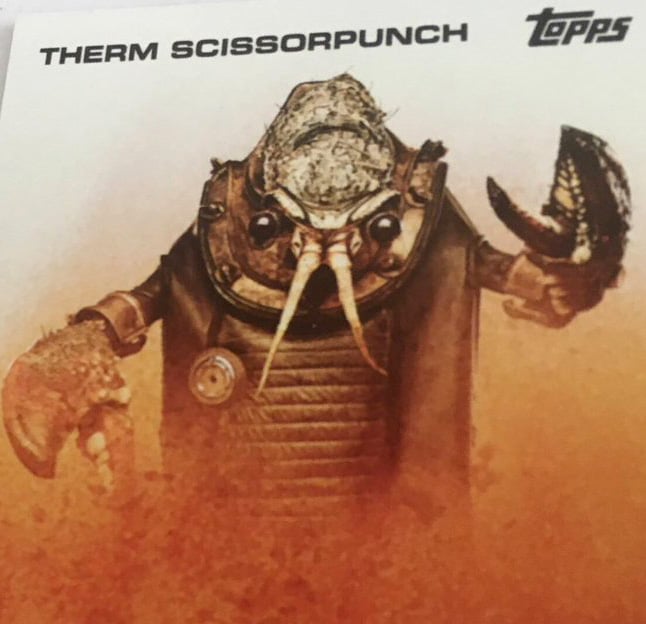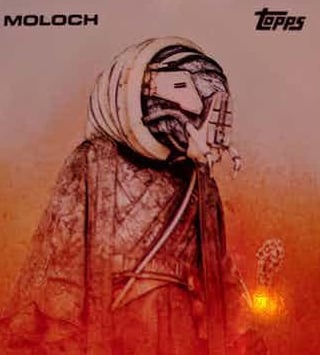 As we already know, Moloch will appear early in the movie, when younger Han and Qi'ra will race him on the streets of Corellia. More on Moloch, Rebolt, their landspeeder and the Corellian hounds here.
Also our own James Baney found the cute racoon-like creature from the ad in the Solo trailer as well:
I found another character in the #Solo movie that is actually in the Denny's commercial from yesterday. pic.twitter.com/ld9t8EIRo8

— James Baney (@Mirahtrunks) April 3, 2018
And finally, Lucasfilm Creative Art Manager and author of The Art of Solo: A Star Wars Story Phil Szostak, revealed more details about one of the aliens seen in the promo video, who will also appear in the movie, played by Star Wars veteran creature actor Kiran Shah:
"Sabacc playing alien I designed for Solo in new Denny's ad. Performed by Kiran Shah (ROTJ, TFA, R1, TLJ, Solo, Narnia, Raiders, Legend, Potter, Hobbit)" – Jake Lunt Davies on Instagram. Learn more on May 25 in @ABRAMSbooks' The Art of #SoloAStarWarsStory!https://t.co/NK7VxMVW1y pic.twitter.com/JkJiOzbFto

— Phil Szostak (@PhilSzostak) April 3, 2018
I'm really digging the new alien designs, and I can't wait to see them in the movie next month. Hopefully, we'll get some classic ones to mix with the new, but either way I think the design of Solo is really delivering (from what we've seen so far) on bringing us something fresh while maintaining that nostalgic vibe that we have come to expect (and at times be disappointed by the lack of) in the modern Star Wars movies.
Jordan Pate is Co-Lead Editor and Senior Writer for Star Wars News Net, of which he is also a member of the book and comic review team. He loves all things Star Wars, but when he's not spending time in the galaxy far far away, he might be found in our own galaxy hanging out in Gotham City or at 1407 Graymalkin Lane, Salem Center, NY.