Updated with the Full John Boyega Panel at Awesome Con! Daisy Ridley May Have Read Star Wars Episode IX Script; Finn & Rey Will Team Up Again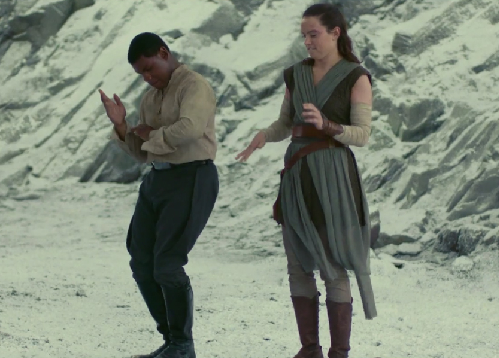 Since Star Wars Episode VIII: The Last Jedi was conceived as a character study, the three leads were split away from one another once again – and Finn didn't even get to meet Rey again until the last ten minutes of the movie. However, from the sound of things, Star Wars Episode IX is going to be more focused on the characters introduced in the Sequel Trilogy working together, as John Boyega has confirmed that Daisy Ridley told him that they'll share multiple scenes (which in turn implies that she's read the script).
Boyega spoke at AwesomeCon last weekend, which our own Bill Sheehy attended. When asked about Episode IX, Boyega mentioned that he doesn't know too much about the project, although he learned of one major detail recently: he'll be playing off of Daisy Ridley a lot more in this one.
John Boyega reveals that Daisy sent him a text saying "OMG we're together again." Suggesting that Daisy HAS read the script for IX. #STARWARS #awesomecon

— The Resistance Broadcast (@RBatSWNN) March 31, 2018
I think it's likely that Episode IX will put a good amount of emphasis on having the leads of this trilogy play off of one another, as thus far, there has yet to be a major scene with Finn, Rey, and Poe (and possibly Rose) doing stuff together, which seems odd by the precedent set by the previous two trilogies. A lot of that amounts to Poe getting a larger part midway through production on The Force Awakens and – again – Rian Johnson taking the creative decision to split the team up for the vast majority of The Last Jedi. Considering that the movie is not going to be carried by Legacy characters this time around (not counting Luke's Force Ghost, which will probably factor into the plot, but the extent of which remains to be seen), this seems like the most logical course of action going forward.
UPDATE!
And here's the full John Boyega panel from Awesome Con, hosted by Ash Crossan:
Grant has been a fan of Star Wars for as long as he can remember, having seen every movie on the big screen. When he's not hard at work with his college studies, he keeps himself busy by reporting on all kinds of Star Wars news for SWNN and general movie news on the sister site, Movie News Net. He served as a frequent commentator on SWNN's The Resistance Broadcast.