Simon Pegg Says J.J. Abrams May Have Had Something Else in Mind for Rey's Parentage
Simon Pegg, who played junk trader Unkar Plutt in The Force Awakens and close friend to the film's director J.J. Abrams, was recently a guest on the Happy Sad Confused podcast to talk about Ready Player One, Star Trek, Mission Impossible, and Star Wars. After the show, podcaster and MTV News correspondent Josh Horowitz shared a curious tweet about Pegg's comments on what Abrams may have initially intended for Episode VIII concerning Rey's parentage that may have been undone by Johnson in the final version. Whether or not this is actually the case is anyone's guess, but Lucasfilm's Pablo Hidalgo also chimed in on Twitter to address the supposed confirmation from Pegg.
Here's the tweet from Horowitz:
Simon Pegg confirms what I've long heard, JJ had a much different plan for Rey's parentage. "I know what JJ kind of intended or at least was being chucked around. I think that's kind of been undone slightly by the last one. There was some talk of a relevant lineage for her." https://t.co/AksaUK35PQ

— Josh Horowitz (@joshuahorowitz) April 4, 2018
And now Pablo's somewhat sarcastic rebuttal:
Simon Pegg confirms that ol' Scraps went to live with a farm family in the country, and he loves it out there, and is having a great time.

— Pablo Hidalgo (@pablohidalgo) April 4, 2018
Pegg, who had a glorified cameo in The Force Awakens, might not be the all-knowing one concerning such matters, so take his confirmation with a grain of salt. But he is a close friend of Abrams, who has co-written and will also be directing Episode IX, so there's a chance there is some validity to his comments. Perhaps Abrams had at one time considered giving her a more relevant lineage but later decided to go the other route. Or perhaps Johnson just did his own thing. I tend to think that they were working together on this, and that in the end, the reasoning behind the decisions in each film will come to light.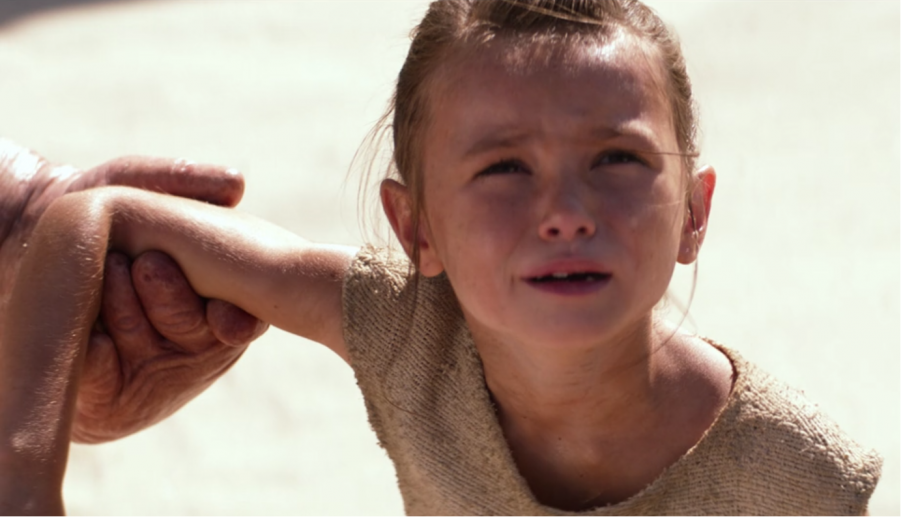 Johnson has already stated that he ultimately made Rey a "nobody" because that was the hardest thing for her to hear in that moment. In the original trilogy, the hardest thing for Luke to hear was that this ultimate villain was his dear old dad. Likewise, Rey longed for belonging, and to hear that she really has no place in the larger story was hard for her to swallow.
If Episode IX pulls a fast one, and Abrams decides to give us the old "just kidding – she actually is a somebody" then I guess we'll know then that Pegg was on to something. I actually wouldn't be surprised if we learn that she actually does have a more significant lineage than we learned previously. Her being a nobody was important for her development in The Last Jedi as she came to realize that it's up to her to write her own story, not piggyback on her parents' fame and glory. By Episode IX, she will have already overcome that hurdle in her life, and a more shocking or satisfying familial connection may be just what she (and the audience) needs.
What do you think? Is Rey really just a nobody or will Abrams make good on at least some of the unanswered questions he left behind in The Force Awakens?
Jordan Pate is Co-Lead Editor and Senior Writer for Star Wars News Net, of which he is also a member of the book and comic review team. He loves all things Star Wars, but when he's not spending time in the galaxy far far away, he might be found in our own galaxy hanging out in Gotham City or at 1407 Graymalkin Lane, Salem Center, NY.