Updated With the Winners! Giveaway: Win 1 of 3 Digital Copies of The Last Jedi Including the Score-Only Feature Available for a Limited Time!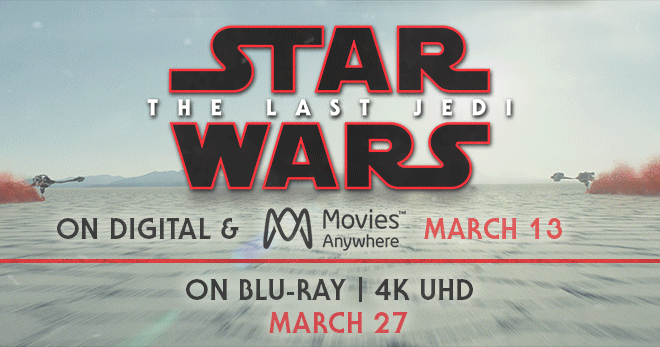 The digital version of Star Wars: The Last Jedi has been available for over a week now and many of you have already had a chance to dig through the movie and features. But if you are one of those who has been holding out, today may be your lucky day. We've got a few codes thanks to Disney and Lucasfilm for the Movies Anywhere digital download to give away to some lucky readers.
Of course you'll get the film with this code. But the real prize in the Movies Anywhere version is the score only track that comes with it for a limited time only. I've been waiting a long time to get to have one of these tracks on a Star Wars release. There's nothing quite like sitting back and listening to John Williams' genius at work as it all gets synced up to the images on screen.
Anyone can buy the score and listen to it at home, but it's not quite the same as watching it in conjunction with the visuals. Film scores are designed to match the visuals, and sometimes a lot can be lost without them. In addition, it can sometimes give you new appreciation for a cue when you see how it is used on screen to manipulate those emotions in a viewer. With the dialogue and sound effects removed, it really hammers home the effort and craft that Williams puts into these scores.
Everyone will of course have their preferences, but to me The Last Jedi is by far the best score released of the three movies in the new Disney era so far, and it's one of the best of the many great bonus features that have come with the new home video release.
To enter the contest just post in the comments section of this article, which score from the new Disney era is your favorite – The Force Awakens, Rogue One or The Last Jedi. We will randomly pick three winners on March 27, when The Last Jedi Blu-ray/DVD will be released.
Movies Anywhere is available only in the USA, so all participants must be US residents. Good luck!
UPDATE!
And here are the three winners. One winner was picked from our Twitter followers, and the other two from the comments section of the site:
One of the three winners of #TheLastJedi digital copy from our Twitter followers is @FallenJedi1. Congrats!!!
We will announce the other two winners on the SWNN site.
Thanks for everyone for participating, and thanks to Disney and Lucasfilm for the digital codes. https://t.co/Vl5g0q6cK0

— SWNN (@StarWarsNewsNet) March 26, 2018
And the winners from the comments section are:
Eric Maier and Elizabeth Story 
We will contact the winners via their Disqus emails and Twitter.
Thank you all for participating.