UPDATE! SOLO: EW's Interview With Our New Han Solo – Alden Ehrenreich Plus Harrison Ford's Contribution to the Project
The Breznican blitz continues, as the EW writer has released his one on one interview with our new Han Solo, Alden Ehrenreich. Let's take a look at their exchange!
Anthony Breznican brings us his one on one interview for EW with the young man taking over the captain's chair of the Millennium Falcon this May!
Anthony Breznican: Tell me your perspective on it. How would you characterize the journey this character is on?

Alden Ehrenreich: I think it tells the story of a young man pursuing a dream to get out of his pretty rough upbringing, and a lot of the story is him trying to make this dream come true and finding out that it's a lot harder than he had imagined.
AB: He seems like someone who didn't have a lot of people who cared about him at a young age. So he goes through life with shields up. 

AE: Yeah, that's all basically right. One of the fun things about this movie but also one of the things that really shapes him is that it takes place in a real dark underworld of the Star Wars universe.
Lack of belonging, no parents, perhaps some abandonment tropes triggering a sense of trying to prove oneself, it's one of the most, if not the most prominent Star Wars theme throughout the saga, and it's ultimately up to our characters, both protagonists and antagonists in these situations, to decide their own fate through their choices.
As many have wondered, did Ehrenreich meet with Harrison Ford at any point? Well it turns out he did. Some light is shed here, but as Breznican hints, more details on this will be revealed later on.
AB: Could share some of what he was able to tell you about playing this character?

AE: He said a great thing when I met him. "Tell them I told you everything you needed to know, and that you can't tell anyone." I wanted to meet him because I just felt generally it wouldn't be right to do the movie without some kind of contact with him, and I'm really glad I did. He was very, very supportive. And it's just cool to have lunch with Harrison Ford.
Han Solo's love interest in the film is Qi'ra, someone who he has known for a long time, but also someone whose life in the years since has taken a different path than Han's stubborn narrow viewed way of moving forward.
AB: Let's talk about the other people in this character's life. Qi'ra, Emilia Clarke's character, is a big part of young Han Solo's early years. What do we need to know about the two of them? 

AE: Yeah, they've known each other for a long time and she's a very important person in his life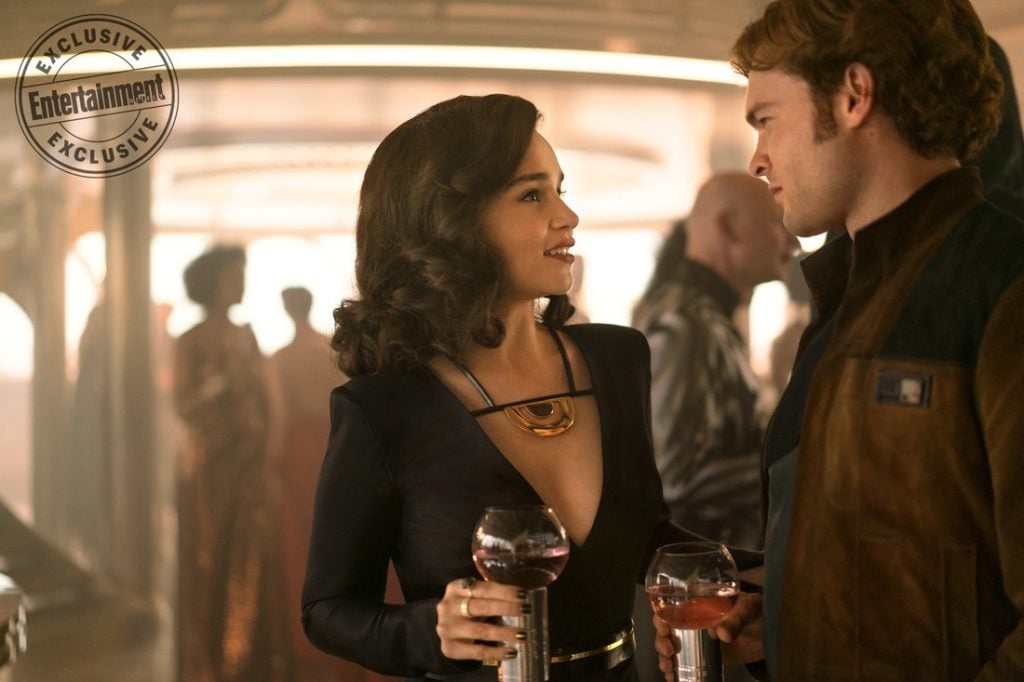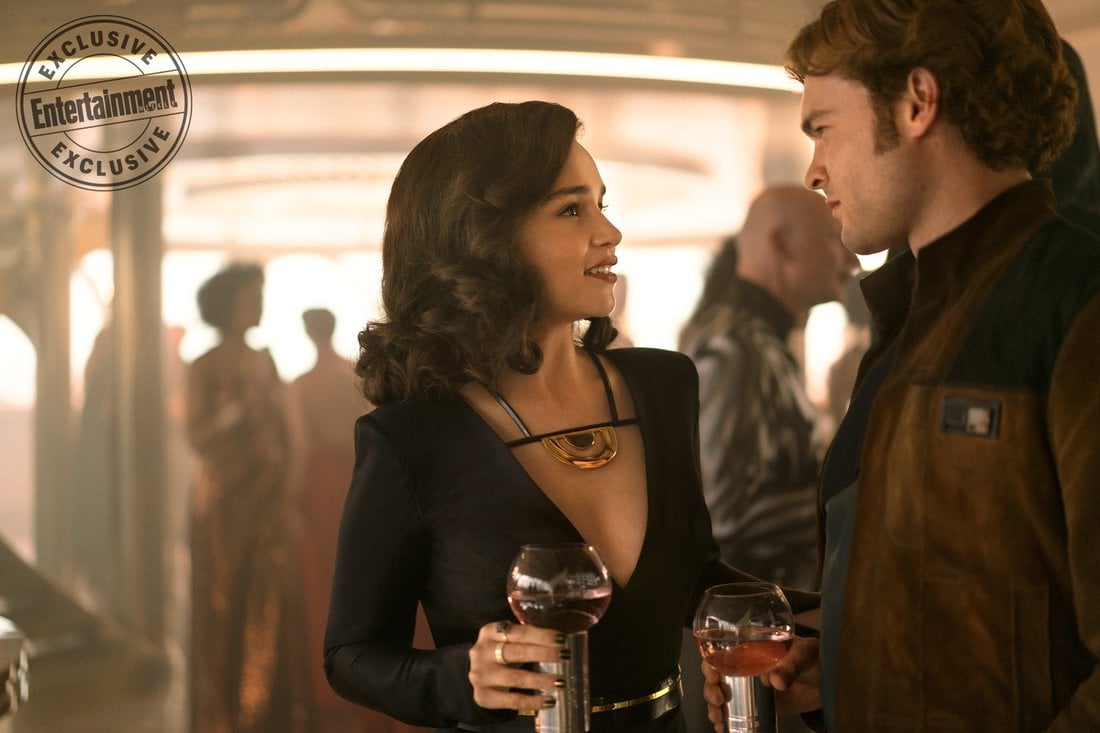 AB: Is she more savvy than he is? Less idealistic? How would you contrast their personalities?

AE: I think she has a slightly different way of handling herself in this tough universe. She's better at working the system rather than bucking against it
As we know Han meets Chewbacca in the film, but that's not all, as Solo will meet his scoundrel counter-part, Lando Calrissian for the first time as well, though Ehrenreich skillfully evaded some of Breznican's inquisition like flying through an asteroid field! One area he didn't mind getting into was Han's frame of mind, and in doing so he lauded writers Lawrence Kasdan and his son Jon to take the interview home.
AB: Can you give us a sense of what Han is like when we meet him at the start of the movie. Obviously, we see him evolve. What's different from the guy we know?

AE: I think the main thing that's different is that the Han we meet in this film is more of an idealist, he has certain dreams that he follows, and we watch how it affects him as those dreams meet new realities, realities that are harder and more challenging than he'd expected.

Can you say what his dream is? I assume it's bigger than "smuggler."

I can't say exactly, but it definitely involves independence, and calling your own shots. I thought the Kasdans did a wonderful job of kind of retroactively coming up with what kind of background would lead him to becoming the character we all know.
Can you explain "independence"? Do you mean, he just wants to call his own shots — or is he indentured in some way?

Well, one thing that you kind of know about the Star Wars universe, but that you learn in a much more impactful way as you get into it, is that living in that universe is hard. Most people, especially during the reign of the Empire, are under the control of some kind of force or another. No pun intended. Having the resources and stability to call your own shots, do what you want, have freedom, isn't something that comes easily. So Han's dream involves making that happen for himself.

Seems like he is forever trying to get out from under someone's thumb. … Does Jabba have thumbs?

[Laughs] Yeah, I think you could say that. He is forever trying to do that.
So much props to Breznican for trying to get Ehrenreich to slip and give us a Jabba confirmation!
You can find the complete interview here at Entertainment Weekly
UPDATE!
The last article for the day from EW's coverage on Solo: A Star Wars Story reveals that Harrison Ford actually had quite a bit of an impact on Alden and his understanding of the Solo character.
As we know Lucasfilm President Kathleen Kennedy is very familiar with Harrison Ford, who she knew back from the days when they were filming Raiders of the Lost Ark, where Kennedy worked as Steven Spielberg's associate. Kathy told EW that she sent Ford the Solo script and the actor gave his appreciation of the story. She also added how Ford contributed to Alden's perception of the character:
What [Ford] did so beautifully for Alden was he talked a lot about what he remembered when he first read Star Wars, and what George had done with Han. Who the character was and the conversations he had for so many years with George about how that character developed. He gave Alden that kind of insight which was invaluable. There were several times in the course of making the movie where Alden would actually recount some of the things that Harrison had pointed out. I think that was really, really helpful to him.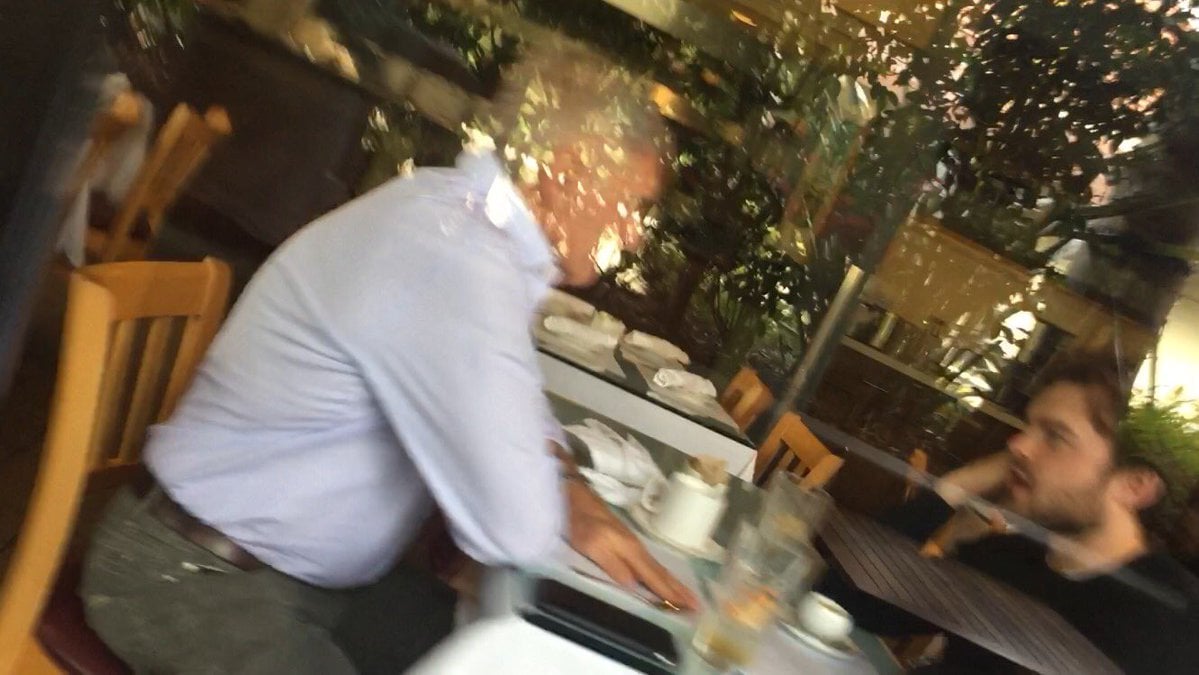 EW's report also revealed that Alden was not the only one who sought guidance from Ford. After director Ron Howard took over the directing duties he also contacted Ford for an advice.
"Harrison's a very thoughtful actor and an artist, and I wanted to know what he learned about the character. He said that Han is always torn between that sense that he was, in a way, an orphan, and therefore both yearned for connection with people and struggled with it at the same time. I thought that was pretty interesting."
The article continues with a few more bits from Ford which he shared with Howard. For the full article make sure to go to EW. And you can watch Anthony Breznican's clip on the subject below:
John Hoey is the Lead Editor and Senior Writer for Star Wars News Net and the host of The Resistance Broadcast podcast
"For my ally is the Force, and a powerful ally it is."