UPDATE: EW's Coverage of Solo: A Star Wars Story – New Photos, Character Details, and Speculation
Less than a week removed from fans pounding on desks and screaming from the rooftops (writing stuff on social media), wanting to see something surface from the upcoming Solo: A Star Wars Story, we have a quick commercial teaser, a full teaser, and now the Walter Cronkite of Star Wars reporting, Anthony Breznican is beginning to release his coverage of the film. Let's check it out!
Breznican dives into the galaxy, comparing Solo's marketing arrival to the smuggler himself, in that it's never when it's supposed to be, seemingly unplanned, unfit, but somehow gets the job done. In his first piece on the film at Entertainment Weekly, Breznican talks about the theme and arc behind Solo the character, a pattern that Han can't help but find himself often repeating, amidst his internal chaos:
Try as he might to live outside the law, to care about nothing, to embody his loner name, he finds himself inexorably pushed and pulled by the tractor beam of his own decency. Just when you think he's gone forever, he comes back to save the day.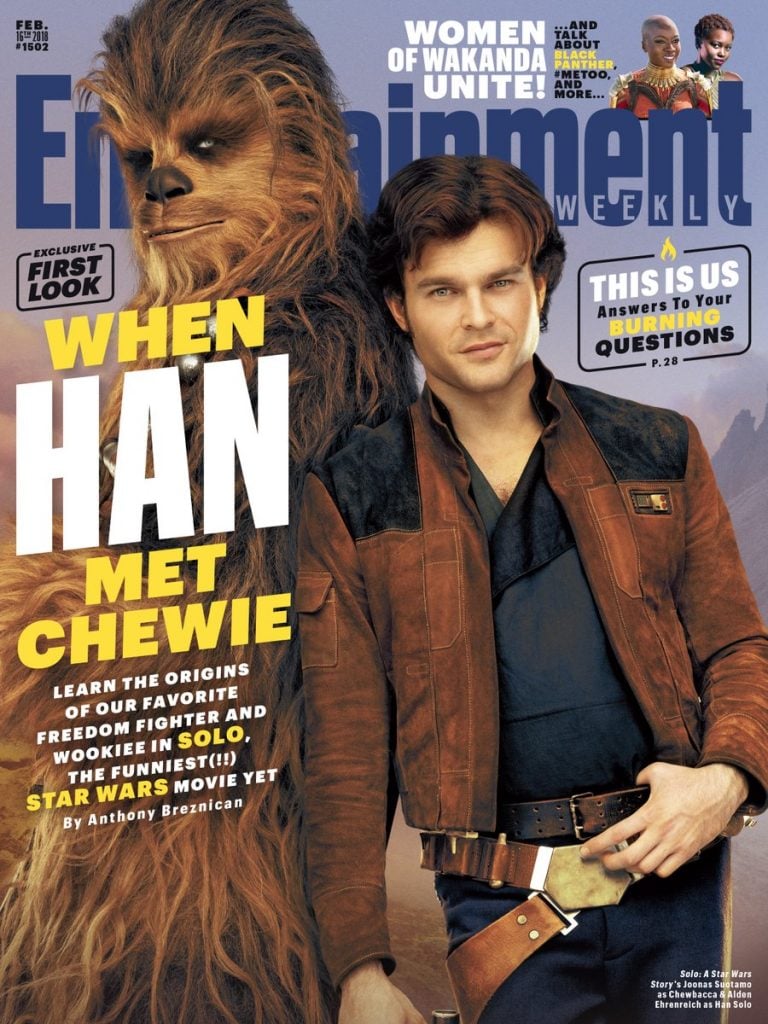 Lucasfilm President Kathleen Kennedy gives her take on the film and Han at this point in his life:
"(Solo is) a heist, gunslinger type movie. He might be a little more immature, he may be a little less experienced, and he may hone his cynicism over time, but he's very wary," she says. "He needs to gain the respect of the people he interacts with, even if they're the lowest of the low."
A heist, gunslinger movie directed by Ron Howard, and written by Lawrence Kasdan? On the surface this sounds like it has the makings of a terrific adventurous Star Wars movie, but the question remains, can Ehrenreich fill one of the largest set of proverbial shoes in cinematic history? And did they do enough to move beyond the production troubles that burdened this film last year? If Breznican's coverage is any indication, they might have pulled it off. Like Princess Leia told Solo in The Empire Strikes Back:
You have your moments. Not many of them, but you do have them.
Breznican goes into some detail about one of the more interesting shots from the trailer, that weird train-looking thing coursing through snowy mountains:
that roller coaster-like train in the trailer is called The Conveyex, and Han has to prove his hoodlum bona fides by stealing something (we don't know what) from on board.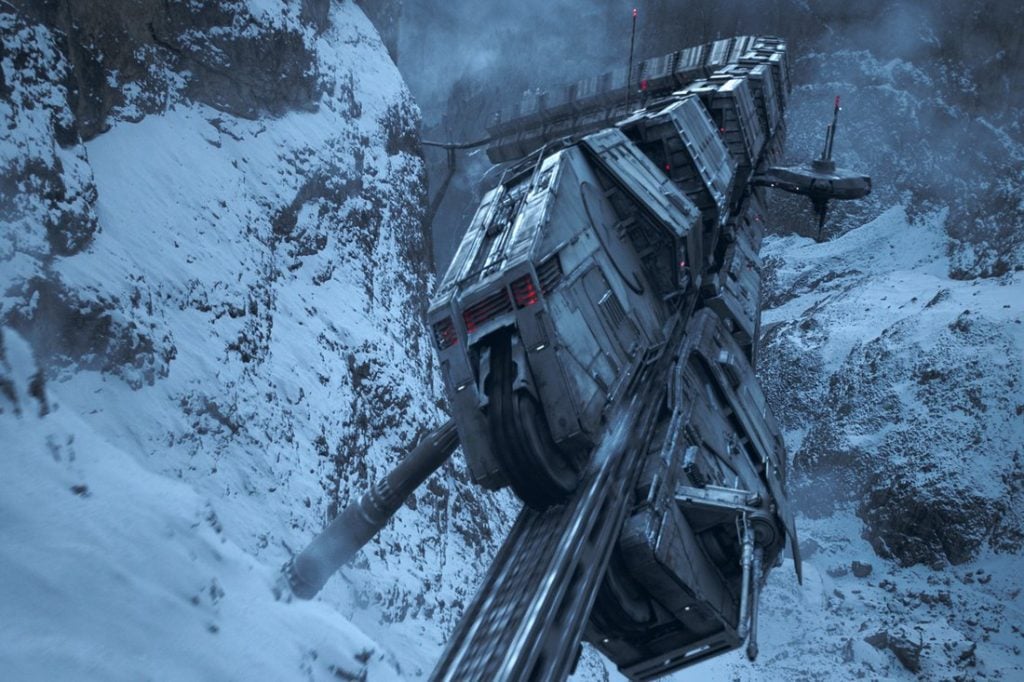 Breznican goes on to talk briefly about the cast of characters in the film, including some new names we have yet to hear. In addition to Chewie and Lando we will meet:
(Han will) fall head over heels for shadowy Qi'ra (Game of Thrones' Emilia Clarke), and cross paths with Lando Calrissian (Atlanta's Donald Glover stepping into the cape of Billy Dee Williams) and his droid sidekick L3-37 (played via motion capture by Fleabag star Phoebe Waller-Bridge.)
The wannabe smuggler will also face career crooks Tobias Beckett (Woody Harrelson), blaster-toting Val (Thandie Newton), and crime boss Dryden Vos (played by Paul Bettany).
The movie will keep us on our toes in terms of characters' intentions. Who can Han trust? Will friends be foes, and vice-versa. It sounds like Han will be as curious as we are, figuring out who he can and can't trust:
"I think that's exactly what Han's trying to do throughout the film," Ehrenreich says.
Here is Breznican's video introducing his coverage of the film, which will have more published today in the form of an interview with Alden Ehrenreich, followed by Donald Glover, Emilia Clarke, and a lot of new photos tomorrow!
With almost a year's worth of production drama spattered over this project, it appears it is now time for Solo to punch it into lightspeed, let the past die, and embrace what may end up being quite the underdog Star Wars movie. It is crazy in a Disney-owned Lucasfilm era to call a Star Wars film an underdog, but after some divisiveness with The Last Jedi coupled with an immense amount of production chaos that occurred during the production of this film, it is as close as an underdog as a Star Wars movie can get. But while us die-hard fans are well aware of the chaos, most casual movie-going Star Wars fans barely knew this movie existed, so to them there was no drama, they simply see an upcoming Star Wars film that happens to be directed by Ron Howard. But like I said, you do know about the problems that this film faced, so one question remains: are you rooting for it?
SOURCE: EW
We will bring you more of Breznican's coverage as it is released, as well as our take and anything else we feel connects the dots!
UPDATE
Entertainment Weekly has released nine exclusive new photos from the film, so let's check them out and put them into as much context as we can!
No analysis needed for this photo, let Lawrence Kasdan do the talking here:
"To me, this is a love story between Han and Chewie. Their relationship has always been my favorite part of the saga, and the fact that only Han understands what Chewie is saying, I find a very funny possibility for comedy. Wookiees have so many positive qualities, but what they don't make it easy for you to get close to them."
Han in a very cool looking jacket, pulling off that hands on the belt look Ford oft-used. This looks to be back on that sandy planet we saw in the teasers, perhaps from the shoots on the island of Fuerteventura that were reported about last spring. We know that Han finds himself in what appears to be some sort of Old West style showdown on this planet. Ehrenreich tells Breznican about Han's state of mind in the movie, surprisingly saying he is an idealist of sorts:
"I think the main thing that's different is that the Han we meet in this film is more of an idealist. He has certain dreams that he follows, and we watch how it affects him as those dreams meet new realities — realities that are harder and more challenging than he'd expected."
If anyone has any doubts about Donald Glover as Lando, they may have already subsided without even hearing him speak a word. He looks utterly brilliant here. Han wasn't kidding that he was a card player and a gambler, as he is playing the game that lost him the Falcon to Han right here!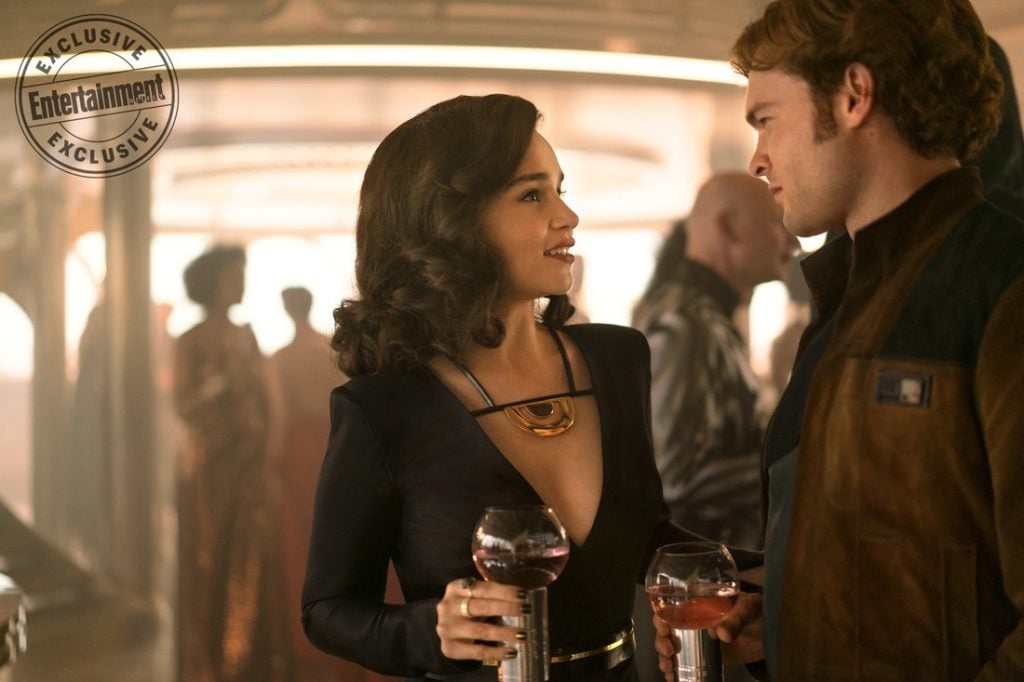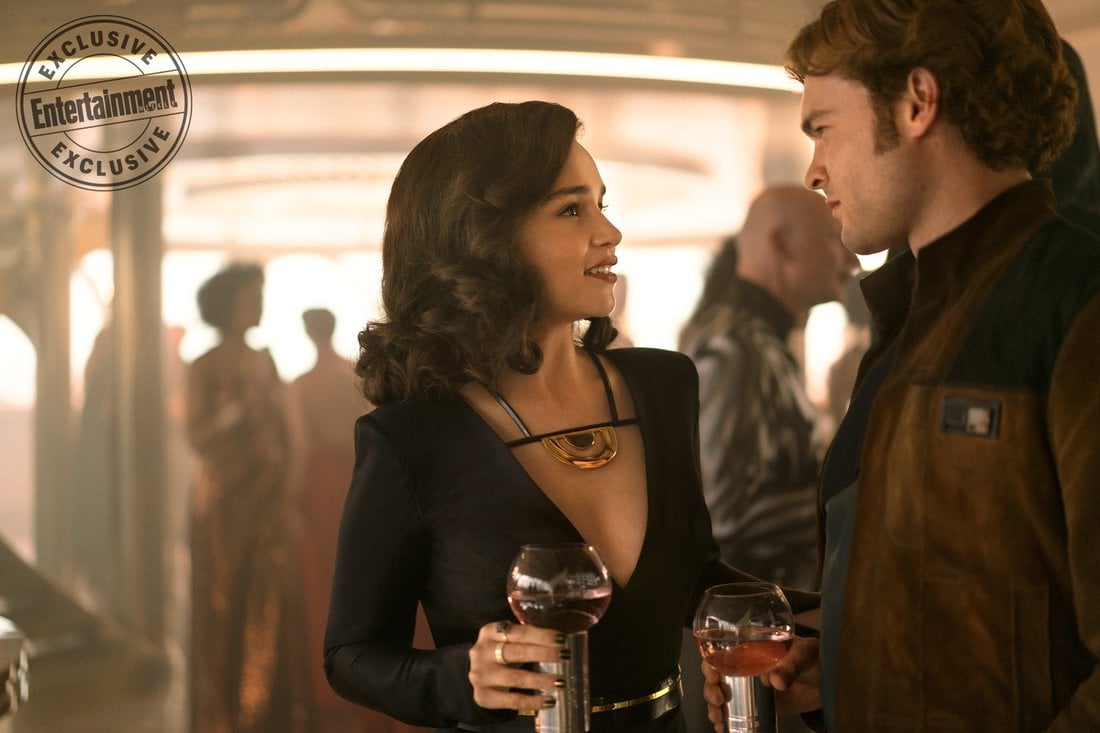 Emilia Clarke's character Qi'ra grew up with Han, as an outcast, but by the looks of the teasers and images we've seen it sure looks like they grew apart and found their paths go in completely different directions. My guess is the hot rod chase we see at the beginning of the film is when they were both on the same page, both rather common-folk, outcasts, but then we flash forward and she has clearly become more a part of high society, while Han took his path of swindling, smuggling, and rebelling for his own sake. The two clearly went on different paths and will likely be reunited after not seeing each other for a few years.
It looks like we have Solo: A Star Wars Story's version of a bar/club/watering hole. It's become a staple and as we have previously seen in other images there is a interesting looking singer accompanied by a frog-looking creature in a jar that our own James Baney of our The Resistance Broadcast believes may do some singing of it's own.
Ron Howard posted a photo to his social media with Paul Bettany a while back from this location, which may or not have shown us Boba Fett in the background. Will Han and Boba have their first encounter in this very club? (See top left of the photo below)!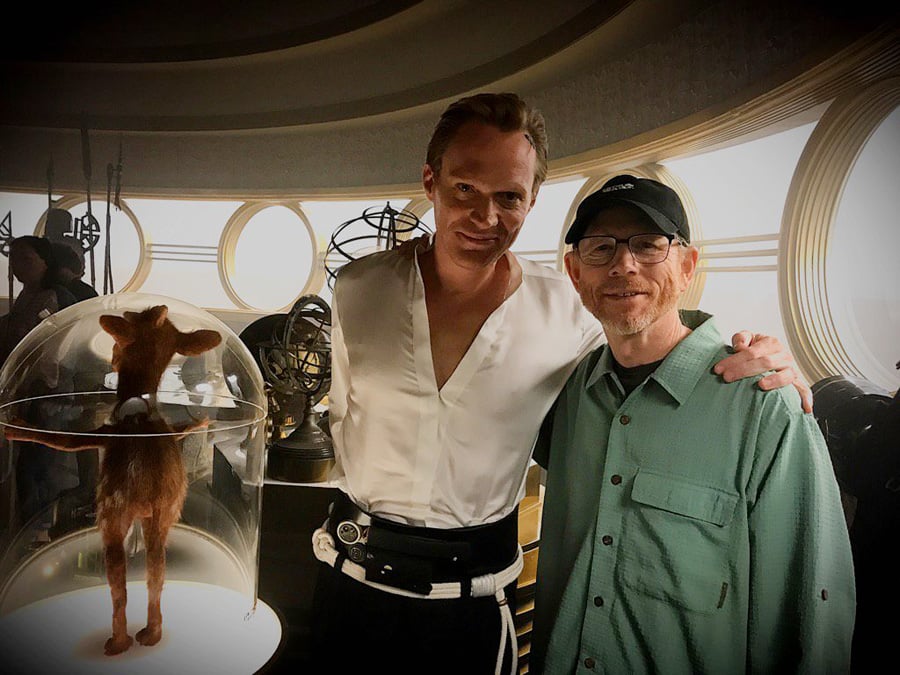 Anyway, moving on. This shot is fantastic. Chewie and Han on that Conveyex, clearing stealing whatever Breznican was alluding to earlier.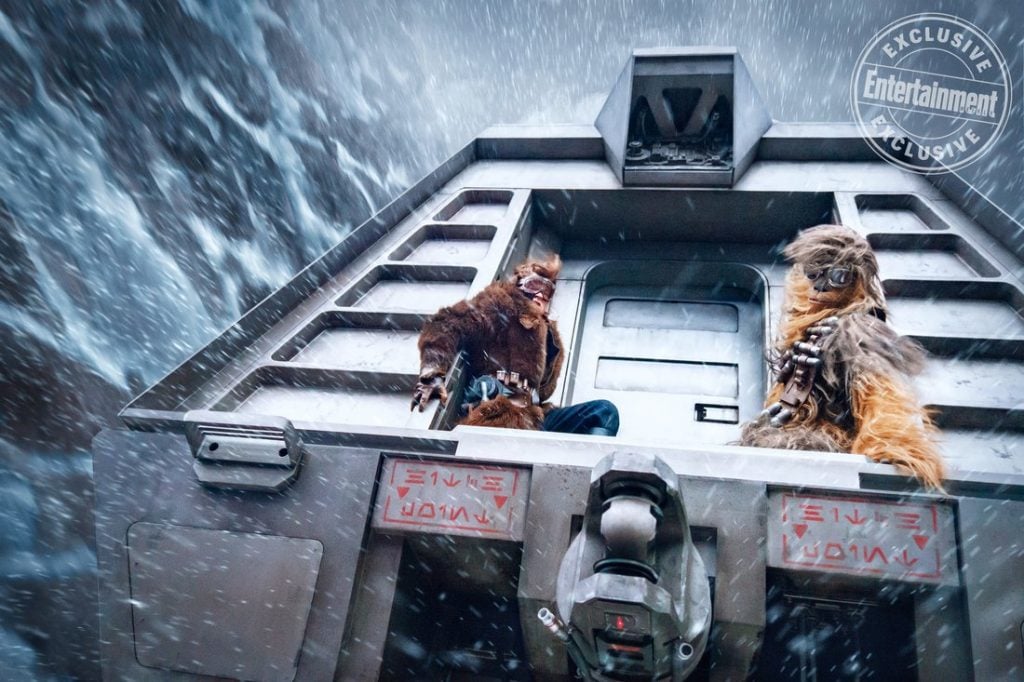 Seeing Chewie in action is always a great sight to see, and this is surely one of those moments the two will look back on over some drinks at cantinas in the future. Oh and according to Breznican, don't bother translating the text:
EW translated the Aurebesh writing below them. No luck. It spells: "Hitch Joint."
Han Solo, growing up with no father figure (what a Star Wars trope!), sees Woody Harrelson's Tobias Beckett as just that. It will be an interesting parallel to stack that up against how Rey viewed Han in The Force Awakens. But Beckett may not exactly be the fuzzy father figure one would typically yearn for according to Ron Howard:
"He's a powerful criminal, but a free agent. Tobias Beckett really shapes Han more than anybody, as Han comes to believe that in a lawless time, he needs a moral code."
And yes, this is indeed the Falcon, so we just need to know why is it so clean?! Here is my take on how it gets so dirty!
My theory on how the Millennium Falcon gets so filthy looking.

The Kessel Run is so treacherous, and Han Solo having taken the most hazardous route (12 par-secs), causes the smuggling compartments to bust open and Sansanna spice goes EVERYWHERE. #SoloAStarWarsStory #StarWars pic.twitter.com/gE7zMsolc0

— John Hoey (@JohnnyHoey) February 6, 2018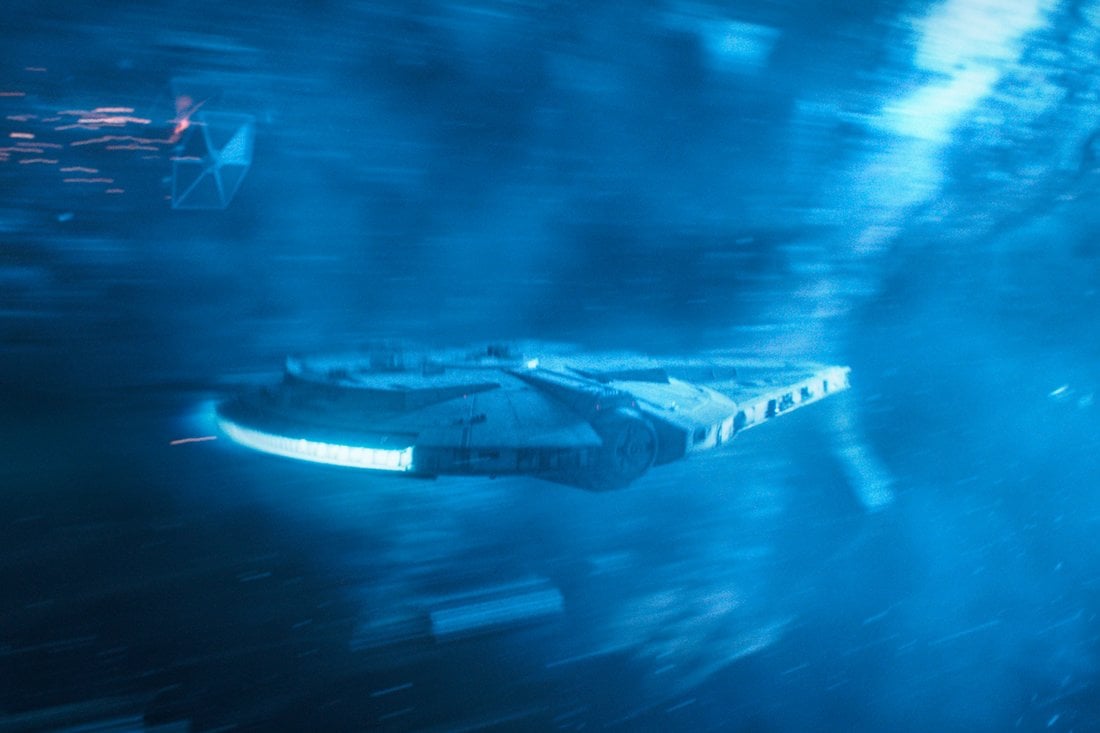 Here is the Falcon flipping and smacking TIE Fighters into oblivion like we are used to seeing!
Mimban Mudtroopers, Mimban was a setting in Allan Dean Foster's novel Splinter of the Mind's Eye, (which is obviously not canon now), and was initially in Rogue One, but was replaced by Jedha. Regarding Mimban, Breznican says:
 It has an atmosphere full of thunderstorms, so its sky is perpetually overcast and the land is always draped in mist.
Remember those Star Destroyers flying through storm clouds? I think we know where those are now.
Lando's droid side-kick, which looks like it will be full of personality and add plenty of levity to the film, much like K-2SO did for Rogue One.
Phoebe Waller-Bridge plays this mechanical character via motion-capture. She's got a more idiosyncratic personality than your typical droids. She's more human — which probably means more emotional and slightly less rigid.
The more Breznican gives us, the more we'll update this and give it to you with our takes on everything! So keep it here!
"For my ally is the Force, and a powerful ally it is."
John Hoey is the Lead Editor and Senior Writer for Star Wars News Net and the host of The Resistance Broadcast podcast
"For my ally is the Force, and a powerful ally it is."