Love and Cats Explode as a Sith Monster is on the Warpath in Marvel's Star Wars: Doctor Aphra #16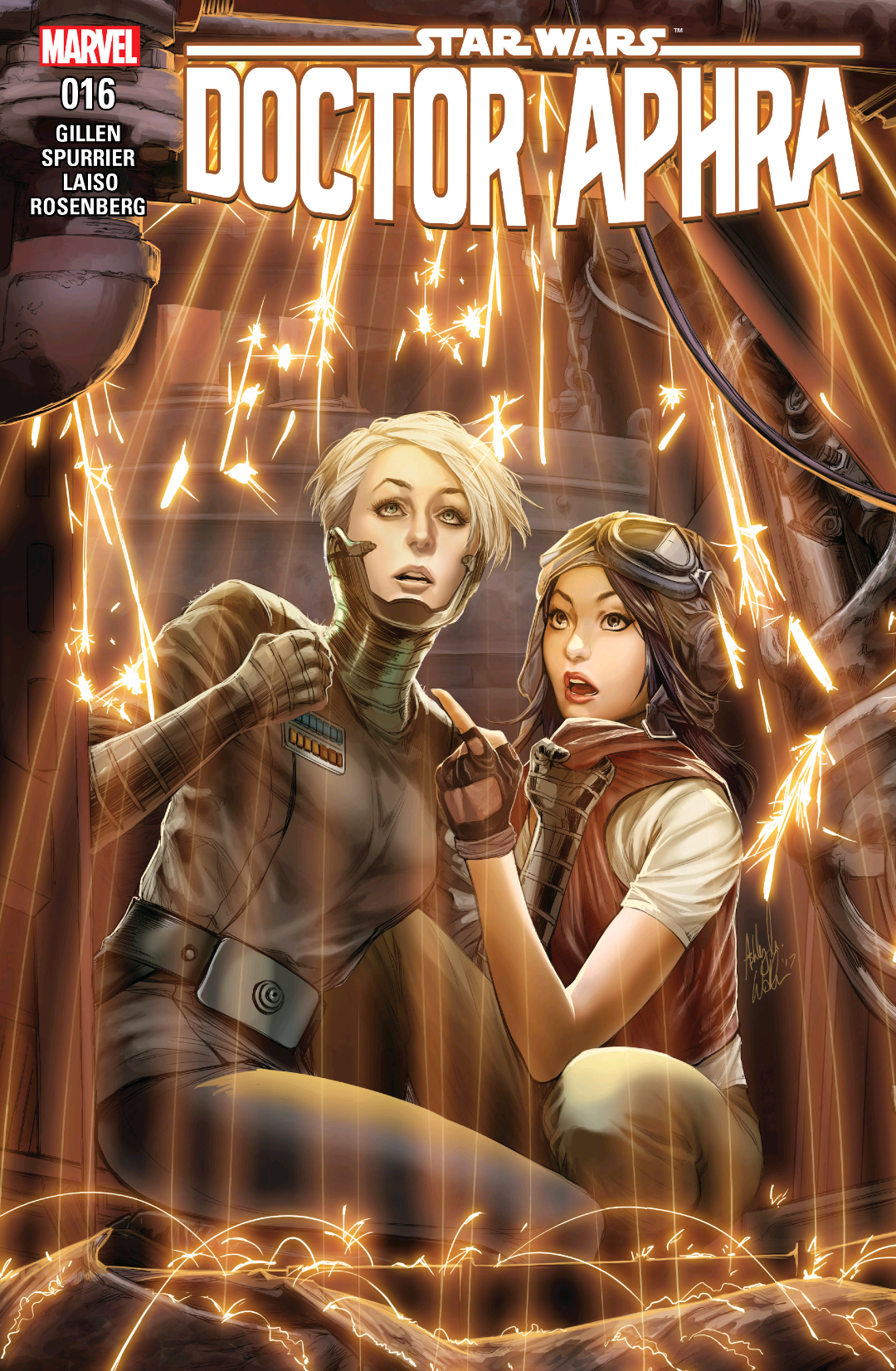 This month's issue of Doctor Aphra picks up right where issue #15 left off, with our favorite rogue archaeologist leading a ragtag team of ne'er do wells on a mission to steal some secured data files for her new master – the murder droid Triple-Zero. At an old Techno Union station, Aphra finds what she is looking for, discovers Triple-Zero's motives for enslaving her, and has another reunion with the "cute" Imperial Inspector Magna Tolvan. Spoilers ahead…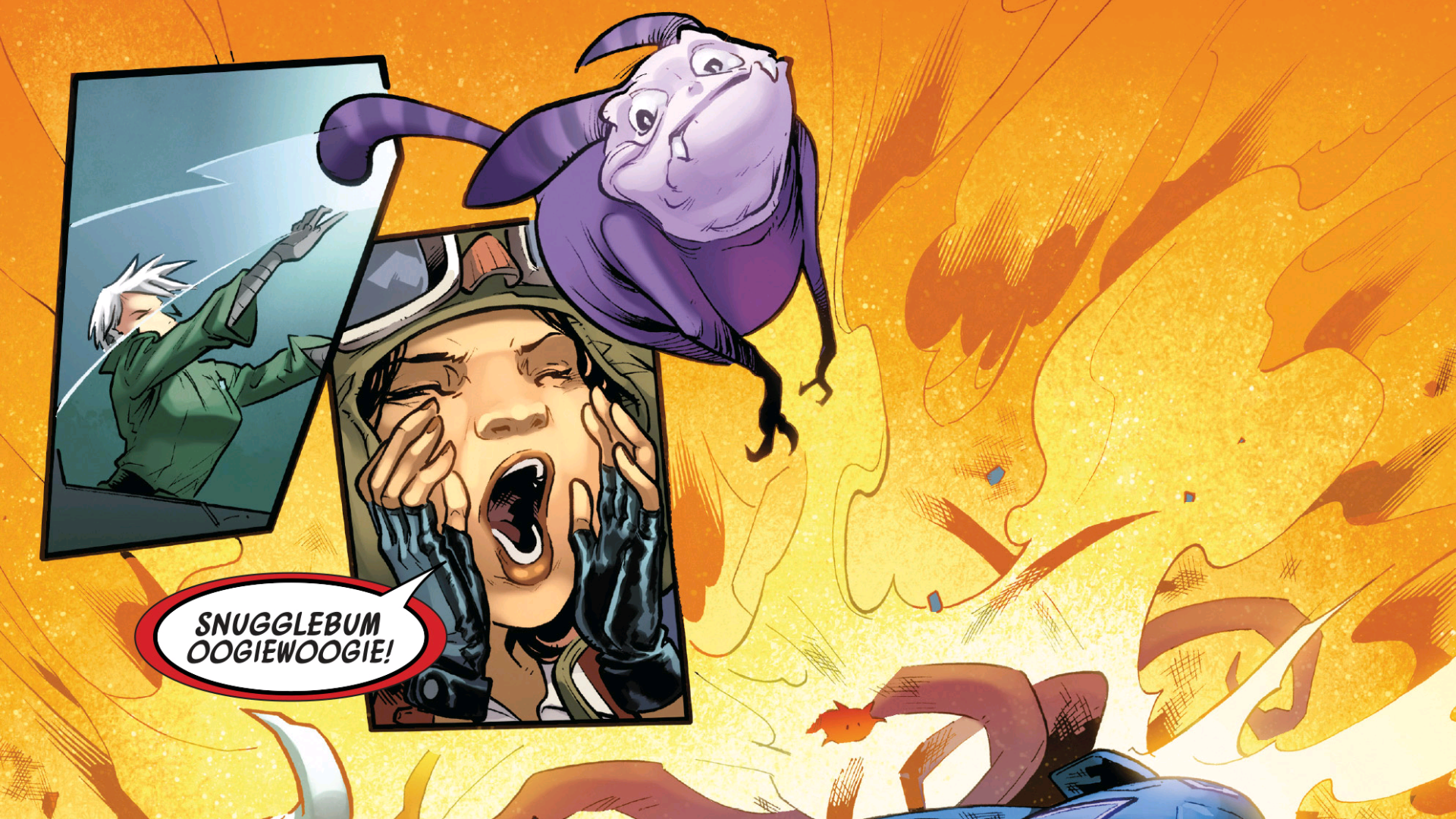 When the newly-dubbed Inspector Tolvan discovers Aphra's presence at the Techno Union station, she crashes her party and a fight breaks out between the Imperials and the mercenaries. A collector of antiquites in his own right, Wat Tambor has stashed away some ancient artifacts dating back to the Hundred Year Darkness that would make "even a Sith sob" as Aphra puts it. Unfortunately for all involved, one of these artifacts gets disturbed during the fight, summoning a mythic beast who has a one-track mind for destruction.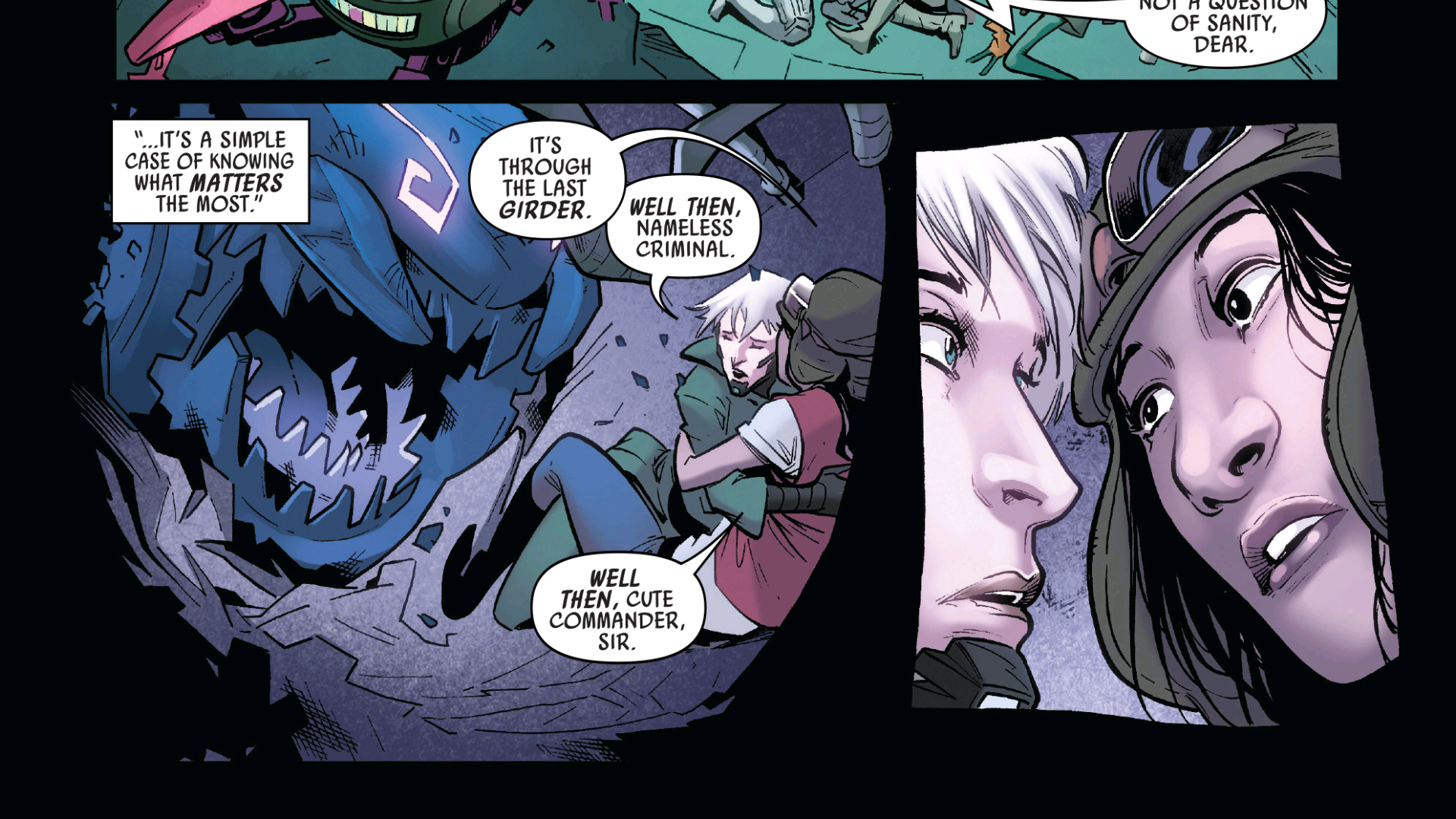 Aphra and Tolvan are forced by the creature to go on the run together, and when they find themselves trapped against all odds, the romantic tension that has been brewing since their first encounter finally culminates in a desperate last-chance kiss between the two. Fortunately, cyborg lady arrives to save the day, but Aphra is forced to kill her when Tolvan's safety becomes threatened (oh, the things people do for love).
Back on the ship, Aphra contacts Triple-Zero, and informs him that the files he was after have been relocated to a place called "Hivebase-1", one of the biggest Imperial archives in existence and the "pride and joy" of the Tarkin Initiative. Aphra discovers that Triple-Zero is seeking to discover the memories of his previous exploits, as those memories have long been wiped away. Even droids, it seems, wish to learn from past experiences and discover who they really are.
In the last scene of the comic, it is revealed that Tolvan has smuggled herself aboard the vessel under the guise of the crew's resident Defel (whom I assume is now dead). I'm still trying to puzzle out how Tolvan managed to field dress and make a skin suit out of him in less than 5 minutes – but what can I say, Doctor Aphra has always been one of Marvel's zaniest entries and this kind of stuff is par for the course (exploding cats anyone?).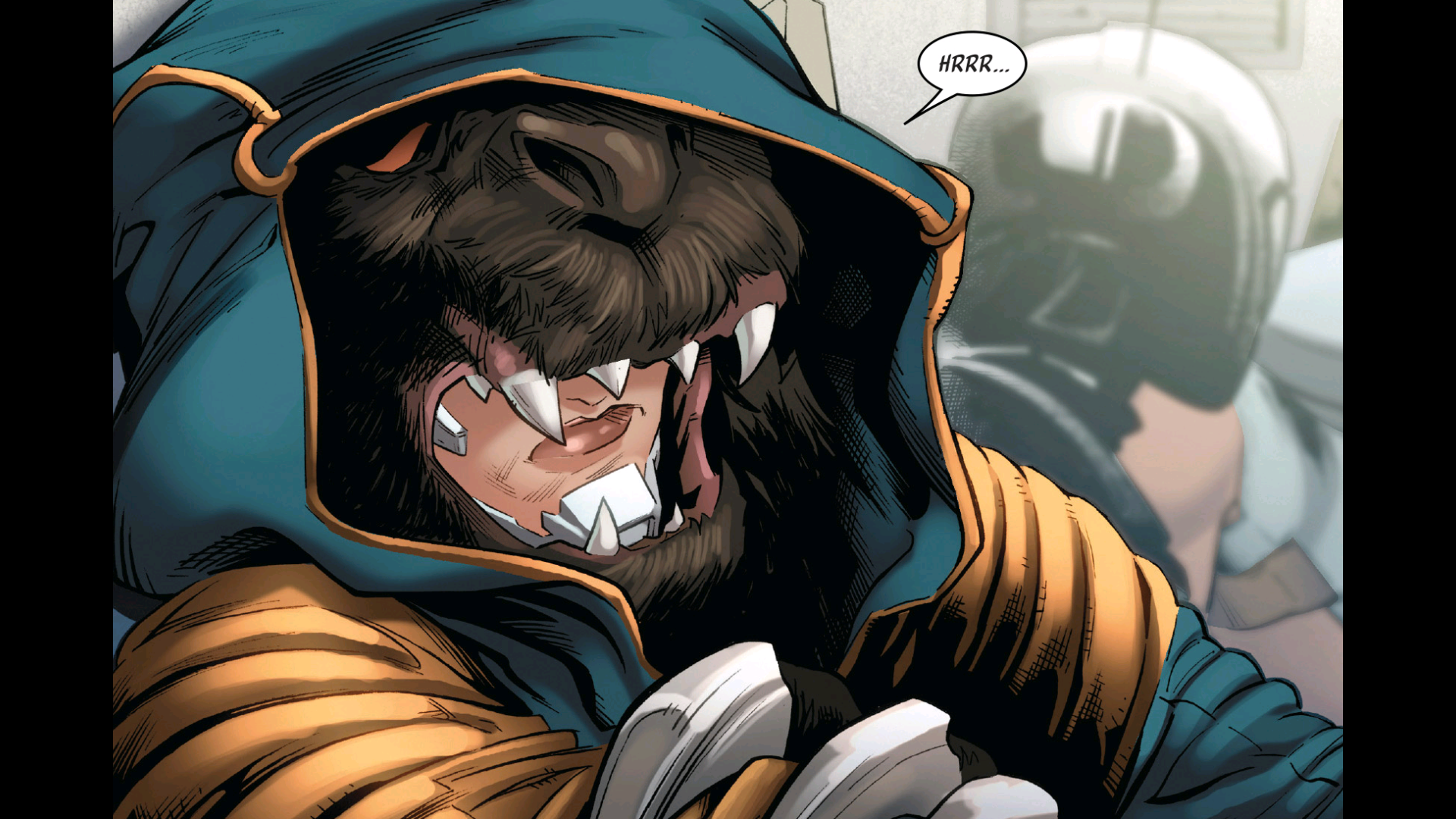 I enjoyed this issue quite a bit and for pretty much the same reason I have enjoyed most of the entries in this series – it's just wild wacky fun.  There's not really anything that didn't work for me in this issue and the stand out moment for me was the reveal of Triple-Zero's intentions. I can't wait to see what kind of atrocities he was part of in his past exploits, and if they ever wanted to make a Knights of the Old Republic connection to HK-47 – this is a prime opportunity. Plus, with all the other ancient nods like the "Hundred Year Darkness" (a century of war following a schism between the orthodox Jedi and the dark Jedi that resulted in the formation of the Sith), it stands to reason that all things are possible at this point regarding those ancient connections.
But what about that kiss? Well, I can't say I didn't see it coming, but it was definitely earned on Gillen's part as he has been feeding this beast for quite some time now. It may well be a watershed moment in Star Wars as well – although not the first same-sex kiss in the franchise's history, I believe it is the first one in a visual medium (though I admit I could be incorrect on this). No doubt, the creators behind the franchise will continue to push the boundaries of traditional story telling moving forward.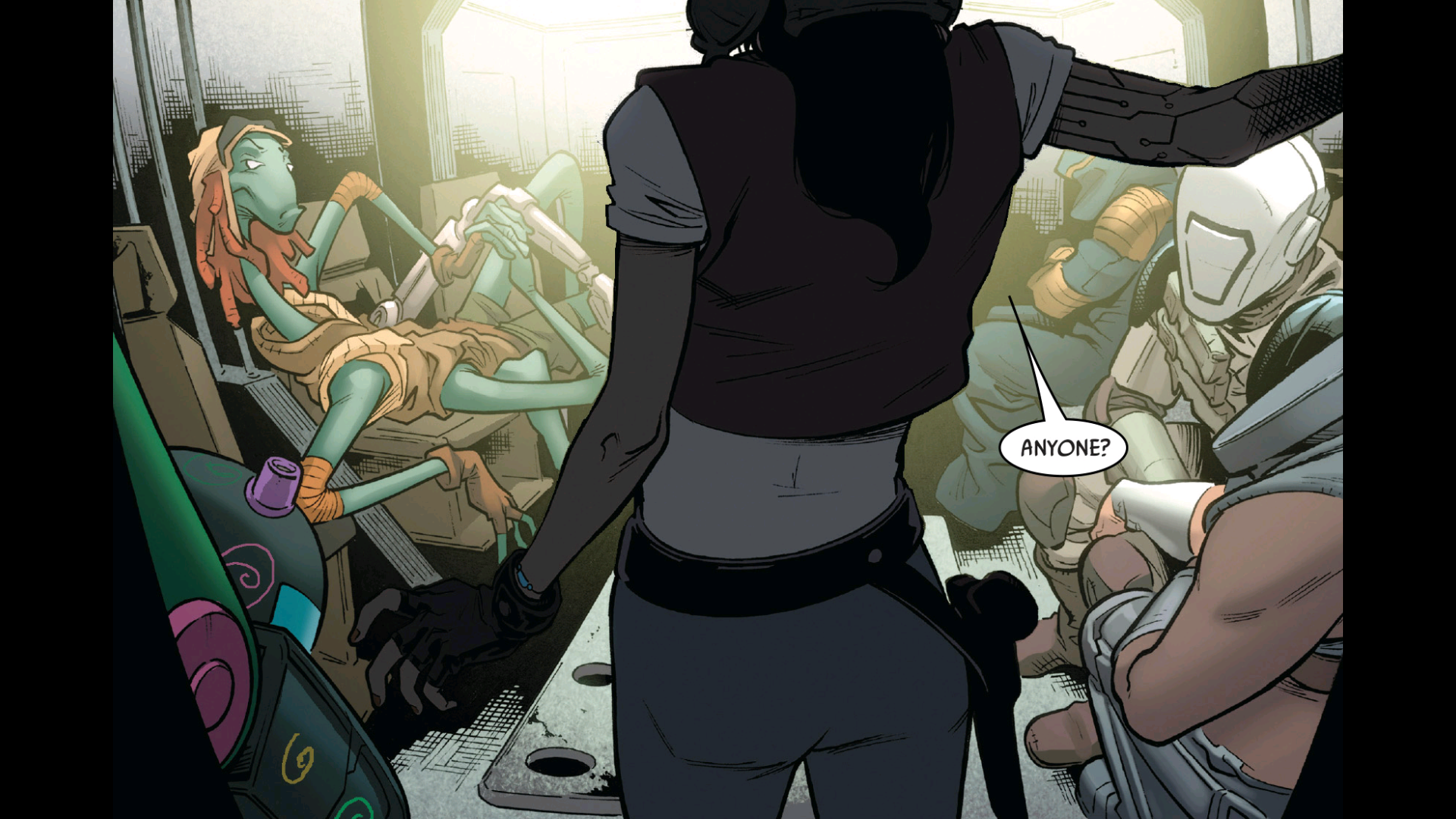 If this issue has a weak point, however, it's the artwork. The art is passable, and there has definitely been a lot worse from others, but Laiso's character work is inconsistently good at best. He handles the larger action pretty well, but he loses me in the details. I don't want to give off the impression that the art is bad here – it's far from it – but it's not my favorite (I miss Kev Walker).
The bottom line with this issue is that if you've been following along with Aphra's adventure up to this point, this issue gives you absolutely no reason to jump ship and even teases a few things to come. Nothing ground-breaking with this issue (except the kiss maybe – but it doesn't feel ground-breaking when you see it coming lightyears away). Doctor Aphra #16 is available now in a comic shop near you or online at Comixology.
Score: 8.5/10
Jordan Pate is Co-Lead Editor and Senior Writer for Star Wars News Net, of which he is also a member of the book and comic review team. He loves all things Star Wars, but when he's not spending time in the galaxy far far away, he might be found in our own galaxy hanging out in Gotham City or at 1407 Graymalkin Lane, Salem Center, NY.