Review: A Betrayal, a Bar Fight, and an Unexpected Origin Story in Marvel's Star Wars: Darth Vader #11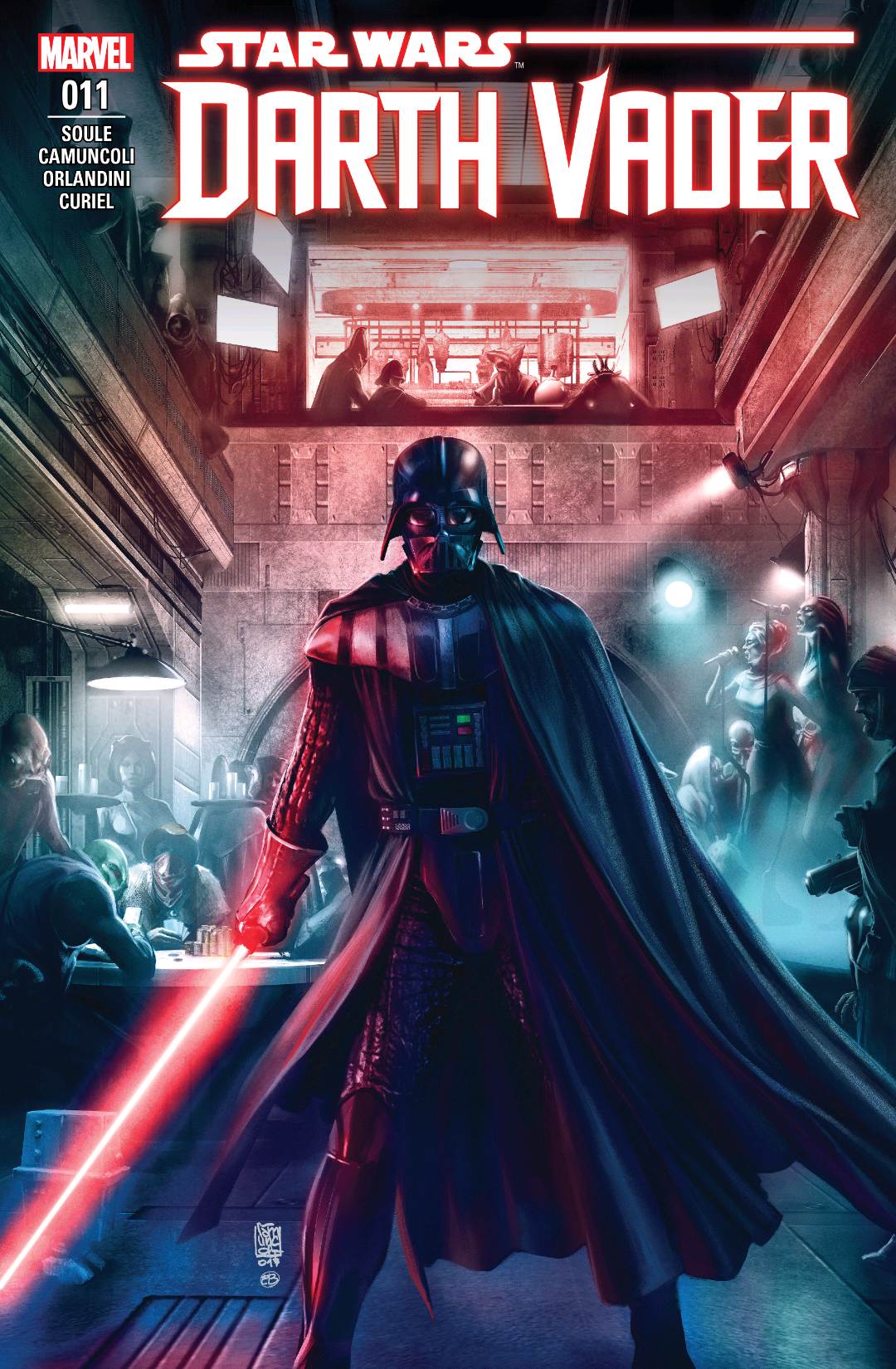 In the latest issue of Charles Soule's fantastic Darth Vader series, the Sith Lord is betrayed by someone close as he continues his hunt for survivors of the Jedi purge. Artist Giuseppe Camuncoli and colorist David Curiel bring the intense action to life, and Soule delivers an unexpected origin story for a character he created in his first Star Wars adventure. Spoilers ahead…
If you've been following the Vader series up to this point, you'll know that the dark lord has made quite the journey since his fall at the hands of his former master, Obi-Wan Kenobi. Having acquired a lightsaber from a defeated foe and twisting the kyber krystal to his crimson will, Vader now trains the Inquisitorious in the fine art of Jedi eradication. After having recently killed the Jedi librarian Jocasta Nu, Vader has traveled to Cabarria with the Ninth Sister in response to a tip regarding a possible Jedi encounter.
So, a Sith Lord walks into a bar… I'm kidding. Many a joke may start out in similar fashion, but humor is far from Vader's mind as he enters the watering hole looking for information about the reported Jedi. The patrons don't seem very eager to answer, and suddenly the trap begins to unfold. From the balcony above, a young bounty hunter sets Vader in her sights as she attempts to extract his Jedi weapon with a tractor rifle. Little does she know, this is not the "candy from a baby" situation she was expecting.
When Vader's lightsaber is destroyed in his attempt to retrieve it from the girl, he begins to use the surrounding patrons as a shield against the girl and her partners in crime (her own parents who are also bounty hunters). An ion grenade may have rendered everyone's weapon ineffective, but the Sith Lord is a weapon in his own right, and the trio don't stand a chance.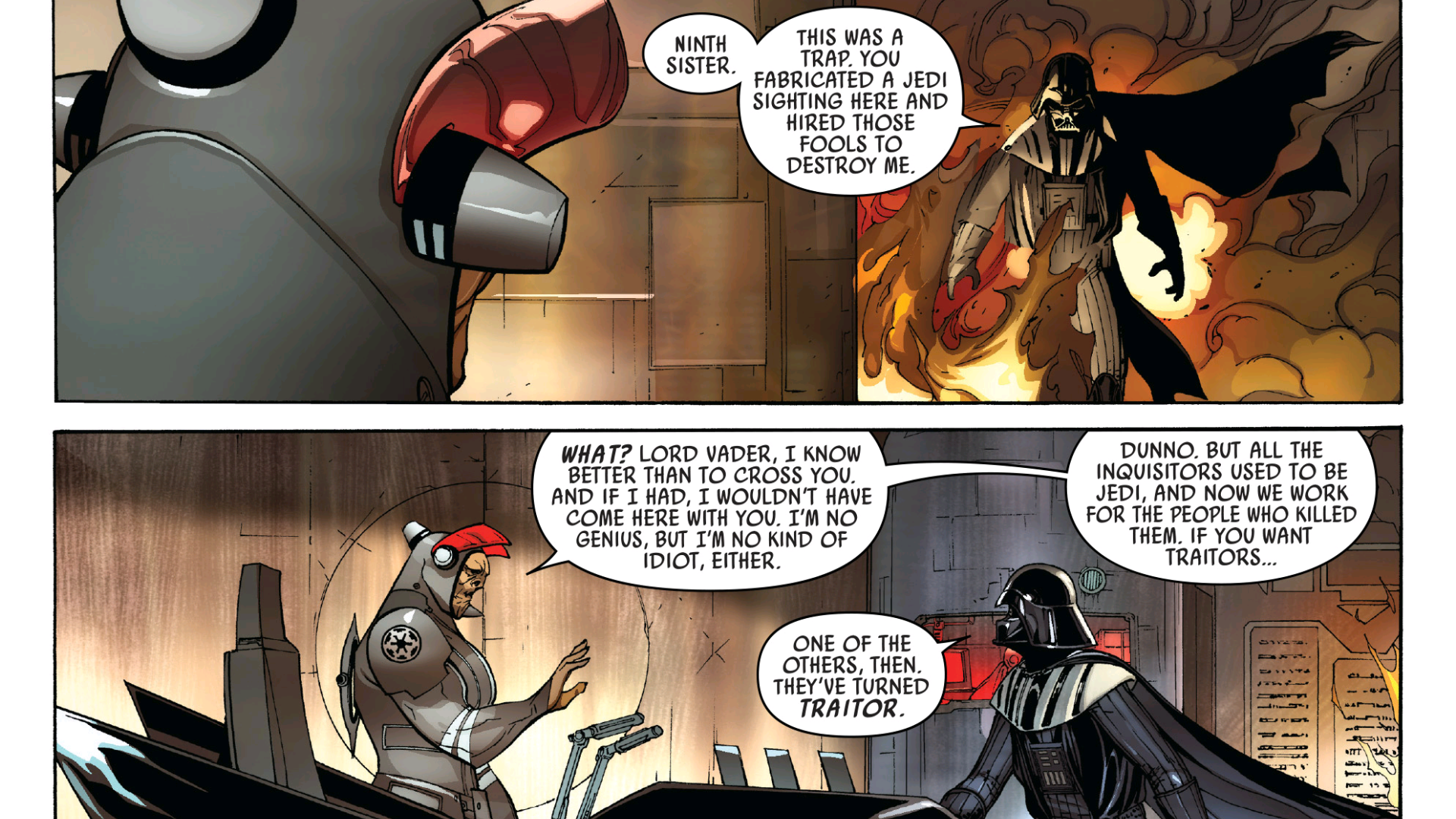 It becomes clear to Vader than he had been set up, and he is eager to accuse the Ninth Sister of being a traitor. She denies the accusation but is quick to point out that he is working with former Jedi who all betrayed the Order, so treason would certainly not be a foreign concept to any one of them. Vader orders the Sister to remain where she is (under penalty of death) as he chases after his attackers.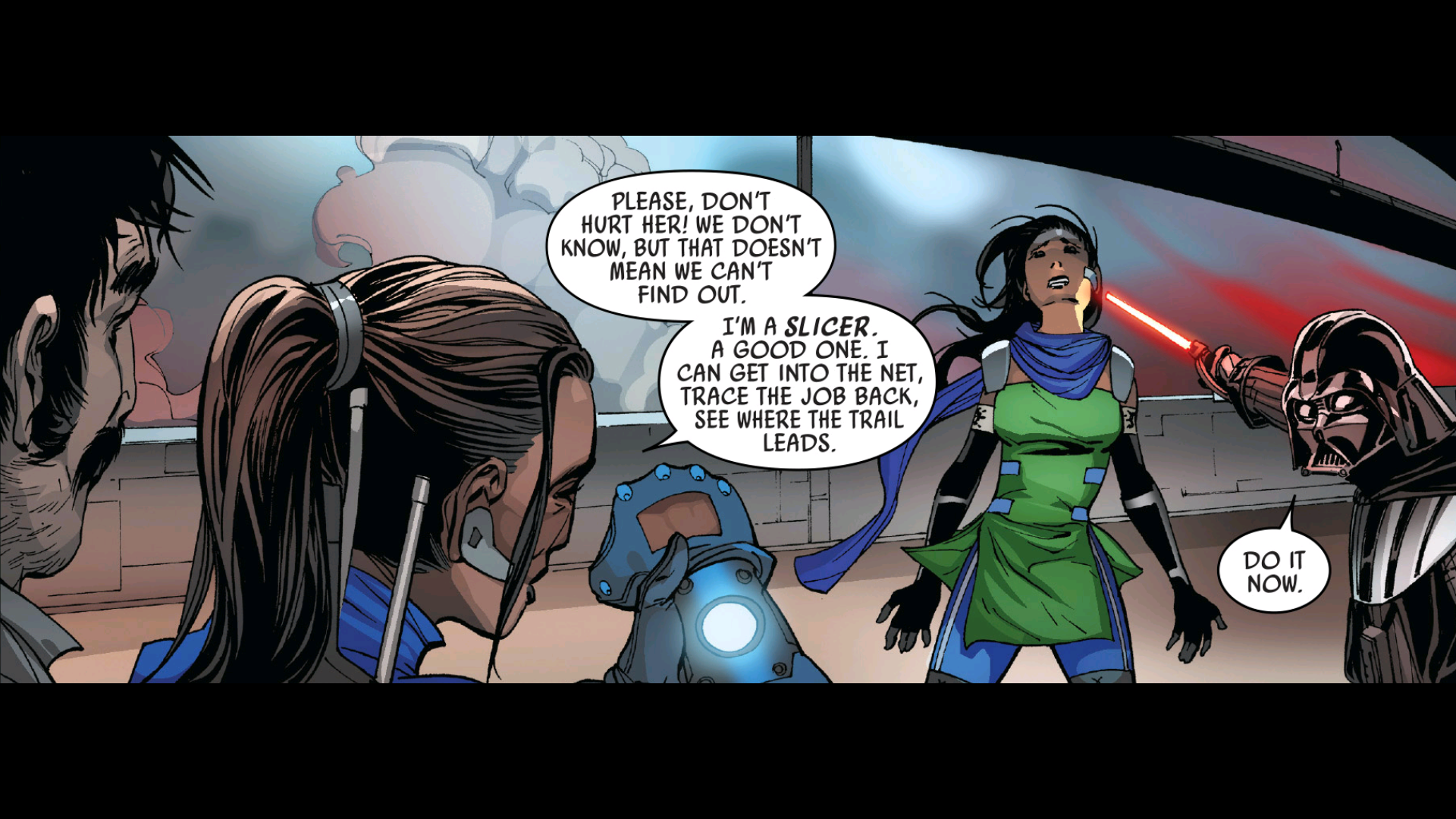 When he inevitably catches up to the bounty hunter family, he is desparate to extract whatever information he can from them about the person who hired them for the job. The parents claim that the job was anonymous but that they would help him track down the source if he let their daughter go. Vader agrees but asks for a demonstration of the woman's ability to slice the network before setting the girl free. She is surprised to find that the encryption was so easily sliced and reveals to Vader that the order actually came straight from the top, implicating you know who in the attack on the Sith Apprentice.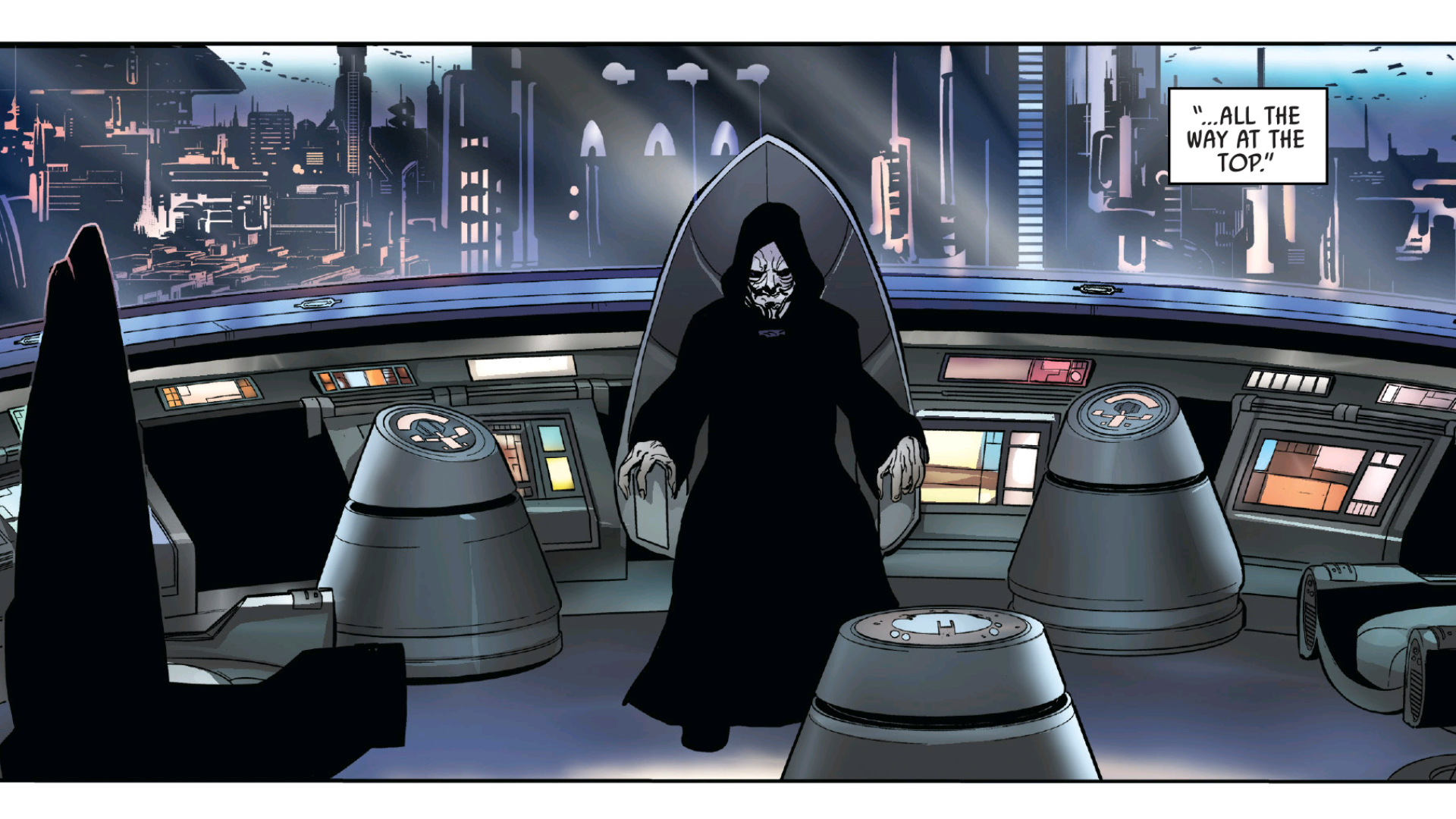 This was another really great issue in this series, and Soule continues to give Vader fans a story we've all been wanting since Revenge of the Sith. I love the back and forth that is happening constantly with Palpatine as Vader is figuring out just exactly how this master/apprentice relationship with a Sith lord really works. He thought he was being betrayed, but it was just a test, and I love that about old Sheev. He's always keeping his student honest, and there's never a dull moment in their relationship.
Fans of Soule's Lando mini-series may remember the bounty hunter Chanath Cha (above), and I was surprised to see her make an appearance in this series (she was the daughter if you haven't put it together yet). Once I remembered who she was, I suspected Palpatine was the culprit, given his employment of Cha later on when his luxury yacht goes missing (see the Lando series).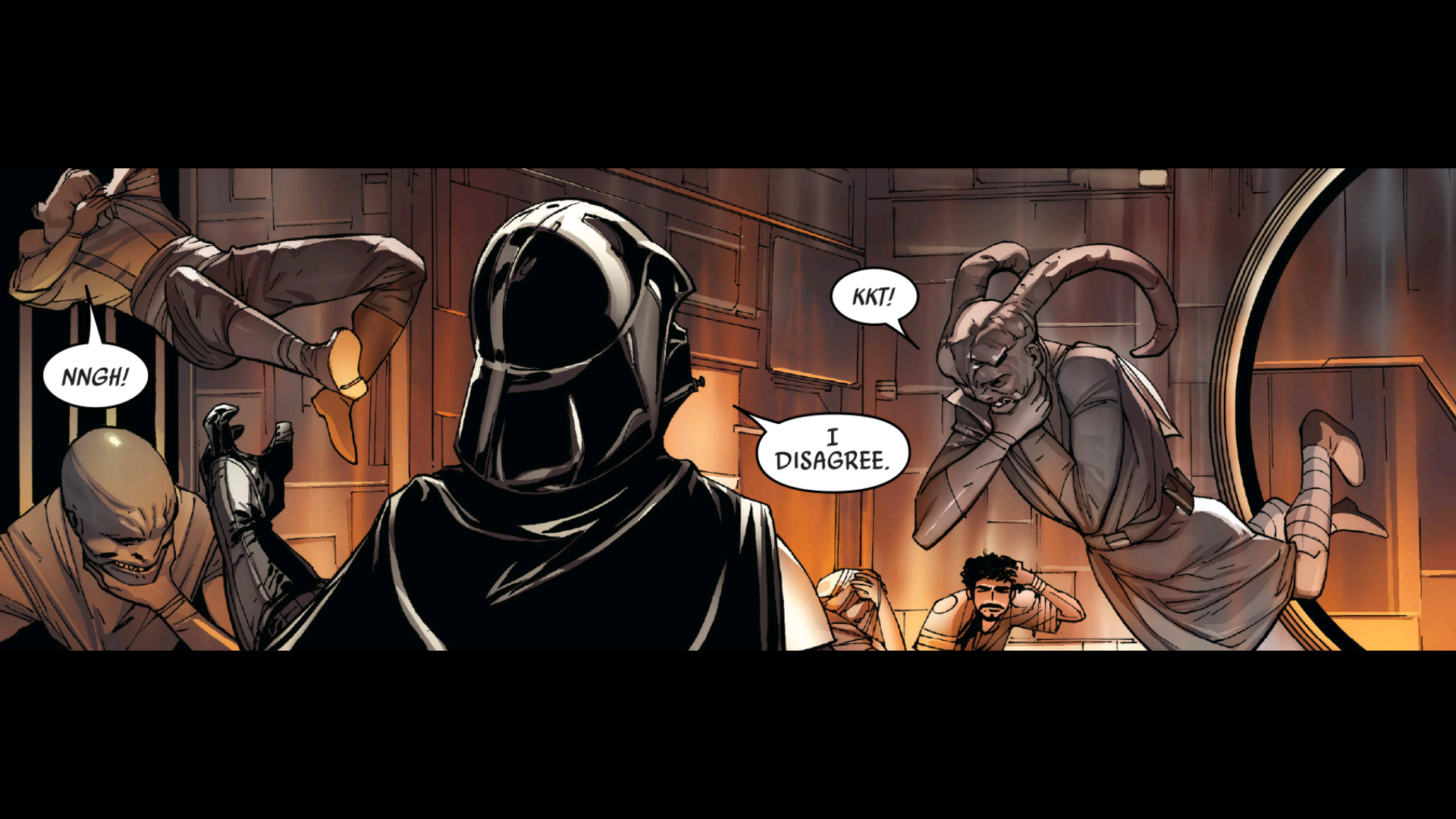 The best comics to me are the ones that leave you craving the next issue as soon as you turn the last page, and that has been a constant feeling in this series. I recommend this one to any Star Wars fan, especially those who are fans of the Palpatine/Vader dynamic, seeing Vader mow through helpless individuals, or those who just dig a good bar fight (any Roadhouse fans out there?). If you haven't jumped on the train yet, this is an excellent jumping-on point for the series.
Score: 8.5/10
Darth Vader #11 is available in your local comic shop now or digitally at Comixology. Until next time, happy reading comic fans!
Looks like another origin story might be happening in the next issue…Vader's lightsaber!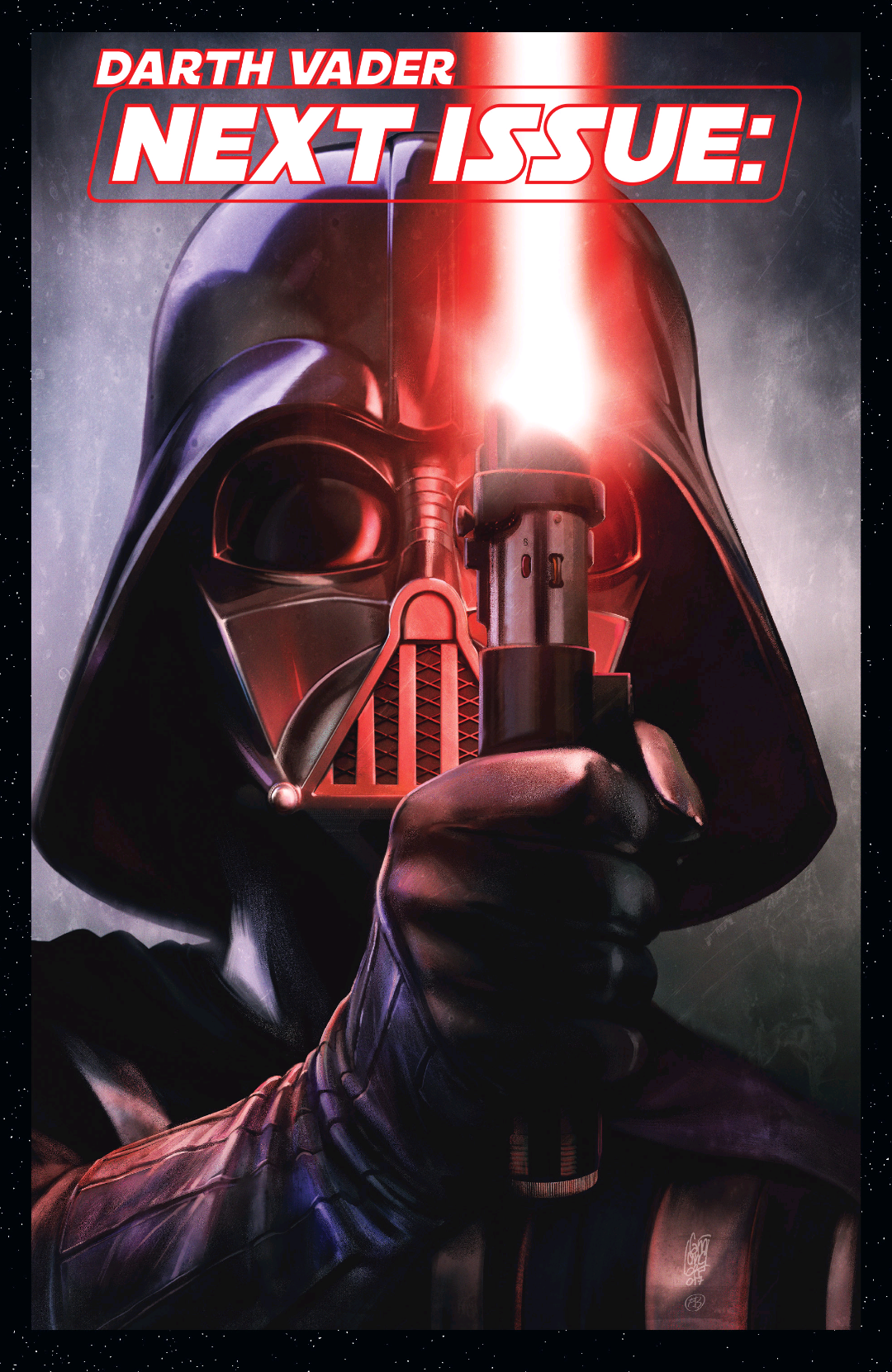 Jordan Pate is Co-Lead Editor and Senior Writer for Star Wars News Net, of which he is also a member of the book and comic review team. He loves all things Star Wars, but when he's not spending time in the galaxy far far away, he might be found in our own galaxy hanging out in Gotham City or at 1407 Graymalkin Lane, Salem Center, NY.