UPDATE! New Star Wars Rebels Episode Names & Descriptions Revealed; New Trailer May Be Imminent, Show May Return In Early February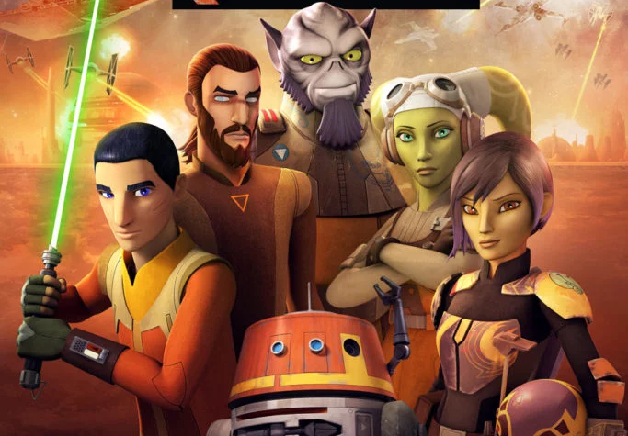 One week ago, we got some spoiler-rific episode titles for the first two episodes of Star Wars Rebels to arrive after the end of the hiatus. In addition, new evidence arrives to suggest that the trailer for the remaining few episodes will be arriving soon.
Zap2It (via JediBibliothek) lists two more episodes of the seven that are left:
Wolves And A Door: Ezra and the Ghost crew learn the Empire has plans for the Jedi Temple on Lothal. [Airs March 10. 2018.]

A World Between Worlds: While the other rebels engage the Imperial forces outside the Jedi temple, Ezra gains access inside and experiences a revelation. [Airs March 17, 2018.]
This information is a little interesting in and of itself because there were previously three other episode names listed – Allegiance, One Giant Step Ahead, and Call of the Spectre – that indicated that all episodes were named except for the presumed two-part finale. But these two listings suggest that the episode names might have been changed mid-production. Thankfully, we won't have long to wait to make sense of this discrepancy.
In addition, there are also a few things to indicate that we're about to get a new trailer very, very soon. Take, for example, this mysterious listing added to Star Wars YouTube channel's Rebels playlist:
Mid season trailer 'confirmed' for tomorrow?? from StarWarsLeaks
It's not uncommon for an uploader who schedules new videos for certain times of day to put a video in a playlist shortly before revealing it to the public, and it looks like that's what's happening here. Even more interesting is that some prominent staff within Lucasfilm are indicating that we'll have a lot more information in a matter of days:
Don't worry, my friends. It will all be over soon.#StarWarsRebels pic.twitter.com/bs5BwhFP0g

— Dave Filoni (@dave_filoni) January 14, 2018
For everyone asking, the return date for #StarWarsRebels in the US will be confirmed very soon (within a week). There's some incorrect info out there, but we think you'll be pleased when we make the official announcement. 😉

— Tracy Cannobbio (@Tcann13) January 16, 2018
Cannobbio's comments in particular are also interesting – in a reply to her comment, she also heavily implies that the schedule we've previously seen may be different for UK viewers than it is for American viewers. So with that in mind and the presence of "incorrect info" discussed above, we might get the return of Rebels a little earlier than expected after all…
UPDATE!
A fan of ours on Twitter gave us an interesting lead based on one of their television listings. If these listings are accurate, then Rebels returns early next month instead of late next month.
#starwarsrebels comes back soon! @StarWarsNewsNet @TheSWU @theStarWarsHQ pic.twitter.com/y9SiBQqxnF

— ST85751 (@st85751) January 18, 2018
Again – with the trailer nearly here, we'll find out soon enough.
Grant has been a fan of Star Wars for as long as he can remember, having seen every movie on the big screen. When he's not hard at work with his college studies, he keeps himself busy by reporting on all kinds of Star Wars news for SWNN and general movie news on the sister site, Movie News Net. He served as a frequent commentator on SWNN's The Resistance Broadcast.