Rian Johnson Discusses Snoke and Phasma in The Last Jedi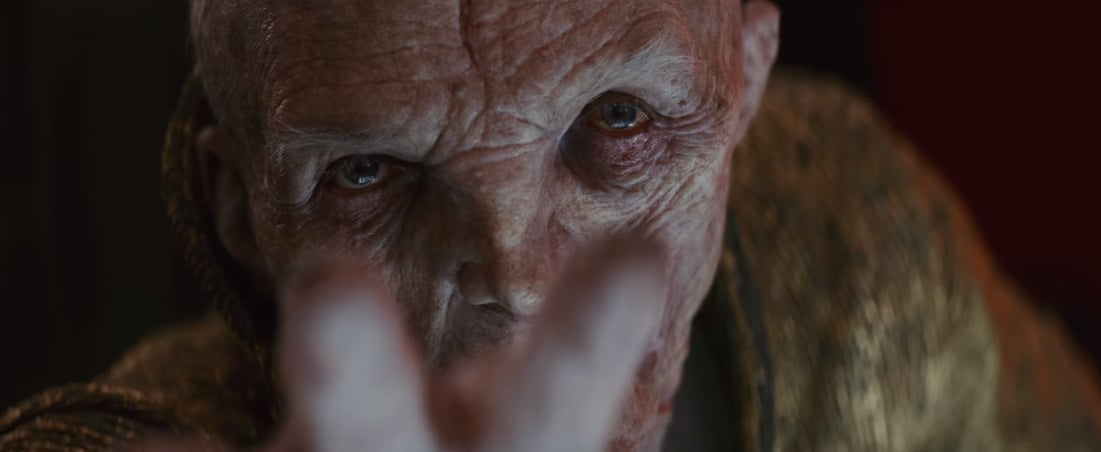 The most anticipated movie of the year has finally arrived as The Last Jedi opened worldwide this past weekend! While the Resistance dealt with immeasurable loss and despair, the First Order itself also had its share of unexpected events occur in the middle chapter of the sequel trilogy, and Entertainment Weekly spoke with writer/director Rian Johnson about those aspects of the story.
***SPOILERS AHEAD***
Supreme Leader Snoke
There is no blueprint! The leader of the First Order was cut down (quite literally) during one of the most tense and audience gripping scenes of The Last Jedi, surprising many who may have expected him to live into Episode IX and perhaps then be defeated by a redeemed Ben Solo. But we've seen that story before! Rian Johnson knew he wanted to take his story in a different direction, telling Entertainment Weekly that he realized Snoke's importance rested more on Kylo Ren vaulting himself as the ultimate ruler.
"When I was working on the character of Kylo, I came to a place where I thought the most interesting thing would be to knock the shaky foundation out from under him at the beginning of this movie," Johnson said. "By the end of this film, he's gone from being a wannabe Vader to someone who is standing on his own feet as a complex villain taking the reins."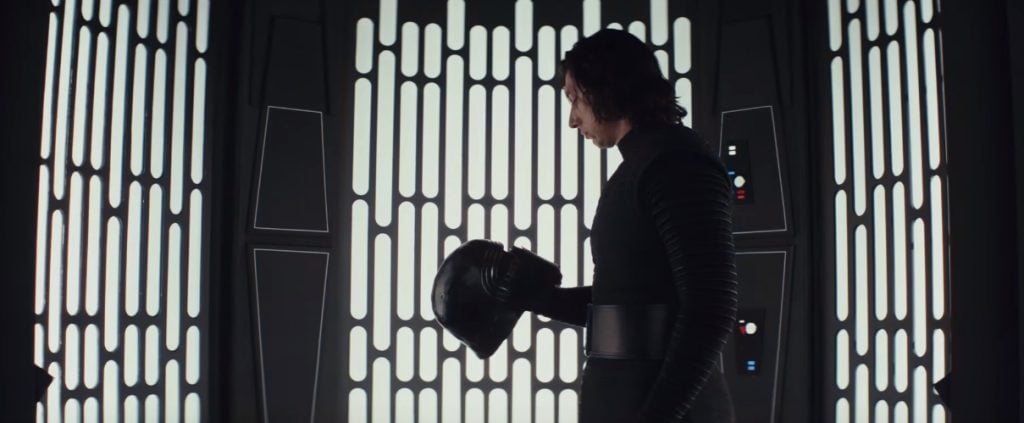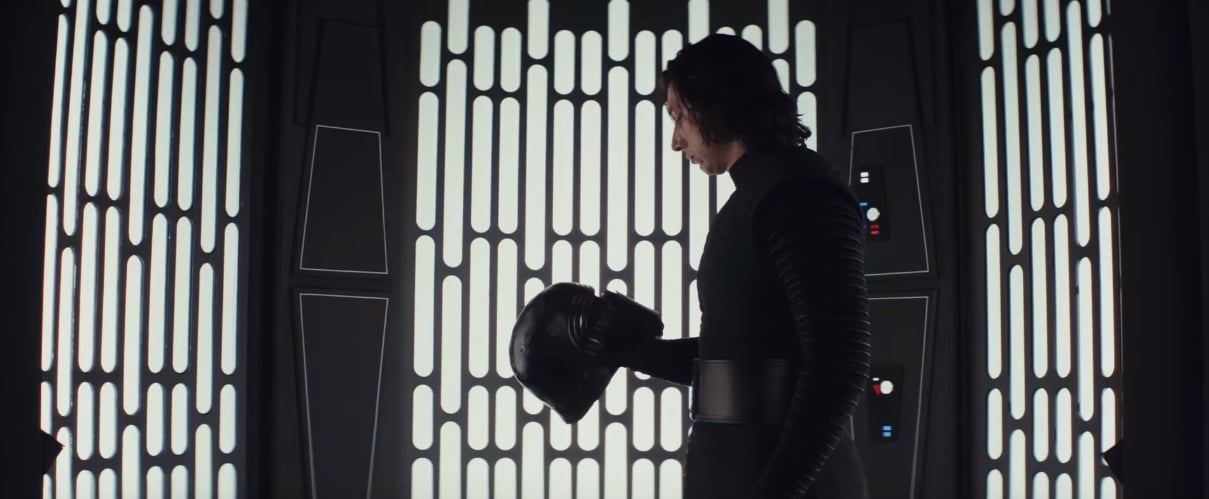 What was more important, for Snoke to stick around and get ousted just like Palpatine in Return of the Jedi? Or eliminating him now and throwing the entire future into upheaval?
"But then the question is: What place would Snoke have at the end of that? That made me realize the most interesting thing would be to eliminate that dynamic between the 'emperor' and pupil, so that all bets are off going into the next one. That also led to the possibility of this dramatic turn in the middle, which could also be a really powerful connection point between Kylo and Rey."
Johnson explains why he didn't go into Snoke's back-story, comparing it to our introduction to Palpatine in Return of the Jedi. We didn't know where he came from. We just knew he was pure evil, and that was enough. Perhaps not knowing where Snoke went to high school keeps that shrouded sense of mystery we needed. Plus, as Johnson points out, it would have stopped the movie in its tracks, which he didn't want to do.
"It would have stopped any of these scenes dead cold if he had stopped and given a 30-second speech about how he's Darth Plagueis. It doesn't matter to Rey. If he had done that, Rey would have blinked and said, 'Who?' And the scene would have gone on."

Before moving on himself, Johnson quickly added, "And I'm not saying he's Darth Plagueis!"
Fans thirsting for origin stories and back-stories will have to wait until the inevitable canon novel or comic series that delves into Snoke's history, which we imagine would uncover how he became so injured, deformed, and so powerful with the dark side of the Force. But until then, he was the stepping stone our true villain Kylo Ren needed to vault himself to the next level of ultimate supremacy.
Captain Phasma
The commander of the stormtroopers, the towering and intimidating warrior, Captain Phasma once again found little screen time in The Last Jedi. We don't see her until the second half of the film, and after a few brief scenes she was gone, descending into an apocalyptic swarm of fire. In one of his latest pieces at Entertainment Weekly, Anthony Breznican discusses Phasma's final moments:
On her knees, beaten in single combat by Finn (John Boyega), a former subordinate and deserter, Phasma looks up at him through her damaged mask and snarls, "You were always scum."

Finn nods: "Rebel scum."

And then, much like Phasma's fighting spirit, the floor collapses beneath her. We see the towering warrior plunge into a literal kind of hell. Columns of flame rise up to consume her as she vanishes into the inferno.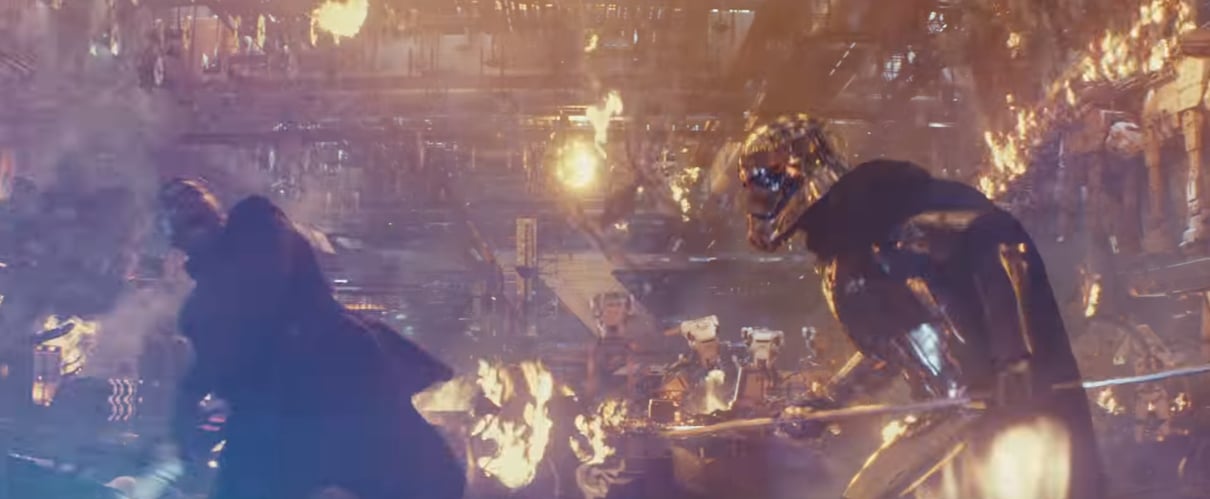 Now that The Last Jedi is here, it is without question that theories will begin to mount. Why? Because it's Star Wars, and we MUST theorize! So with that said, we can all agree we never actually saw Phasma die. Is it possible she landed in a safe spot and found a way to escape? Rian Johnson talks about Phasma's ability to survive using a funny analogy:
"Phasma is the Kenny from South Park of this series," he joked.
South Park's Kenny is famous for dying in every episode and returning as though nothing happened the following week. So will we see Phasma pop back up in IX? Perhaps with a few scars and burns to show for it? It appears Gwendoline Christie supports that idea according to costume designer Michael Kaplan:
"Gwendoline has it all figured out how she wants to come back."
Whether Phasma is gone for good or not, our final close up of her was a glimpse inside the mask. After Finn delivers his final blow to her helmet, we see the monster…but it wasn't what we expected. Johnson explains what he wanted to show us, and how he ultimately determined what she would look like behind the menacing armor:
"It seemed like a really striking thing to just glimpse the humanity behind it," Johnson said. "Originally, we were like, 'Should it be kind of monstrous? What should be behind there?'"

Ultimately, it was one of the heroes who came up with the idea of what we should see of this villain.

"I think we were talking about it and it was Daisy [Ridley] actually who said it should just be Gwendoline's beautiful, piercing eye," Johnson said. "Just this perfect blue eye behind this metal monster. I loved that image."

He felt there was something more disturbing in revealing beauty beneath that mask rather than ugliness.
Breznican points out that while Phasma may have been as beautiful and striking as Gwendoline Christie herself, if she returns, that might no longer be the case:
"…if Phasma does return for Episode IX, which is currently being written by J.J. Abrams and Argo Oscar winner Chris Terrio, she is likely to be horrifically burned and broken from her downfall in The Last Jedi."
Rian Johnson made his choices with conviction, and his explanations make a great deal of sense. It is now up to J. J. Abrams, who was also an executive producer for The Last Jedi to take the ball and close this story out with Chris Terrio.
You can find me on Twitter @JohnnyHoey and on our official podcast The Resistance Broadcast's account @RBatSWNN!
"For my ally is the Force, and a powerful ally it is."
John Hoey is the Lead Editor and Senior Writer for Star Wars News Net and the host of The Resistance Broadcast podcast
"For my ally is the Force, and a powerful ally it is."