Behind-The-Scenes Footage Of Solo: A Star Wars Story Shown At Russian Press Event
The first footage of Solo: A Star Wars Story – a behind-the-scenes reel – was just shown at a Russian press event. Could this mean that we'll be seeing this same footage very soon, elsewhere?
According to Kinometro (hat tip to orange_jooze on Reddit), Disney and Sony showcased content from their upcoming movies as part of Kinorynok, a press event for Russian media. Amidst the movies discussed, it was noted that some behind-the-scenes footage of Solo was just revealed:
"The nearest release [from Disney] is the Lucasfilm project. Star Wars: The Last Jedi (December 14, 2017). At the presentation, the final trailer of the film was shown, which can already be seen in cinemas, as well as an exclusive video about the shooting of the film. A working clip about creating a picture with comments of actors and the director was presented and the future spin-off of the franchise – a solo film about Han Solo. It is scheduled for release on May 24, 2018."
Marketing for Solo: A Star Wars Story was always going to be weird due to it being released a mere five months after Star Wars Episode VIII: The Last Jedi . Disney has thus far opted not to advertise more than one Star Wars movie at the same time, unlike what they've done with Marvel (which is really just a series of interconnected brands as opposed to a single brand with separate eras of stories) – so it's not surprising that the first look at the movie is going to be a behind-the-scenes video instead of a teaser. Disney allowed The Last Jedi to be delayed from May to December, and if that delay hadn't happened, we'd likely have looked at a similar situation to the one that's happening now with regard to the eighth part of the main franchise and Rogue One – and the company has shown absolutely no signs that it's going to delay Han Solo at all.
What's also worth noting is that fans who see The Last Jedi on Thursday night at the Opening Night Fan Event will get access to "exclusive content" according to Fandango. Putting two and two together here, does that mean that the bonus footage shown at these screenings will be the kind of stuff that was shown for journalists overseas? We'll just have to see!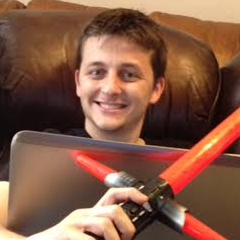 Grant has been a fan of Star Wars for as long as he can remember, having seen every movie on the big screen. When he's not hard at work with his college studies, he keeps himself busy by reporting on all kinds of Star Wars news for SWNN and general movie news on the sister site, Movie News Net. He served as a frequent commentator on SWNN's The Resistance Broadcast.