Partial Force Friday II Checklist Reveals Star Wars: The Last Jedi Toys!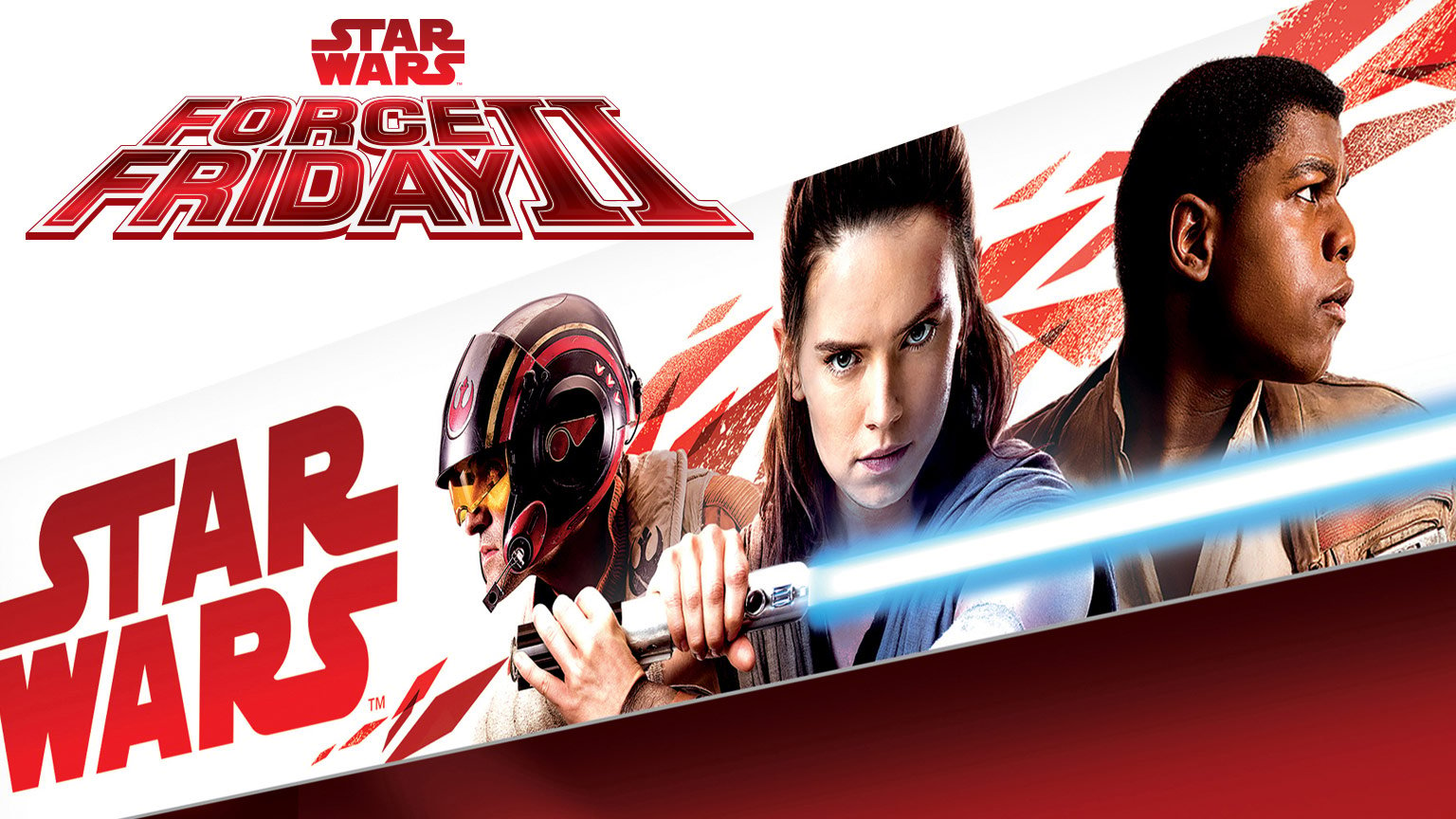 The first page of the Force Friday II checklist has made its way online, and with it comes details on a number of Star Wars: The Last Jedi products – primarily the action figures and some costume gear.
The list was produced by the good people over at Yakface, and while it is by no means comprehensive, it does give fans a good idea of what to expect for this September's big Star Wars sale.
The fine print of the list reads as follows:
Figures (MSRP $7.99)

Rey (Jedi Training)
Poe Dameron (Resistance Pilot)
Kylo Ren
Finn (Resistance Fighter)
First Order Stormtrooper
Luke Skywalker (Jedi Master)
General Hux
Rose Tico (Resistance Tech)
Paige Tico (Resistance Gunner)
Chewbacca (With Porg)
C-3PO
Obi-Wan Kenobi
Yoda
Emperor Palpatine
Princess Leia Organa (Hoth)

Deluxe Two-Packs (MSRP $14.99)

Rey (Jedi Training) & Elite Praetorian Guard
Han Solo & Boba Fett
Darth Maul & Qui-Gon Jinn

Deluxe Figure Sets (MSRP $19.99)

Rathtar & Bala-Tik
Probe Droid & Darth Vader
Wampa & Luke Skywalker (Hoth)

Vehicles (MSRP $29.99-$49.99)

Resistance A-Wing With Reistance Pilot Tallie
Canto Bight Police Speeder With Police Officer
Resistance Ski Speeder & Captain Poe Dameron
Kylo Ren's TIE Silencer & Kylo Ren (TIE Pilot)

Miscellaneous (MSRP $29.99-$199.99)

Force Link Starter Set (With Kylo Ren)
BB-8 Mega Star Destroyer (With Supreme Leader Snoke And Elite Praetorian Guard)

6-Inch Scale Figures (MSRP)

Hera Syndulla
Rey (Jedi Training)
Luke Skywalker (Jedi Master)
Grand Admiral Thrawn
Kylo Ren
Darth Vader (Reissue)
Stormtrooper (Reissue)
Snowtrooper (Reissue)
AT-AT Driver (Reissue)
Poe Dameron
Finn
General Leia
Chewbacca
Elite Praetorian Guard

Centerpiece Assortment (MSRP)

Luke Skywalker (Hoth)
Darth Vader (Tantive IV)

Exclusive 6-Inch Scale Figures (MSRP)

Tango – Black (Target)
Clone Commander Gree (Toys"R"Us
Supreme Leader Snoke With Throne (GameStop)
Elite Guards 4-PK (GameStop)

6-Inch Scale Vehicles (MSRP)

Rey's Speeder With Rey (Jakku)
X-34 Landspeeder With Luke Skywalker

Roleplay (MSRP $99.99-$149.99)

Captain Poe Dameron (Black Leader) Helmet
Rey (Jedi Training) Force FX Lightsaber

Titanium Series Helmets (MSRP $14.99)
There's one big piece of information worth pointing out, and that's the fact that Snoke's apparent base of operations is going to be referred to as a "Mega Star Destroyer" – at least on the packaging. It's curious that the design for that hasn't leaked out just yet in spite of a lot of marketing-based leaks making the rounds. But when it hits – along with items that aren't covered on this list – we at Star Wars News Net will be sure to keep you covered.
Grant has been a fan of Star Wars for as long as he can remember, having seen every movie on the big screen. When he's not hard at work with his college studies, he keeps himself busy by reporting on all kinds of Star Wars news for SWNN and general movie news on the sister site, Movie News Net. He served as a frequent commentator on SWNN's The Resistance Broadcast.