"We're" Almost There! The Last Jedi Cast and Director on Jimmy Kimmel LIVE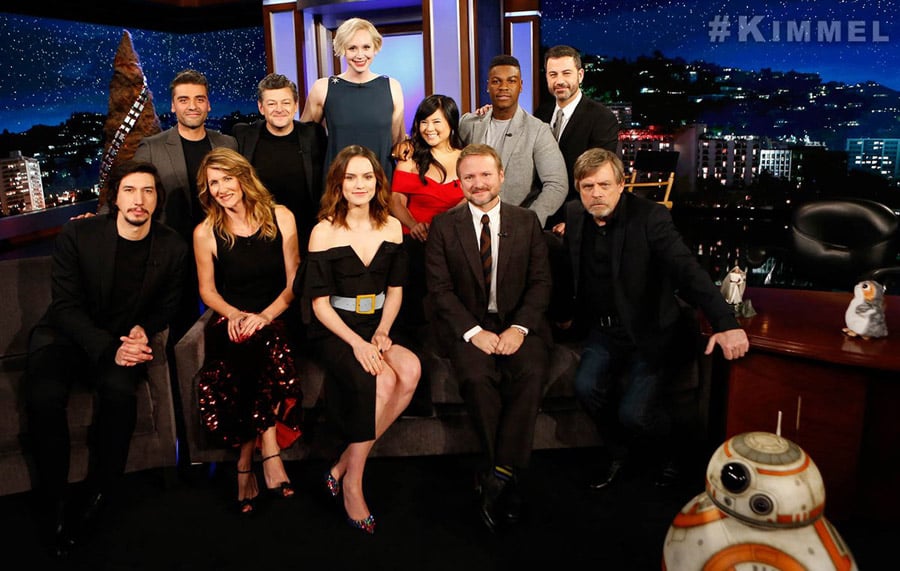 A lifelong Star Wars fan, Jimmy Kimmel always takes his shows promoting these films to the next level. Yes ABC is owned by Disney which adds to the mix, but Kimmel is a true fan since childhood, and he dedicated the full hour of his show to The Last Jedi Friday night.
We're 12 days away from the opening of the film, and Jimmy had Rian Johnson and a large part of the cast on his show to talk about the film, in humorous Jimmy Kimmel fashion. Here is the video of Kimmel with Johnson and the cast:
Kimmel opened the interview joking that they are there to discuss a movie that nobody has seen, and that they cannot talk about.
Adam Driver who has been one of the least featured actors on the massive press tour, finally got to talk a bit about Kylo Ren. Kimmel joked with him that Han Solo and Princess Leia must have been the worst parents to create such an evil child.
There is a lot of talk about tidbits we have known for a while now, but Kimmel did manage to (as many have) ask Daisy Ridley if her character was related to anyone on the couch, and like a pro, she dodged it with jokes and laughs, to which Mark Hamill chimed in:
"This whole saga is about family, a dysfunctional family."
Spoiler protection has been at the forefront of Star Wars movies for a long time, to protect and maximize the viewing experience of the movie-going audience. Hamill went into the most fun story of the night where he talked about how nobody cared during the first Star Wars film. You could hand the script to a friend to read. The protection began with The Empire Strikes Back, with Lucas and Kershner filming alternate lines to protect the secret that Darth Vader was Luke's father, and Hamill, knowing he had to keep that secret to himself, said it was quite stressful at the time, even in an age without the internet.
The rest of the cast joined the interview, with more fun bits along the way:
Kelly Marie Tran was actually on Kimmel back in the day!
Andy Serkis joked he told Rian he could play the porgs, but it didn't materialize.
Laura Dern spoke about realizing a dream by being in Star Wars, she was a fan since she was a little girl. She talked about weeping when she first saw Chewbacca on set.
Jimmy made Rian his own action figure so he wasn't left out.
Overall it was a fun segment, ultimately a reminder how fun and rich with tradition and depth Star Wars is, and that the saga is in great hands.
Perhaps continuing the tradition set forth by J. J. Abrams during promotion for The Force Awakens, Rian Johnson revealed the first word of The Last Jedi, which is "We're".
And here are some tweets by Kimmel with cool photos of the cast from the show:
Backstage at #Kimmel with Daisy Ridley, Adam Driver, @RianJohnson & Mark @HamillHimself #TheLastJedi pic.twitter.com/YUWaeckQYp

— Jimmy Kimmel Live (@JimmyKimmelLive) December 2, 2017
Backstage at #Kimmel with @JohnBoyega, Oscar Isaac, @AndySerkis, @LoveGwendoline Christie, Kelly Marie Tran & @LauraDern #TheLastJedi pic.twitter.com/gYduZxBukc

— Jimmy Kimmel Live (@JimmyKimmelLive) December 2, 2017
Kicking off @StarWars season with a special cast show TONIGHT! @HamillHimself #AdamDriver #DaisyRidley @JohnBoyega #OscarIsaac @AndySerkis @LoveGwendoline #KellyMarieTran @LauraDern @RianJohnson #TheLastJedi #ReyDay #Kimmel pic.twitter.com/OGb9sGGsUu

— Jimmy Kimmel Live (@JimmyKimmelLive) December 2, 2017
It is still hard to believe that we are a dozen days away from The Last Jedi hitting theaters. Based on everything we have seen and heard, we're excited and ready to finally see Rian Johnson's entry in the Skywalker saga!
You can find me counting down the days on Twitter @JohnnyHoey!
"For my ally is the Force, and a powerful ally it is."
John Hoey is the Lead Editor and Senior Writer for Star Wars News Net and the host of The Resistance Broadcast podcast
"For my ally is the Force, and a powerful ally it is."