Amazing New Star Wars: A New Hope Poster from Artist Matt Taylor Now Available from Bottleneck Gallery!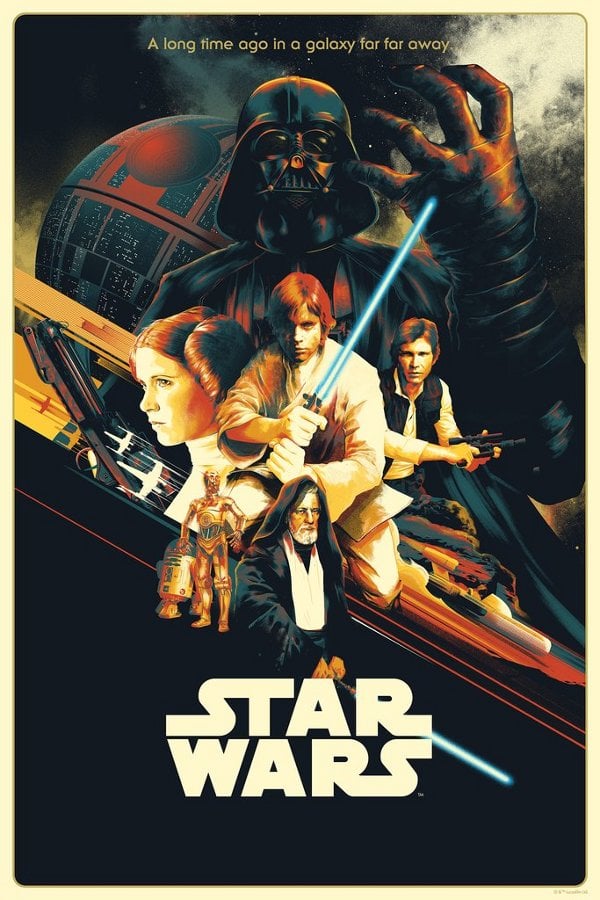 Bottleneck Gallery has unveiled an incredible new Star Wars poster from Matt Taylor, an artist known for his aesthetically beautiful compositions and his sublime coloring. Taylor's take on A New Hope really has that classic feel while emphasizing aspects of the story, such as Vader's looming presence and grip over the galaxy. The $50 poster (24″x36″) is a timed edition, only available through Sunday, Dec. 10th, so don't delay if you're interested. Hit the jump to see how you can get your very own hand-numbered print!
A Word from artist Matt Taylor about the print:
"Star Wars has a very special place in my heart – it's the first movie I remember seeing in the cinema, and the toys were a mainstay of my childhood. Going to see Star Wars movies on opening day with my dad has become a staple of my moviegoing life, so when asked if I wanted to take a swing at a New Hope poster, I was never going to say no. I tried to go as classic as I could in terms of composition and style and my determination to make this look as good as I could…I'm really happy with how it turned out, and I hope people out there feel the same. I suppose I'd better get thinking about Empire now…"
Thank you SO MUCH everyone who has bought a #StarWars print from @BottleneckNYC so far. The variant is all sold out, but the regular version is a timed edition that will be available until midnight EST Sunday https://t.co/iGZUQyUA7n pic.twitter.com/aNNir5N75O

— Matt Taylor (@MattTaylorDraws) December 8, 2017
The variant edition has already sold out, but there's still time to get your copy of the regular print. Head on over to bottleneckgallery.com to nab one to proudly display in your own home or office.
BNG also has a print on the way this month for The Last Jedi, so be sure to keep an eye out for that one as well!
Jordan Pate is Co-Lead Editor and Senior Writer for Star Wars News Net, of which he is also a member of the book and comic review team. He loves all things Star Wars, but when he's not spending time in the galaxy far far away, he might be found in our own galaxy hanging out in Gotham City or at 1407 Graymalkin Lane, Salem Center, NY.