Ron Howard Shares Videos of Crane Shots and a Speeder From the Han Solo Film and More
Ron Howard, not to be upstaged by all of the glorious The Last Jedi coverage, is maintaining his quality social media game. This time he gives us a short video showing the rehearsal of a night time crane shot for the upcoming Han Solo film. Some of the objects are hard to make out, but a couple of them appear quite similar to some concept art we broke a few months back, and there is an obvious green screen presence for digital effects.
Here is the video he posted moments ago of a wrecked speeder part (that clearly needed to have a fire put out!)"
Where old Speeders go to die. pic.twitter.com/WITP1xpzvf

— Ron Howard (@RealRonHoward) August 10, 2017
Here is the video posted by Howard a half hour ago:
Rehearsing a crane shot as we wait for sundown – pic.twitter.com/gg2MJ0aAAK

— Ron Howard (@RealRonHoward) August 10, 2017
Howard also posted a couple of shots over the past 24 hours via his Twitter and Instagram accounts, showing some rather unique characters and items:
Checking a camera move for #UntitledHanSoloMovie pic.twitter.com/ueDlcHNG85

— Ron Howard (@RealRonHoward) August 9, 2017
The following shot shows that shell looking food dish with more clarity. Is Han Solo at some sort of catered event?
Finally, one additional shot shows the crew during a "safety meeting". The background for the scene is clearly a snowy mountainous backdrop. You should probably check our report on the Han Solo filming at Italy from a few months ago here as well.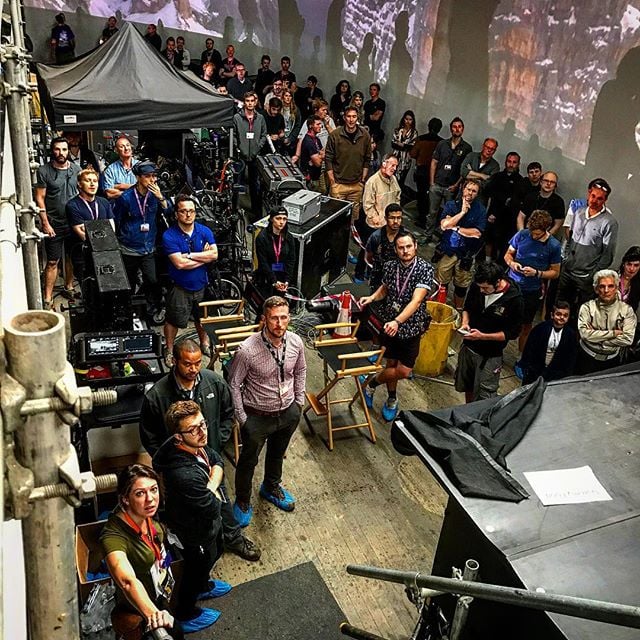 In regards to the crane shot, while not exact, a couple of the objects look somewhat similar to some of the Han Solo concept art we broke to you here back in May. Two of them specifically being:
Ultimately with each passing tweet and Instagram post, Ron Howard is engaging the fans with light reassurances that everything is under control and running smoothly. The drama of the director shake up feels like it was a year ago, when really it was only more than a month ago. Han Solo is still scheduled to open in May of next year.
John Hoey is the Lead Editor and Senior Writer for Star Wars News Net and the host of The Resistance Broadcast podcast
"For my ally is the Force, and a powerful ally it is."