Did Ron Howard Just Show Us Chewbacca With His Wife In This New Photo From 'Han Solo'?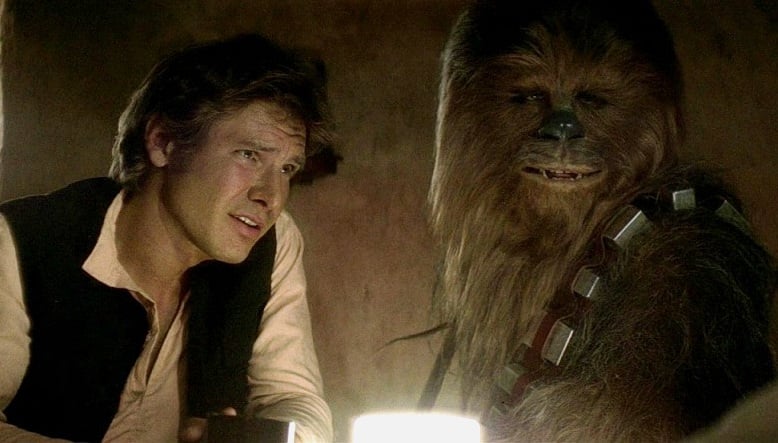 Many Star Wars fans were disappointed this weekend when they didn't receive any news or updates about the upcoming Han Solo film during Disney's D23 Expo in Anaheim. The movie should have finished principle photography by now, but because of the director change, the filming was extended a few weeks. This directly interfered with the D23 schedule and Disney's Alan Horn revealed that because of filming, Kathleen Kennedy and the rest of the Han Solo cast and crew couldn't come to Anaheim to attend the event. Now director Ron Howard has taken to Twitter to share yet another cool photo from the set, this time featuring the almighty Chewbacca.
Last week Howard showed us two photos with some colorful costumes, asking the fans to guess to whom they might belong to. Now his tweet is much more specific, showing actor Joonas Suatamo, who plays Chewie in the movie, checking a scene between takes.
#Chewie checking the shot. #UntitledHanSoloMovie pic.twitter.com/Ia3ZT5Bv5h

— Ron Howard (@RealRonHoward) July 17, 2017
If you look closer at the actual shot shown on the screen you will see two Wookiees in what looks like a private moment, with another Wookiee in the background. Take a look:
The fact that Chewbacca himself is checking out this scene, makes us believe that this is Chewie with his wife Malla, who was already mentioned several times in the new Star Wars canon. From Wookieepedia:
Malla was the wife of Chewbacca. According to Solo, she was intelligent and had hair resembling silk. During the Galactic Civil War that pitted the Galactic Empire against the Alliance to Restore the Republic, Chewbacca was traveling with Solo, away from Malla and the rest of his family on the Wookiee homeworld of Kashyyyk. However, following the liberation of the planet from the Galactic Empire's grasp, Chewbacca reestablished connections with them all.
Actually the character of Malla was first created for the infamous Star Wars Holiday Special, which is not canon. Later Malla was recanonized in The Princess, The Smuggler and The Farm Boy, but more notably, Chuck Wendig mentioned her in Life Debt and Empire's End.
Of course there is a slight chance that these two Wookiees in this photo are completely different characters, but I doubt Howard would have tweeted it if that was the case.
A very cool tidbit just from one behind the scenes photo. What do you think? Is this Chewie and Malla? Are you excited to see more Wookiees in Han Solo? Tell us in the comments below.