Check Out These Upcoming Star Wars Titles from Chronicle Books!
Chronicle Books, the publisher behind the popular Darth Vader and Family series, has a couple of fun books coming out on July 25, and we got the chance to preview these two upcoming titles.
There have been a few different graphic books over the years in the Star Wars universe, but this new book from author Tim Leong (Creative Director at Entertainment Weekly magazine and founder of the Eisner Award-nominated Comic Foundry magazine) is a real treat.
Leong focuses his curiosity and obsessive interest in the Star Wars universe to delve deeper into the story by pointing out trends, connections, coincidences and trivia that thread across Star Wars media.
He presents this information through playful pie charts, bar graphs, and other data-driven infographics. From a Venn diagram of Yoda's idiosyncrasies to an organizational chart of the Empire to a line graph of Grand Moff Tarkin's management decisions, Star Wars Super Graphic shines a new light on the much-adored universe.
I really enjoyed soaking in all the various details provided in this book and could find myself easily getting lost in it for quite a while. Did you ever wonder who was flying that Y-Wing that survived the Death Star assault at Yavin? How many different Jedi councils were there? Who mentions "the Force" the most? All of these little details are yours to consume in Star Wars Super Graphic.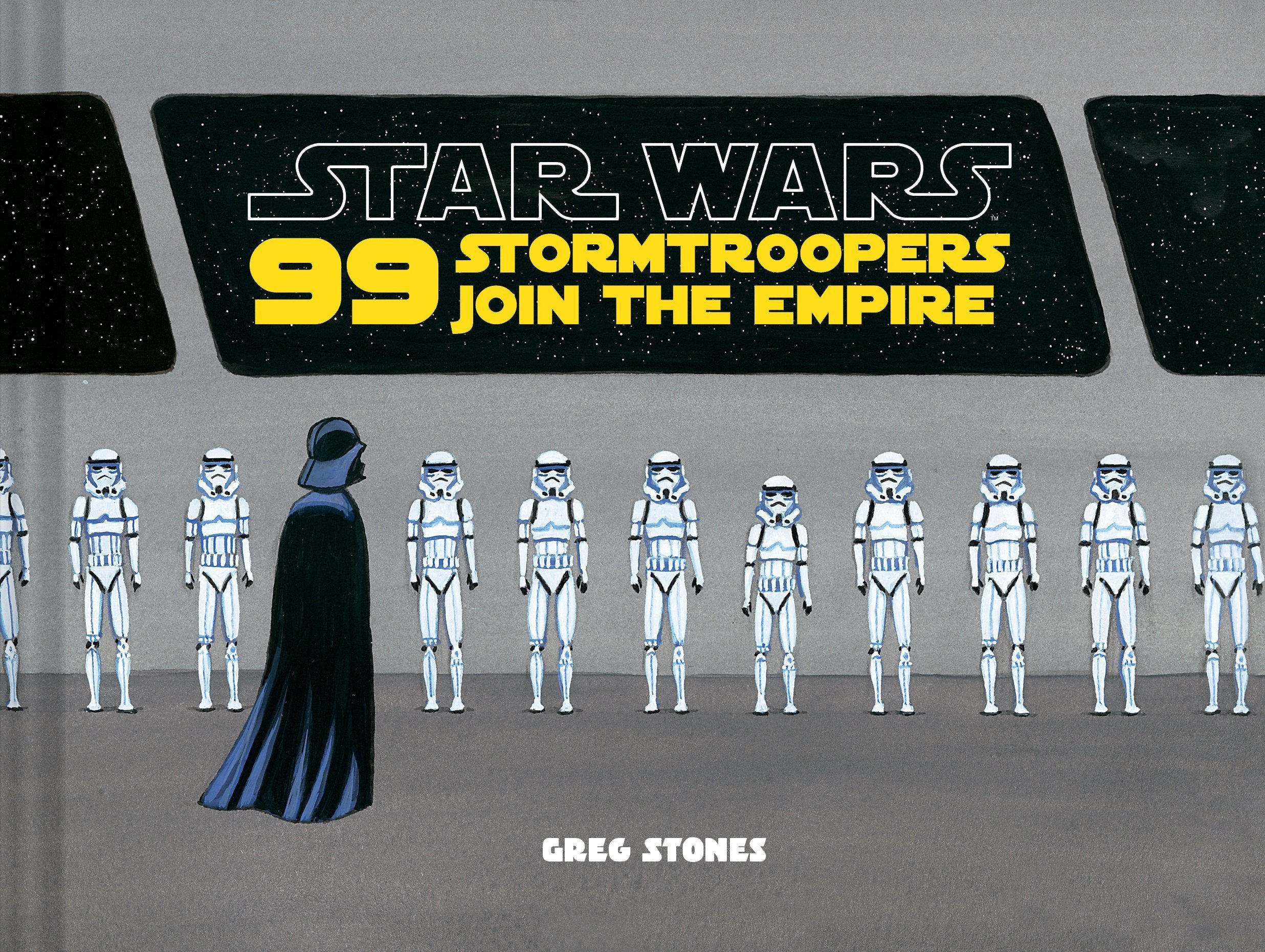 I also got the chance to preview a surprisingly amusing little book called 99 Stormtroopers Join the Empire by Greg Stones, a fully illustrated and humorous book filled with clever nods to Star Wars fandom.
The book details the fates of 99 Stormtroopers that join the Empire in multiple colorfully-painted scenarios.
One takes a lunch break in the carbon-freezing chamber, two underestimate a princess. One picks the wrong time to ask for a promotion. Another fails to show Jabba the proper respect. And one interrupts Lord Vader's private time, failing him for the last time.
Stones brings a playful wit and sympathy for the plight of the troopers as they meet their amusing ends, including appearances by Han, Luke, Chewie, K-2SO, and many other characters. The book is a fun gift for Star Wars fans with a sense of humor, and fans 8 and up (especially those with extensive Star Wars knowledge) will probably find it the most amusing.
Both of these titles will be available wherever books are sold on July 25. Happy reading Star Wars fans!
Jordan Pate is Co-Lead Editor and Senior Writer for Star Wars News Net, of which he is also a member of the book and comic review team. He loves all things Star Wars, but when he's not spending time in the galaxy far far away, he might be found in our own galaxy hanging out in Gotham City or at 1407 Graymalkin Lane, Salem Center, NY.