Poe Learns a Hard Lesson in Marvel's Poe Dameron Annual #1
It's a busy week for Marvel in the world of Star Wars comics as three different titles hit the shelves today. First up, Soule and Unzueta take a break from the Poe Dameron series as writer Robbie Thompson (Silk) and artist Nik Virella (All-New Wolverine) step in for the first Poe Dameron Annual issue.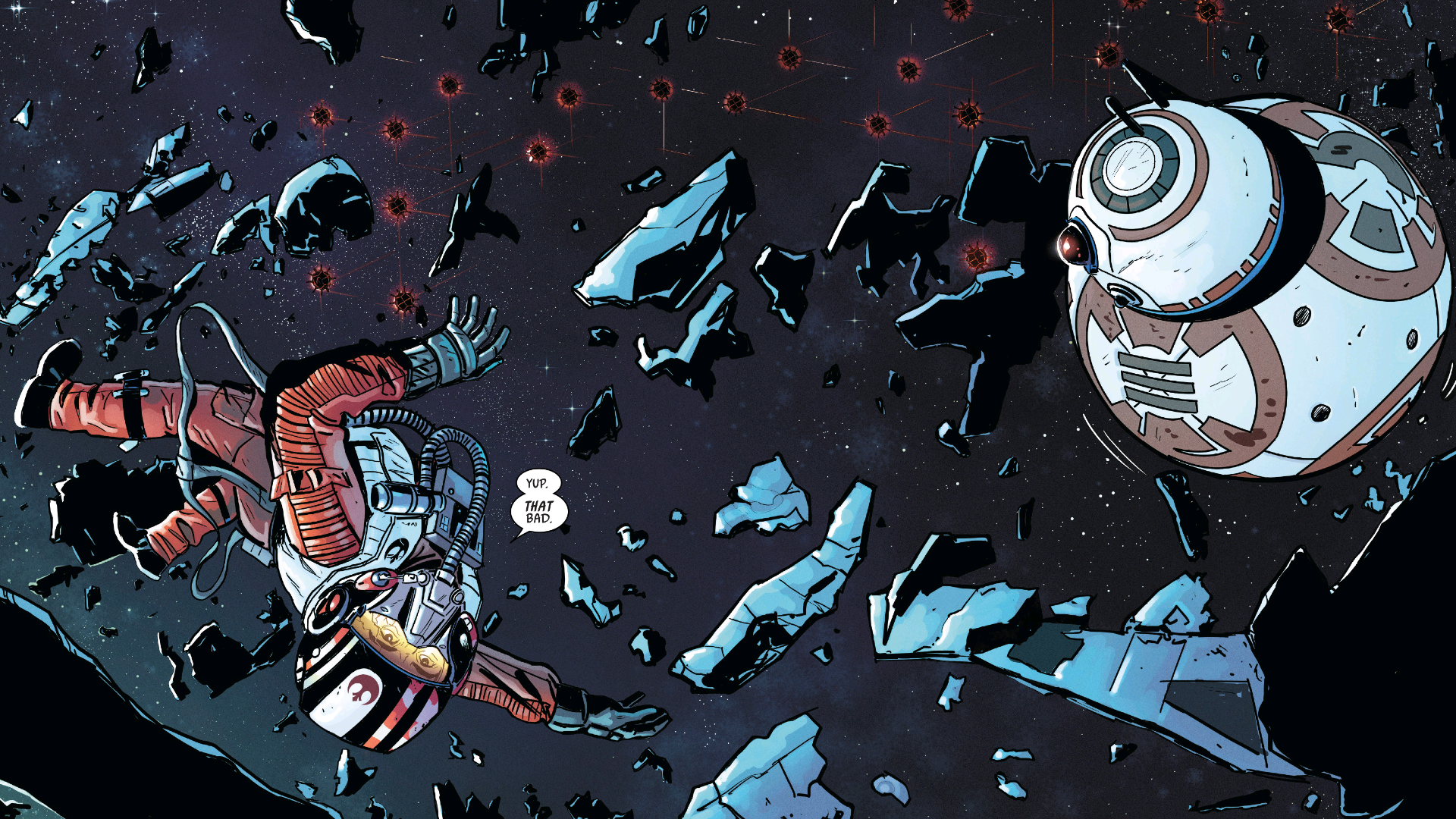 This issue finds Poe Dameron in a bit of a precarious position right from the start. Poe, in typical Poe Dameron fashion, has ignored Leia's direct orders and gone off on his own to respond to a distress signal from a transport ship. Apparently, the transport ship had stumbled on an old Imperial mine field in space and has been incapacitated – something Poe finds out the hard way as he and BB-8 are nearly destroyed themselves entering the area.
As Poe floats in space surrounded by the detritus of his obliterated ship, we discover that everyone's favorite spherical hero has saved the day again, ejecting the pilot and himself at the last minute. However, the situation becomes even more dire as Poe has no way of thrusting to the transport before his life support runs out (we love you BB-8, but you're no R2-D2).
Poe decides to risk it and fires his blaster at a nearby mine in an effort to propulse the duo in the direction of the transport. Unfortunately, the trajectory was slightly off and BB-8 once again comes to Poe's rescue as he takes a page out of Batman's field manual, launching his cable hook at the transport, reeling them into safety (okay, BB-8, I admit – you've got your tricks too).
All is well until Poe discovers that the transport is occupied by First Order stormtroopers smuggling explosives to the peaceful planet of Jaelen under the direction of none other than Agent Terex, whom he had presumed dead.
The narrative of this issue focuses on the idea that it takes people working together to bring about real progress in the fight against the First Order, a lesson that General Leia has been trying to drive into Poe for some time. In this issue, Poe discovers the value of teamwork, and learns to put the needs of others before himself.
Interspersed within the main narrative are flashbacks of Poe talking with Leia at various times as she tries to teach him the importance of these values while chiding him for his cavalier and cocky attitude. These little interludes are mostly effective in laying the ground work for the decisions Poe would be making in his current situation, even if they are a little heavy-handed in pointing out to the reader that Poe Dameron is a character who is very much like the nerf-herding scoundrel that we know and love from the classic trilogy. Okay, Mr. Thompson, we get it, Poe is basically the new Han Solo.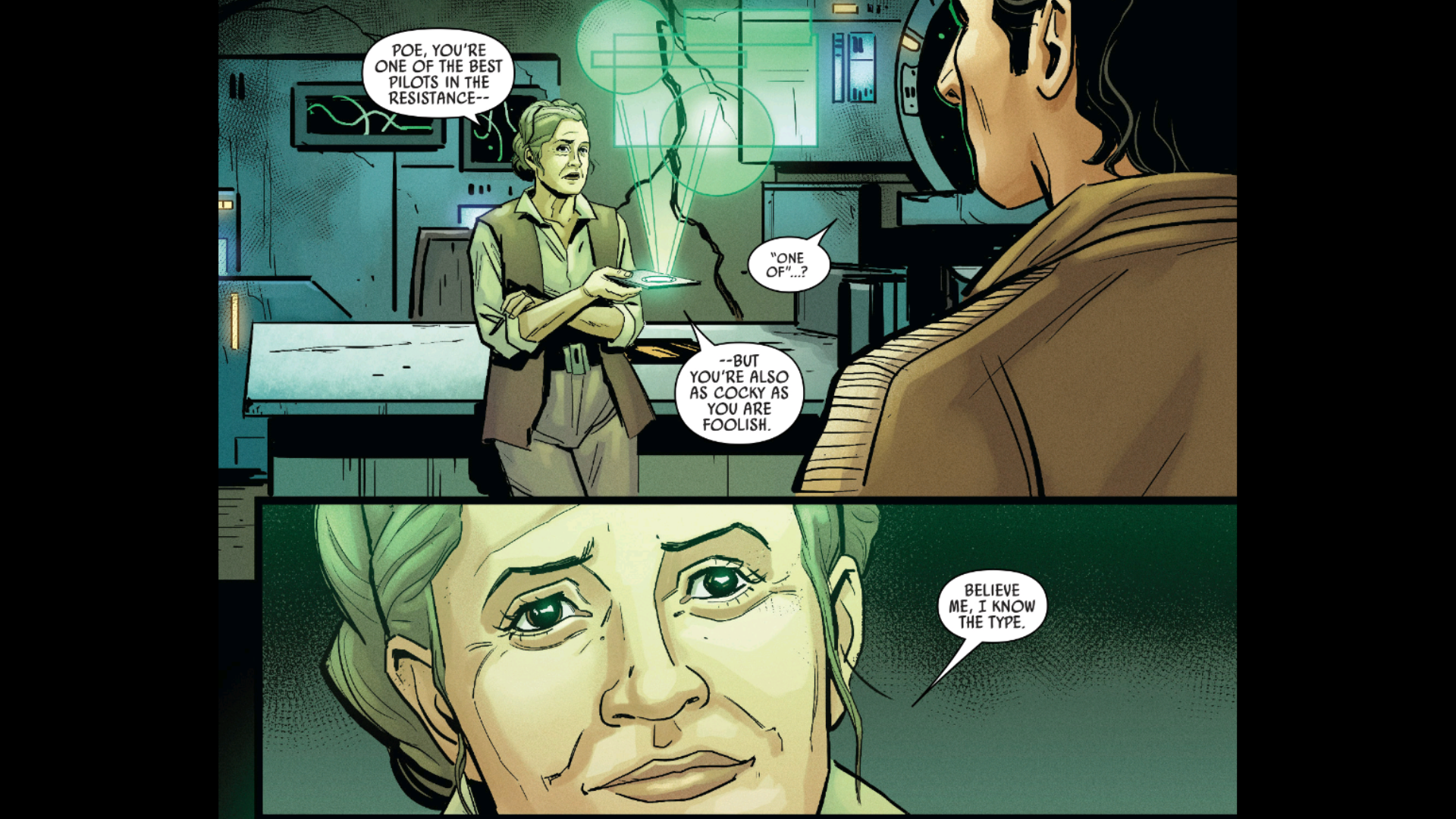 Even so, Oscar Isaac won me over with his charisma and bravado in The Force Awakens, so I'll give the writer a pass here on the simple fact that I adore Poe Dameron as a character. Nothing super heavy goes down in this issue apart from Poe finally learning the obvious object-lesson presented within and a fairly predictable outcome that sets up the next issue.
That being said, Thompson was successful in what he set out to achieve, and the issue was enjoyable overall. I can't wait to see what happens next as Soule and Unzueta return for Poe Dameron #16!
Poe Dameron Annual #1 is available on Comixology or in your local comic shop. Until next time, happy reading comic fans!
Jordan Pate is Co-Lead Editor and Senior Writer for Star Wars News Net, of which he is also a member of the book and comic review team. He loves all things Star Wars, but when he's not spending time in the galaxy far far away, he might be found in our own galaxy hanging out in Gotham City or at 1407 Graymalkin Lane, Salem Center, NY.