UPDATE! Ashley Eckstein & Matt Lanter Record New Material For Star Wars Mystery Project (Now Confirmed to be Forces of Destiny).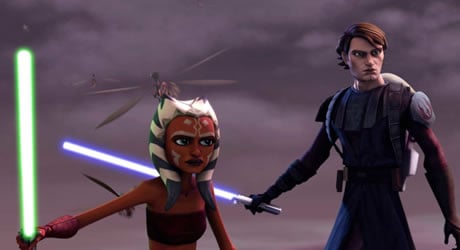 Ashley Eckstein (Ahsoka Tano) and Matt Lanter (Anakin Skywalker) have recently met to record new dialogue for an upcoming Star Wars project, making this the third major time they've collaborated since The Clone Wars and Rebels (presuming that they didn't record new dialogue for the latter).
Eckstein herself shared the following image over Twitter, reuniting her yet again with Lanter under the Disney era of Star Wars:
How can your Monday be UGH when you get to record with Matt Lanter in your Matt Lanter shirt??? pic.twitter.com/LNBKVQH2rX

— Ashley Eckstein (@HerUniverse) June 19, 2017
In all likelihood, the content being recorded is probably for the upcoming Forces of Destiny animated shorts. We're a little bit less than a month away from the airdate of the first eight shorts, so Eckstein and Lanter's recent recording session can't be for those. However, it's already been confirmed that there will be a second batch of eight shorts in the Autumn (most likely arriving in time for Force Friday with an abundance of other Star Wars merchandise hitting the shelves), which they could potentially be recording for. However, there's a chance this could be for another project altogether, which would certainly be an exciting possibility to consider. In any case, both of them look happy to be there, and hopefully that translated into some good performances.
Forces of Destiny will begin airing on Disney's YouTube channel on July 10, 2017 and will be airing on Disney channel sometime after that. Stay on target with Star Wars News Net – your Force for news for the latest and greatest stories about the Galaxy Far, Far Away.
UPDATE!
Ahsoka herself Ashley Eckstein took to Twitter to confirm that the project is indeed Forces of Destiny:
It was for Forces of Destiny!

— Ashley Eckstein (@HerUniverse) June 27, 2017
Grant has been a fan of Star Wars for as long as he can remember, having seen every movie on the big screen. When he's not hard at work with his college studies, he keeps himself busy by reporting on all kinds of Star Wars news for SWNN and general movie news on the sister site, Movie News Net. He served as a frequent commentator on SWNN's The Resistance Broadcast.