Star Wars Battlefront II Will Have More Content At Launch, Future Games Get Release Windows.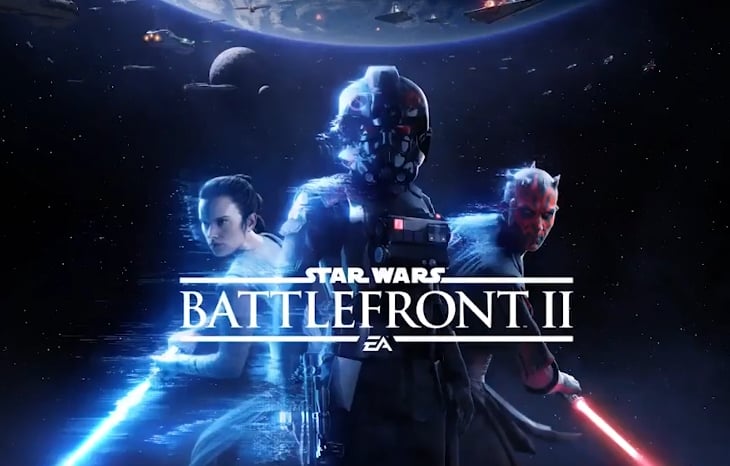 Another EA conference call helps us shed light on upcoming Star Wars games, as we now have an idea about how big Battlefront II is going to be at launch. In addition, we've also learned about the release windows for future Star Wars titles.
At an investor's event, EA CEO Andrew Wilson stated that Battlefront II will "have more than three times the content than the previous game at launch". The key phrase being "the previous game at launch" – when Battlefront I first hit the shelves, the game had 13 playable maps, 12 game modes across single player and multiplayer, 10 vehicles, 11 weapons, and 6 heroes. All of those numbers grew substantially over the course of the game's lifespan with free and paid DLC, so that's not too hard a hurdle to overcome. It's still worth noting that we shouldn't expect over 39 maps, 36 game modes, 30 vehicles, 33 weapons, and 18 heroes at launch, either – with new features like a campaign mode being added and two additional eras, there will be more to the sequel's total content than just raw numbers that literally triple existing statistics.
On the subject of how Battlefront II will approach its inevitable maelstrom of DLC, Wilson reiterated that the game will not utilize a Season Pass format in favor of a live service plan that DICE is keeping a lid on until EA Play and E3 (both of which will be held in June). Sales for the title are expected to match or exceed what the first game made in its first year (14 million copies sold) with room for growth expected. Beyond Battlefront lie two other EA Star Wars projects developed by Visceral Games and Respawn Entertainment. The former is apparently looking at a release window anywhere between April 2018 and March 2019, while the latter will be some time after that. Presuming that EA is aiming for annual releases from this point on, Battlefront III will likely come in late 2019 – perhaps in time for Episode IX to arrive on Blu-Ray – but that title has not been announced as of yet.
In any case, we'll have more news on the future of Star Wars gaming come June, so stay on target with SWNN for more Star Wars news.
Grant has been a fan of Star Wars for as long as he can remember, having seen every movie on the big screen. When he's not hard at work with his college studies, he keeps himself busy by reporting on all kinds of Star Wars news for SWNN and general movie news on the sister site, Movie News Net. He served as a frequent commentator on SWNN's The Resistance Broadcast.