Luke and Aphra Have a Deadly Dinner Date in Marvel's Star Wars #31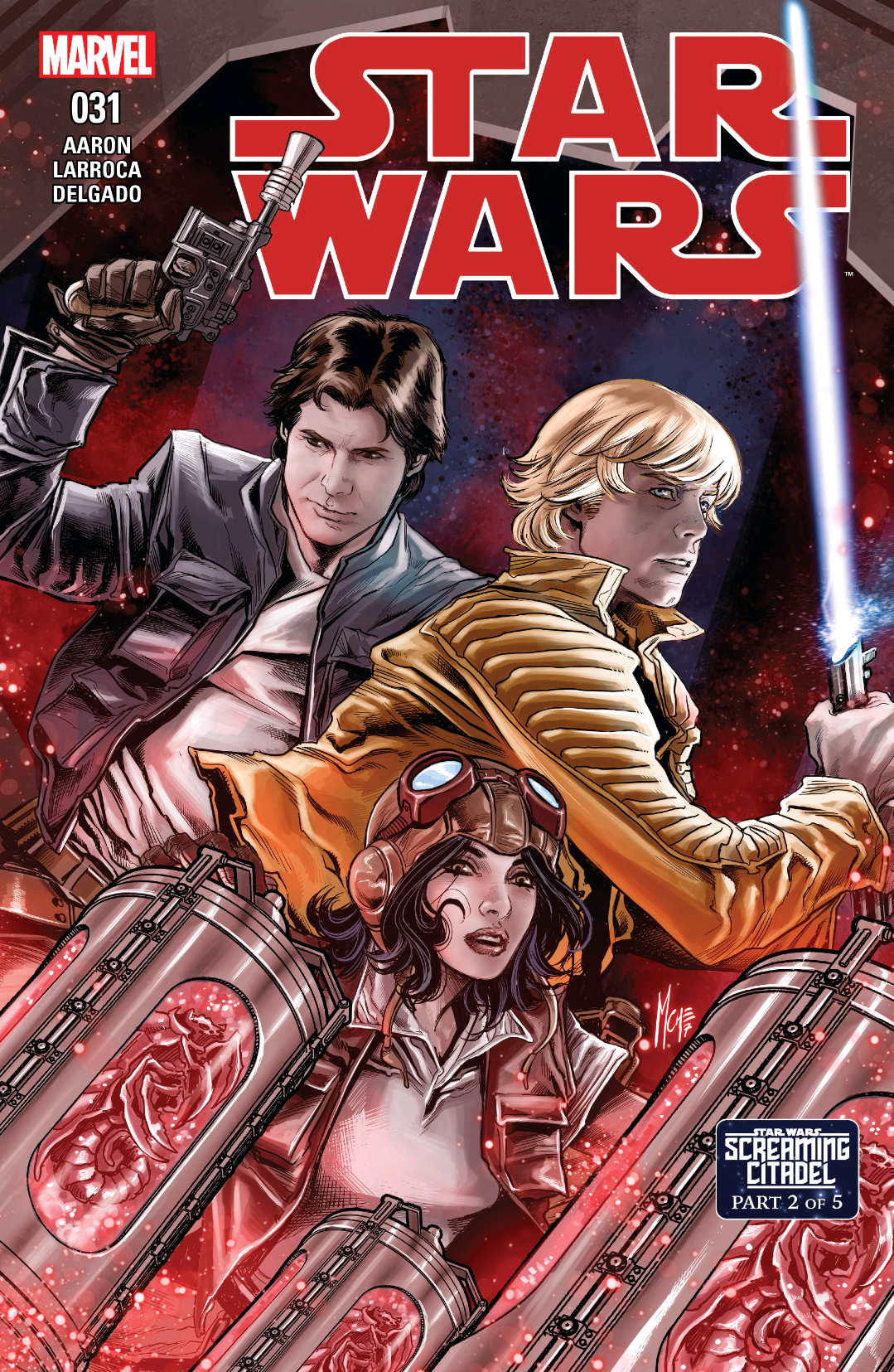 There are no new Star Wars comics hitting the shelves next week, so you get a double helping this week with Star Wars #31 and Poe Dameron #15. First up, Luke and Aphra continue their mission at the Screaming Citadel to unlock an ancient Jedi artifact in Jason Aaron's Star Wars #31 (Screaming Citadel: Part 2) with art by Salvador Larroca. Spoilers ahead…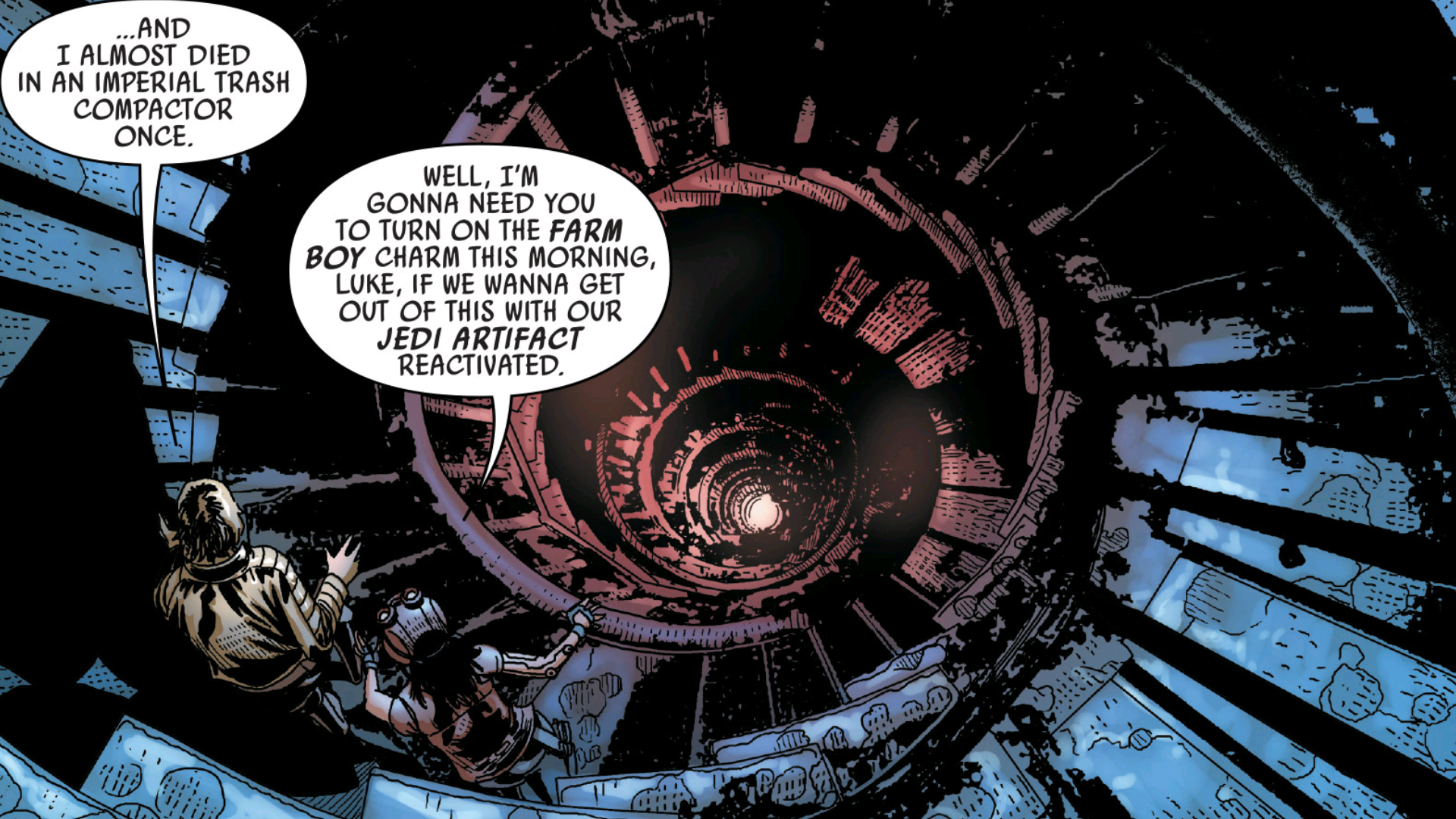 While I personally admire Aaron's attempt of bringing genre-based storytelling into the Star Wars Universe, it was clear to me after reading a lot of your comments on Screaming Citadel: Part 1, that this story might end up being devisive among the fanbase. Even though some things have been a little weird, I like the horror aspect of this story, and so far, I feel that it has been a refreshing break from the status quo.
Granted, Aaron is no pioneer in this area, as horror stories have been told before in Star Wars with titles such as Death Troopers and Red Harvest by Joe Schreiber, but while those stories have horror elements – Aaron seems to be really going for it with this story arc. And what better medium to do it in? Is it weird? Absolutely. But comics in general tend to succeed in telling those larger-than-life tales where other mediums fail.
So far, this story has pulled heavily from the horror genre and Aaron seems to be checking off a great number of staples that give his tale its frightening and creepy vibe that makes those horror fans feel right at home. Vampire Queen? Check. Creepy Castle? Check. What about monsters? It's got those too. A Zombie Gungan? A Two-headed Ithorian? A dinner that tries to eat you? Check, check, and check.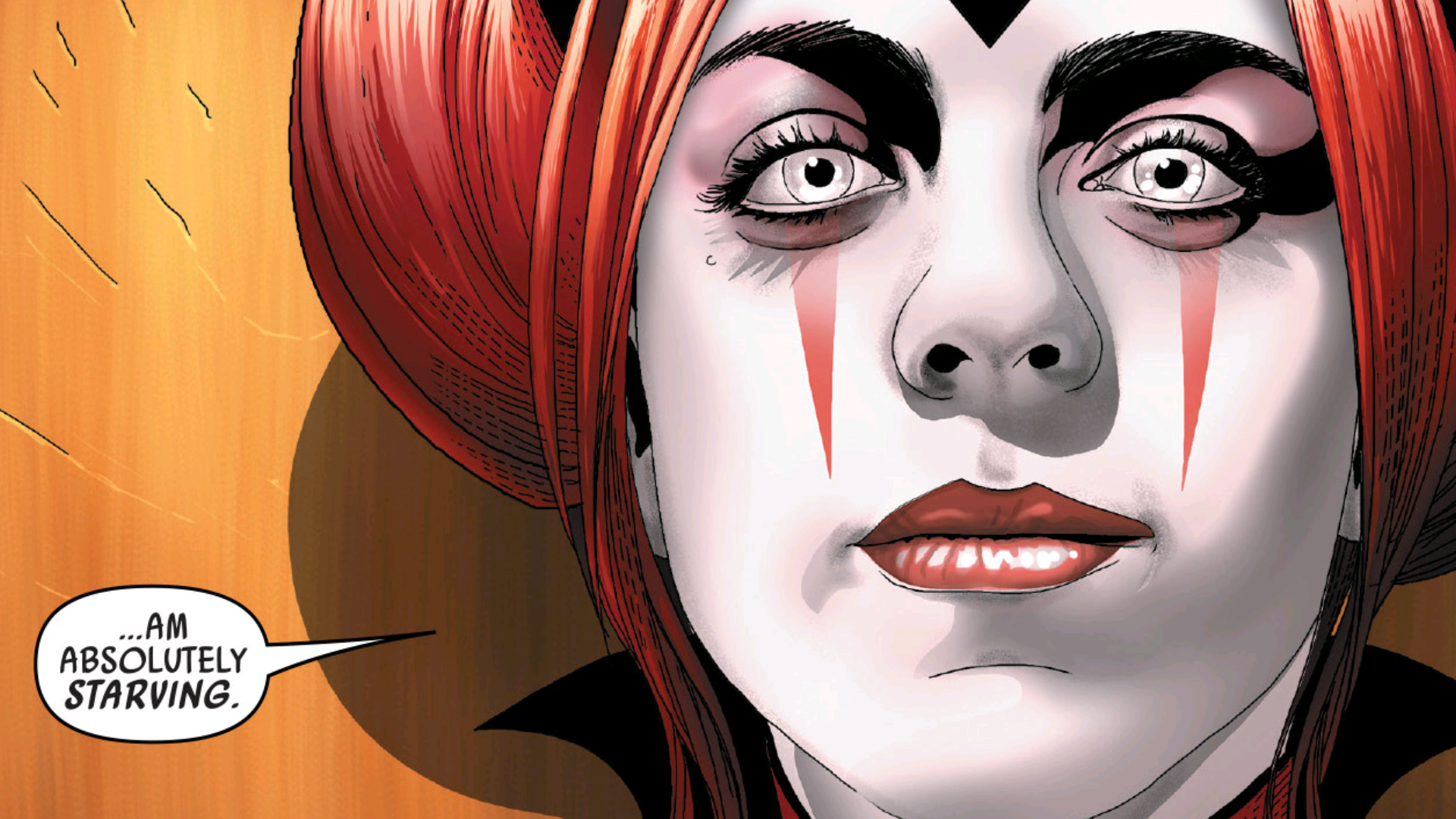 Hopefully though, moving forward, the story will remain grounded enough that these elements don't feel too forced. Up to this point I feel these bits have been mostly successful, but we'll need a really engaging story from now on to make us buy in to this as a Star Wars tale. Once again, I admire the ambition, and the change in pace is refreshing, but I hope it doesn't grow stale by the arc's conclusion.
In this issue, Luke and Aphra finally get their meeting with the Queen of the Citadel of Ktath'atn (translated "Screaming Citadel"), and things go about as you'd expect. The Queen is a collector of rare and unique oddities in the universe, and she jumps at Aphra's proposal to give her the young Jedi in exchange for helping her open the artifact she found at the Temple of Rur.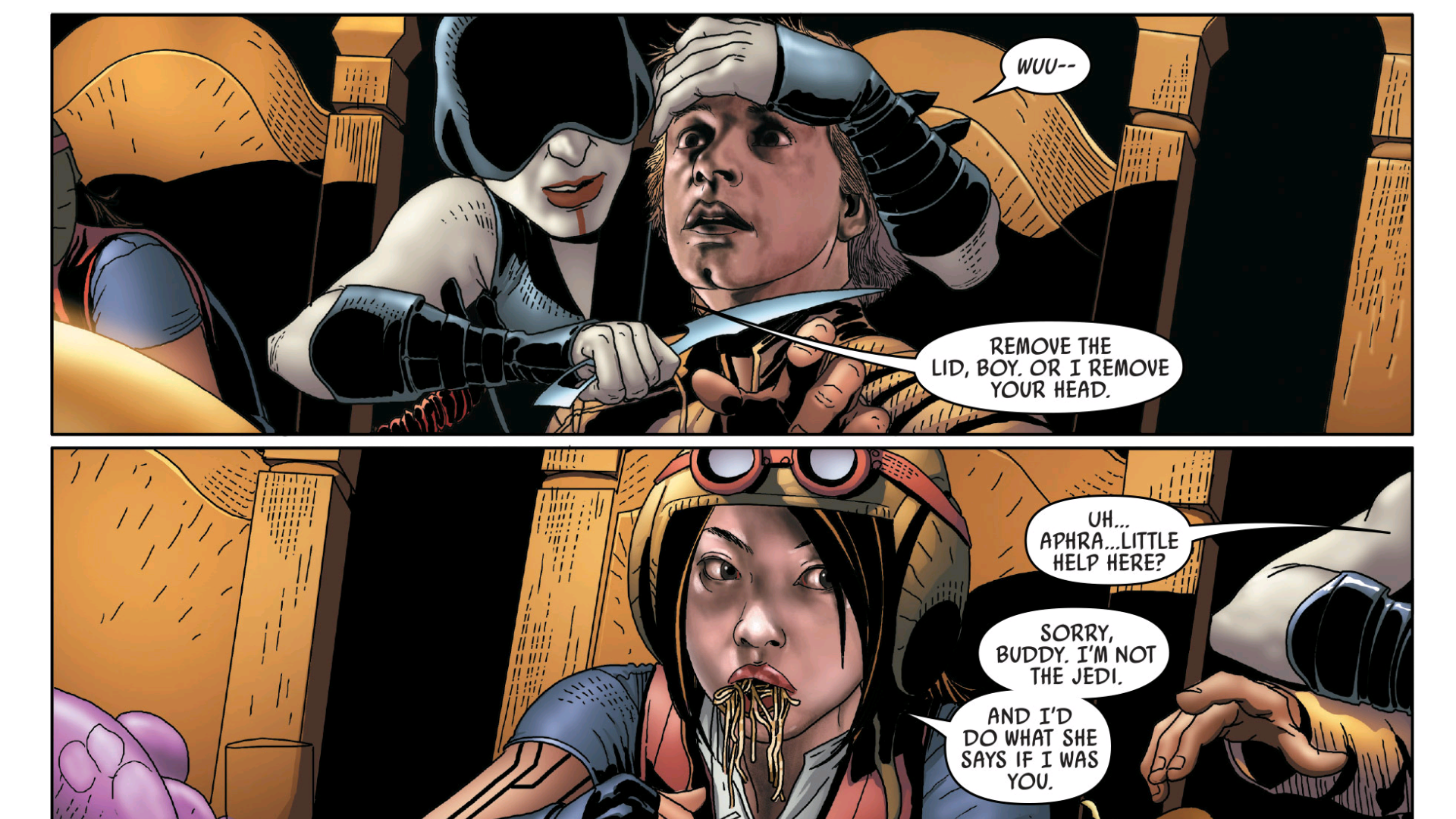 Luke was obviously kept in the dark about the details of this exchange, but Aphra has a change of heart when it becomes apparent that the Queen intends to keep her as well. The queen sets a trap for the doctor and the would-be Jedi, but naturally, the two barely escape with their lives just in time to run head first into a swarm of alien monsters!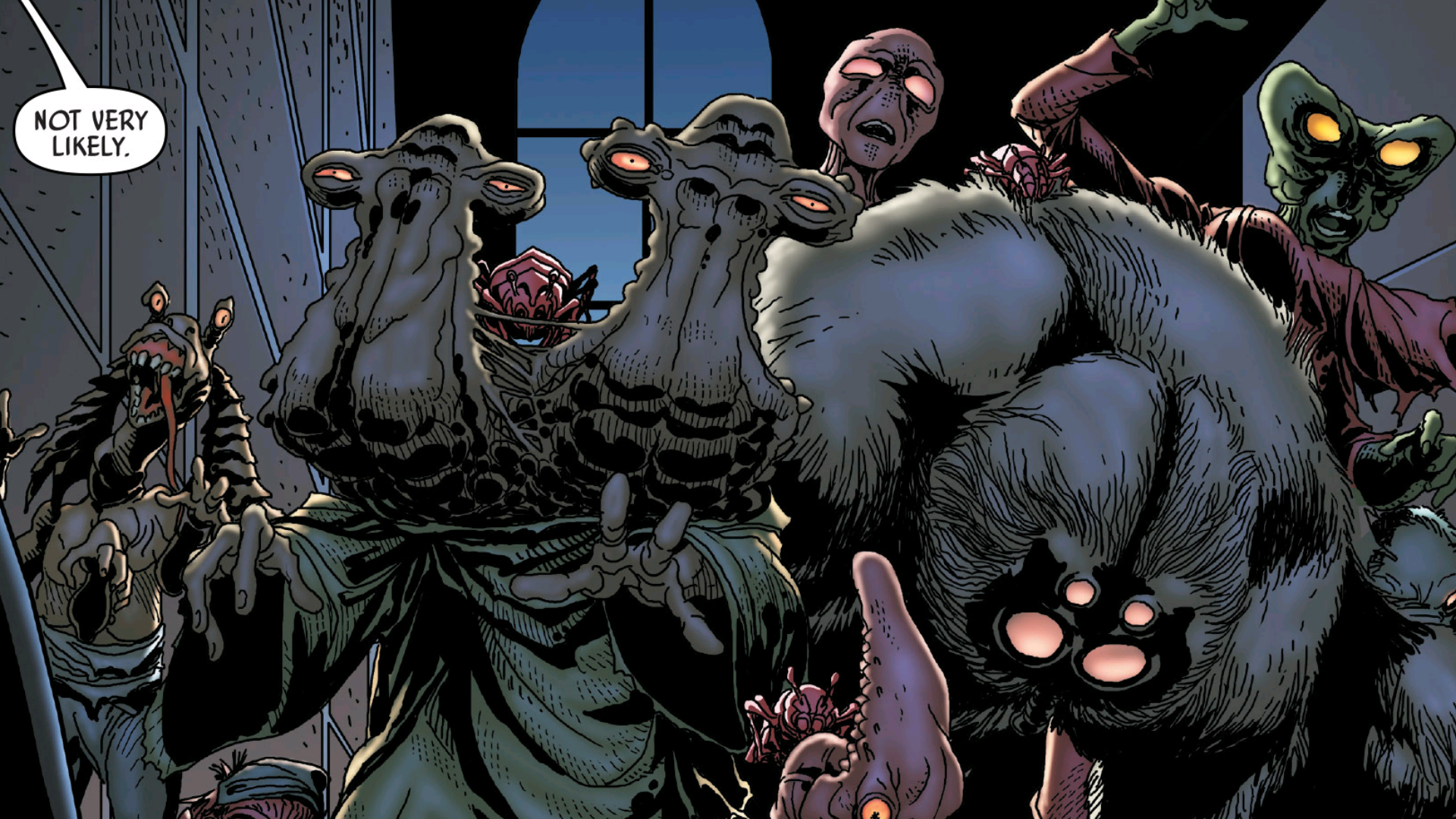 Meanwhile, Sana leads Han and Leia to the Citadel in an attempt to rescue Luke and Aphra, and the issue ends on a cliffhanger just as the rebels run into Aphra's droids outside the Citadel.
One of the things I enjoyed about this issue was seeing Luke struggle with his Force abilities, for them only to awaken in times of great stress and turmoil. I think this is a necessary aspect for fans to grasp about Luke as a character, especially in light of the complaints about Rey's unrealistic Force talents in The Force Awakens. It's clear that Rey is no more powerful than Luke, as Luke is also able to harness the power of the Force in moments of great need and imminent danger.
Although Luke was absolutely unable to use the Force on command, when threatened with his life, his instincts kicked in and the Force began to flow through him. I think looking back once The Last Jedi is released, this will end up being very similar to Rey's situation in The Force Awakens. I believe that The Last Jedi will find Rey struggling to use her abilities, much like Luke in his younger days.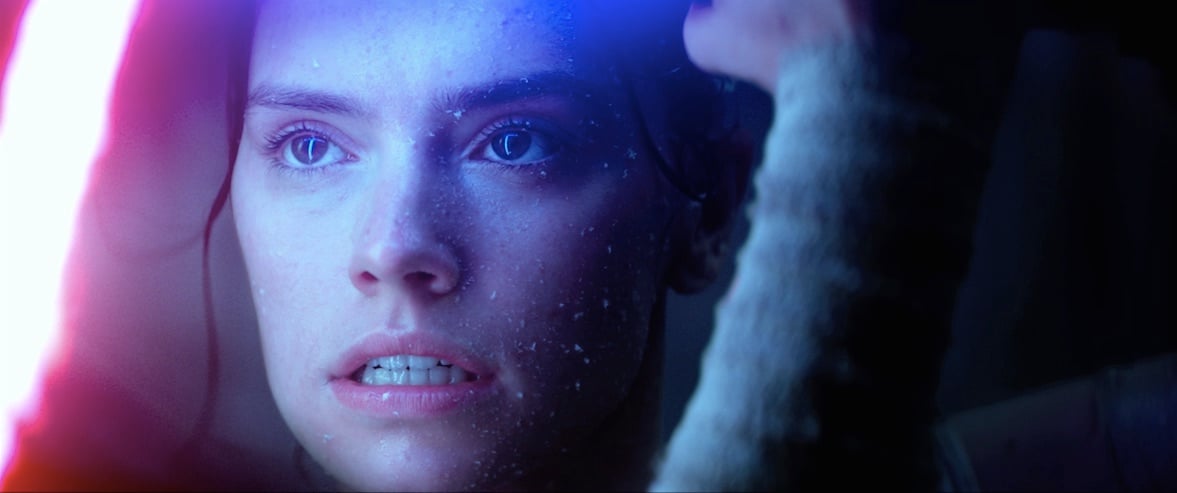 I also enjoyed the artwork in this issue, which is surprising to me considering that I'm not a big fan of Larroca's work. Sure there were some of those aggravating moments that I usually experience in his books where the faces of the characters are inconsistent and where the expressions of the movie-characters are almost direct copies of actual scenes from the films. But I found a lot of the panels in this issue to be quite gorgeous, a fact that is no doubt largely owing to Edgar Delgado's brilliant coloring.
This story arc is not for everyone, and not everyone will agree on its necessity or value to the Star Wars canon. But not everyone has to. That's the beauty of the wide range of storytelling that Disney/LFL/Marvel has opened themselves up to. They can do pretty much anything they want, and there is something out there for pretty much everyone to enjoy.
If the horror genre is not your thing or you can't stomach the oddities within the pages of this comic, by all means skip out on this one. But if you like all things weird or are looking for something vastly different from the plethora of other Star Wars stories out there – give it a shot – it may surprise you.
Star Wars #31 is available on Comixology or in your local comic shop. Until next time comic fans…happy reading!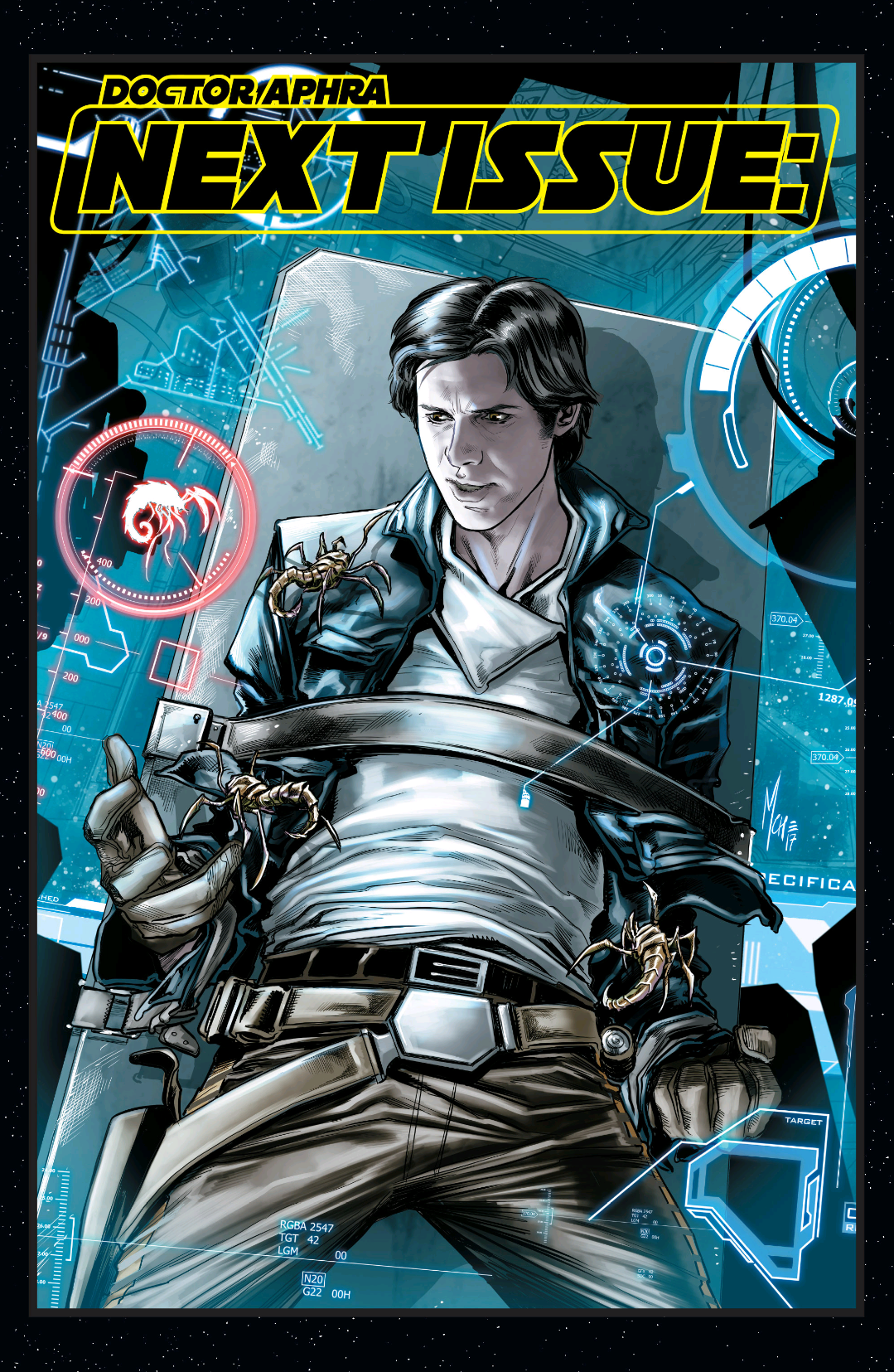 Jordan Pate is Co-Lead Editor and Senior Writer for Star Wars News Net, of which he is also a member of the book and comic review team. He loves all things Star Wars, but when he's not spending time in the galaxy far far away, he might be found in our own galaxy hanging out in Gotham City or at 1407 Graymalkin Lane, Salem Center, NY.