Confirmed: Lucasfilm to Make Final Decision on the 2020 Star Wars Standalone Movie in June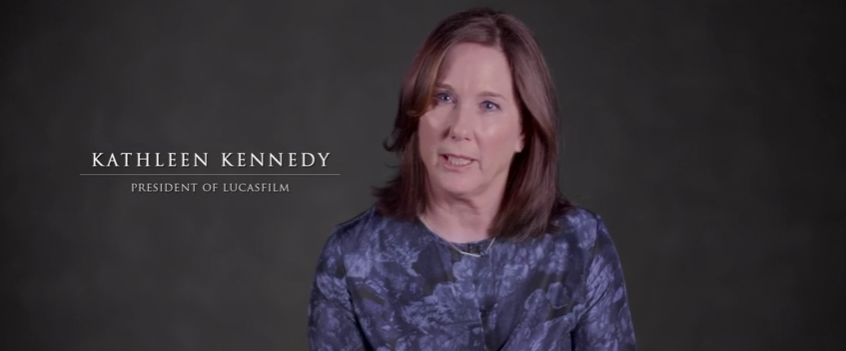 Vanity Fair's David Kamp sat down with Lucasfilm President Kathleen Kennedy to discuss the future of Star Wars films, including the to be determined and often debated third standalone film for 2020. Kennedy offered details about how the positive reception of the new saga characters is helping guide the potential for the saga's future beyond Episode IX, how Carrie Fisher's passing has affected Episode IX, and let us know when they will make a final decision on the third standalone film!
We have extracted the most informative parts of the interview for you here:
KAMP: With The Force Awakens, two years ago, the public didn't know who Rey, Kylo, Finn, and Poe were. The reception of those characters has been positive, and it could have gone either way.

KENNEDY: We were incredibly fortunate that every single one of those characters has resonated to the extent that they have. I gather what you're saying is that there are [more] opportunities with those characters. And, yes, that's a possibility, too. That's what we're looking at: where do we go with the saga? Does the saga extend beyond the nine movies that George envisioned? We are having discussions about that right now.
If you chose to put the saga films on ice for a while, are you committed to continuing on with the story films?

Absolutely. Absolutely.
You have the "young Han Solo" story film coming out next year, and Episode IX in 2019. Is there another story film in production or pre-production, beyond the Han Solo one?

Yes. We haven't identified it yet, but yes. We have a couple of things right now that we're circling, and we'll make a decision between the two pretty shortly. It's probably for 2020, and we will make a decision by June.
Our biggest takeaway from that answer is Kennedy said a couple of ideas are circled, and they will make a decision between the two in June! So we're down to two! Could it come down to the Boba Fett (bounty hunter) or Obi-Wan movie as the finalists? Those have been the two major ideas swirling for a long time now. The fact that they are making a final decision in June leads us to believe it should be fair to expect an announcement on the 2020 spinoff title at D23 in July! As we previously reported here Kennedy told Josh Horowitz their hope would be to announce the 2020 spinoff this summer.
And as for Episode IX, how mapped out is it?

Well, as you can imagine, we were really stunned by the death of Carrie. So we had mapped something out a year ago that [Episode IX writer-director] Colin Trevorrow was working on. In fact, he delivered a script to us in early December. So her death was a real shock, and changed things quite dramatically.
So General Leia was going to be a significant part of Episode IX.

Really significant, yeah.
And now that's going to have to be—

Rethought.
It is still very unclear whether Lucasfilm would entertain recasting Leia for Episode IX while minimizing the character's role. The fact that they had to rethink the framework of Episode IX indicates that Leia had a big impact and they are making changes. Kennedy has not ruled out a recast, but has made it clear they will not be making a CGI version of Carrie for Episode IX.
What do you make of all of this? Will the saga continue into X and beyond? Does it need to be a trilogy? What do you think they will end up deciding for the third spinoff movie in 2020? Fett, Obi-Wan, Bothans??? (Kidding). Finally, how do you think they'll handle Leia for Episode IX. Sound off in the comments below, and let us know on Twitter @StarWarsNewsNet and hashtag us at #SWNN!
You can find the complete Vanity Fair article/interview here.
"For my ally is the Force, and a powerful ally it is."
You can find me on twitter, no map needed, at @JohnnyHoey
John Hoey is the Lead Editor and Senior Writer for Star Wars News Net and the host of The Resistance Broadcast podcast
"For my ally is the Force, and a powerful ally it is."