'The Old Republic: Legacy of the Sith' Gets New Story Trailer Ahead of Next Month's Release
EA and BioWare have released a brand-new story trailer for the much-anticipated expansion to The Old Republic that will put back the focus on Darth Malgus: Legacy of the Sith, which drops on February 15 after being delayed last year.
The trailer came with a brief synopsis that states the following:
The war between the Galactic Republic and the Sith Empire spreads to new worlds! Dangerous threats rise in the dark corners of the galaxy ​and Darth Malgus pursues an unknown plan… Unravel these mysteries and more as your choices continue to shape the galaxy when the 'Legacy of the Sith' expansion launches on February 15th, 2022!
Check out the teaser trailer below:
The Old Republic is currently celebrating its 11th year of release, and there are no signs that 2022 will be the last with new content. The long-running MMORPG recently celebrated its 10th year in style, re-releasing old cinematic trailers in stunning 4K. Legacy of the Sith is the 8th major expansion to The Old Republic and the latest since 2019's Onslaught. You can jump in now for free (with some limitations) ahead of its release on February 15 here. The Premium monthly sub, among other things, unlocks full access (forever, even if you unsub) to all expansion packs released so far, so it's not a bad idea to pony up for at least one month of Premium once Legacy of the Sith drops next month — the earlier expansions are free for everyone though.
2022 is cooking up to be a massive year in Star Wars gaming: EA recently announced that Respawn is developing three new games, including the sequel to Star Wars Jedi: Fallen Order which could come as early as this fall; LEGO Star Wars: The Skywalker Saga is finally being released on April 5th; and Zynga's Star Wars Hunters is opening its combat arenas soon as well.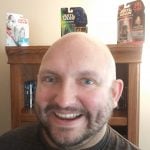 Nate uses his love for Star Wars and movies in general as a way to cope with the pain of being a Minnesota sports fan. When he's not at the theater, you can usually find Nate reading a comic, listening to an audiobook, or playing a Mario video game for the 1,000th time.