Oscar Isaac Reveals Filming Intense Scene with Carrie Fisher for The Last Jedi
When Star Wars actors attend premieres for other films, they will undoubtedly always be asked about Star Wars. This was no different when Poe Dameron himself, Oscar Isaac, hit the red carpet for The Promise Tuesday night. Isaac revealed that on his first day on set for The Last Jedi he was thrown right into the fire, filming a "pretty intense" scene with Carrie Fisher.
Speaking with Business Insider, Isaac discussed one of his favorite scenes between Poe and Leia in The Last Jedi that took upwards of 25 takes to shoot.
"It was basically my first day [on set] and we did about 25 takes total. Half of them were on me and half of them were on her.  I can't give anything away but there was a scene where there was some physicality there and it was shot just over and over and over. She relished the physicality of it, let me just say. It was pretty intense. It will be funny to see what they cut together based on that."
It sounds like the pensive and reserved Leia we saw in The Force Awakens is taking a back seat, and the General is coming to the surface. Perhaps the loss of Han Solo at the hands of her son and decimation of several New Republic planets has sparked a fire in Leia that we haven't seen since she was blasting Scout troopers on the Forest Moon of Endor.
Isaac went on to talk about Carrie's vibe on set, how she was very involved and always bringing her signature humor to any given situation:
"At every moment she would just wander over with her Coke — she was constantly drinking Coca-Cola — and find a way to undercut the situation or to cut through something to make me laugh."
We already know Fisher was very hands on for The Last Jedi and wasn't just a nostalgia act handed a script to memorize. At the Star Wars Celebration panel this past Friday Rian Johnson talked about meeting with Carrie at her home to discuss the script and her character:
"I connected with her as a writer. She is a brilliant writer, an incredible mind. We'd sit on her bed for hours and go through the script, and have stream of consciousness ad-lib poetry sessions, and after hours a four word line would stand out."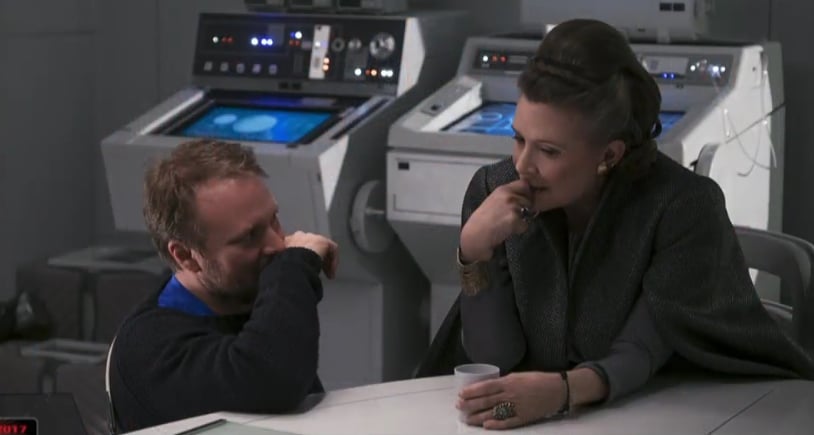 You can find the full Business Insider piece here: Business Insider Article on Oscar Isaac
Carrie Fisher has always been known to be spirited, hilarious, and a brilliant writer, and it sounds like we are getting every bit of those traits in her final performance. As Kathleen Kennedy said at Celebration:
"Carrie is remarkable in the movie. What Rian wrote and the performance she ends up giving is an amazing tribute to her talent."
Lucasfilm has made it clear they have no intentions of using a CGI version of Fisher and that she will not be appearing at all in Episode IX. This will be the final time we see Carrie Fisher in a Star Wars movie, and if what we are hearing from the director, cast, and crew is true, she is going out on top. I have a good feeling about this.
"For the Force is my ally, and a powerful ally it is."
No map needed, you can find me on Twitter: @JohnnyHoey
John Hoey is the Lead Editor and Senior Writer for Star Wars News Net and the host of The Resistance Broadcast podcast
"For my ally is the Force, and a powerful ally it is."