Never Before Seen "A New Hope" Archival Footage From Star Wars Celebration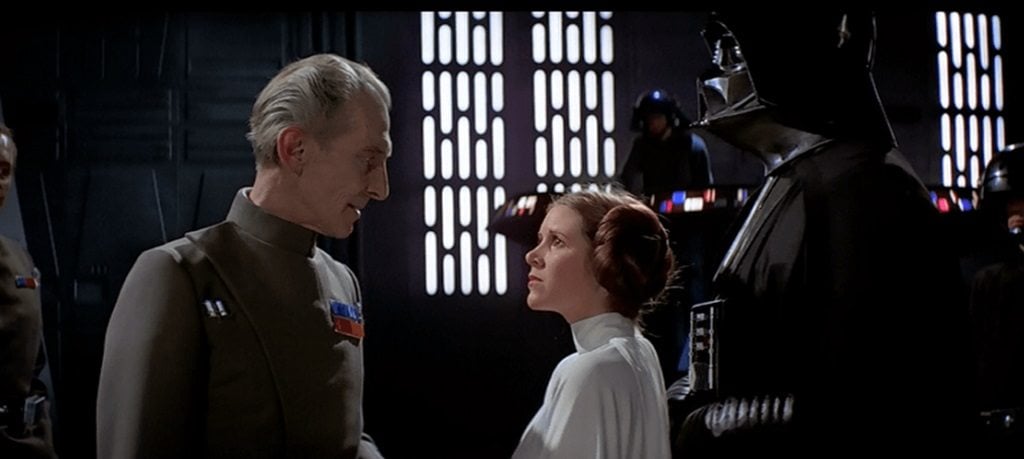 New footage from Star Wars: A New Hope debuted at Star Wars Celebration Orlando 2017 this past week, offering a never-before-seen look at some outtakes and alternate dialog from the film. Check them out!
Previously lost footage and additional dialogue from the original Star Wars film appeared during one of the many panel at Star Wars Celebration Orlando. ILM genius John Knoll, the visual effects supervisor who came up with the concept for Star Wars: Rogue One, took the time to share the archival footage with some very lucky attendees.
During the filming of Rogue One: Star Wars Story, unused clips from blockbuster 1977 film were used to bring two classic characters back to life in a creative and honoring way. While sifting through the trims, Knoll's team discovered clips from an extended DEATH STAR council scene with additional dialogue, more dialogue between Leia and Tarkin, and Rogue squadron's gold leader (played by actor Angus MacInnes) messing up one of his legendary lines.
The first clip gives us extended dialogue from the Imperial officer discussion with Tarkin on Death Star I. What's interesting about this bit is they mention a "Sith Lord", not heard on screen until the release of Star Wars: Phantom Menace back in 1999.
"I tell you we've gone to far. This Sith Lord sent by the Emperor will be our undoing"
Another clip explores a piece of footage that shows Carrie Fisher (Princess Leia) reacting to Peter Cushing (Grand Moff Tarkin) shortly before he orders her home planet destroyed.
The last one follows an outtake of Rogue Squadron's Gold Leader (played by actor Angus MacInnes). In this clip MacInnes drops an F-bomb when he flubs up one of his lines.
But wait, there's more!
Also, check out this blooper of Peter Cushing.
Source: TheCinemaRealm (Via THR)
May the force be with you….