Daisy Ridley Talks About Her Meeting With Felicity Jones
The Original Trilogy marked the first time that Star Wars created a strong female character that everyone could admire – Princess Leia. Carrie Fisher led us into a brave new world and almost 40 years later we continue down that path. We've had Natalie Portman's Padme who never shied from action, we've had Ashley Eckstein's Ahsoka Tano who, in Clone Wars and Rebels has had some of the greatest moments in Star Wars Canon and now of course we look to two new strong women to lead the future of our favourite franchise. The previously unknown (but now, the never to be forgotten) Daisy Ridley who led The Force Awakens cast last year as the previously unknown Rey, and of course in the soon to be released Rogue One: A Star Wars Story we have the acting powerhouse,Felicity Jones, playing Jyn Erso, soon to be fan favourite and leader of a small rebel force tasked with stealing the plans to the Death Star, a mission pivotal to the Rebel Alliance's future victory of the Galactic Empire.
Now that Daisy Ridley has officially landed and could probably get any job she wanted or an audition at the very least, she decided to produce and narrate the documentary The Eagle Huntress. While promoting her film in Los Angeles this week, Yahoo Movies were able to ask her a few questions including what her thoughts were on the upcoming spin-off, starring Felicity Jones.
"I'm very excited to see it. I had a drink with Felicity [Jones] a few weeks ago, she's super cool!"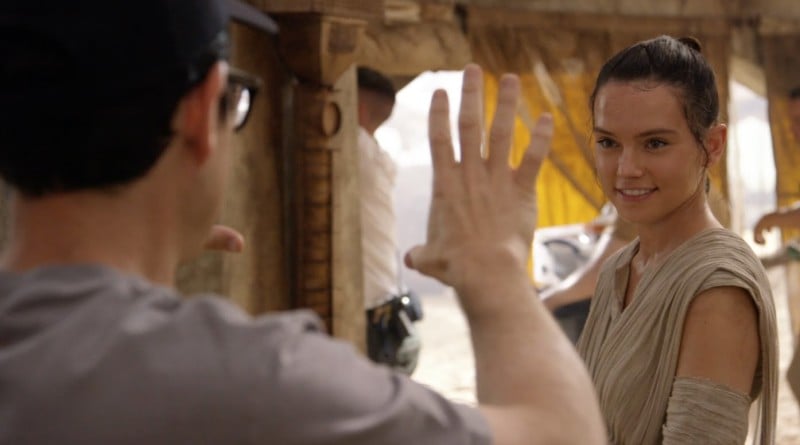 And of all the drinks, in all the world of course the two English leading ladies bonded over a cup of tea. Daisy went on to talk about how she feels when watching someone else go through what she had experienced only a year ago, and what she is about to embark on again for the still untitled Episode IX.
"It was weird; I've talked so much retrospectively about what was going on [in the lead-up to Force Awakens]. It was so odd to be reliving it. And she gets to go talk about this film that she's part of in all these amazing places. I feel like 'jealous' is the wrong word, but I had such a good time in the run-up to the film, and it was all so exciting. Knowing that she's experiencing that is so great. Plus the film's meant to be amazing, so it's a fantastic continuation of the Star Wars world"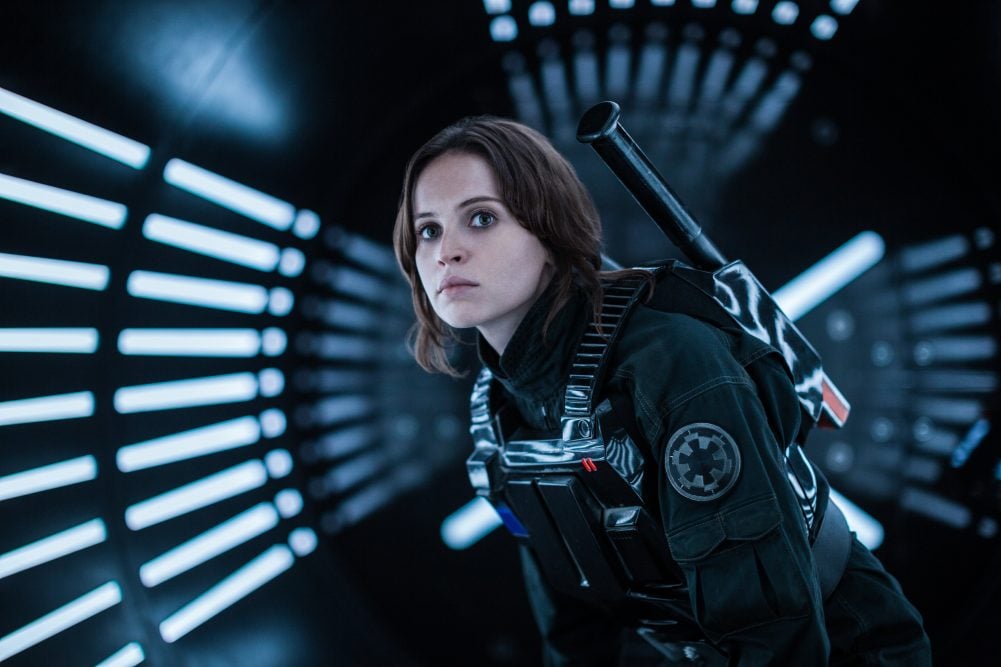 When asked if the young actress gave any advice to the Academy Award nominee (Jones was of course nominated for her breath-taking performance in The Theory of Everything) Daisy said;
"Oh God, I didn't give her tips she's like a proper human being. She's got everything nailed… We just talked about our filmmaking experiences. And I've been a huge fan of hers for a long time. Have you ever met her? She's so great. So just to chill was really nice."
Daisy and Felicity do seem like such wonderful people which I think is a crucial part of starring in a Star Wars film. These actors become ambassadors for the franchise and heroes to countless children around the world, and that doesn't leave them for the rest of their life. Carrie Fisher recently returned to the franchise after 33 years but in that time remained a hero and inspiration to so many people around the world so it's so reassuring to hear that the future of the franchise is in capable hands.
If you're asking yourself "this was an interview with an actress from Star Wars, why wasn't there a question relating somewhat to a fan theory in the hopes that they will reveal something we're dying to know?" then you're in luck! Because the final question is suggested to be in relation to the budding speculation that Rey is somehow related to Jyn Erso or perhaps is her daughter. When she was asked about any similarities between Jyn and Rey, Daisy didn't really give anything away by saying;
"I don't know. That'll be interesting when I see [Rogue One]. But I don't watch things and think in that way. So I think I'm just gonna watch it and be blown away."
The fan speculations that Rey is Jyn's daughter never made much sense, and the LFL Story Group would surely never go down that road. And as we all know, not everything has to be connected in the galaxy far, far away.
Throughout the years we've heard stories about how Lucasfilm feels like a family and the famous picnics at Skywalker Ranch that bring cast and crew together with their friends and family so it's really great to hear that our two new heroes are already acquainted and now we can comfortably look forward to all the films, events coming up with our strong female ambassadors to guide us.
Make sure to go to Daisy-Ridley.net for more than 600 photos with Daisy from The Eagle Huntress premiere.