SWNN's Spoiler Free Review of Rogue One: A Star Wars Story!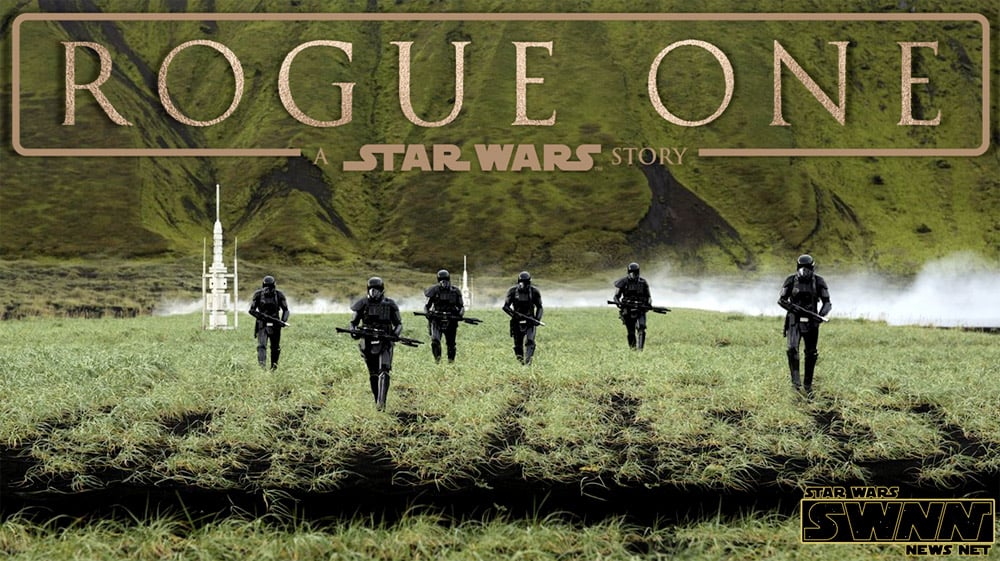 It's been a long time coming and we are finally here. Rogue One: A Star Wars Story is the first of hopefully many spin-off, anthology films set in the Star Wars Universe but separate from the main Saga films (Episodes I-VII so far). This review will be completely free of spoilers; at this point in the franchise, keeping the secrets is almost half the fun. Right off the bat I can (and will) say this. This film is great. It had a lot to do; beyond just being average, this film has to impress fans in order to set a standard for the rest of the Star Wars Stories and to make sure there's even an interest for them. I think they succeeded. I think fans of all backgrounds will find something to enjoy in this film.
So, without further ado…
Jyn Erso (Felicity Jones), daughter to the brilliant scientist, Galen Erso, is recruited by the Rebel Alliance to form a team alongside Intelligence Officer Cassian Andor (Diego Luna) to steal the plans to the Galactic Empire's brand new super weapon, the Death Star.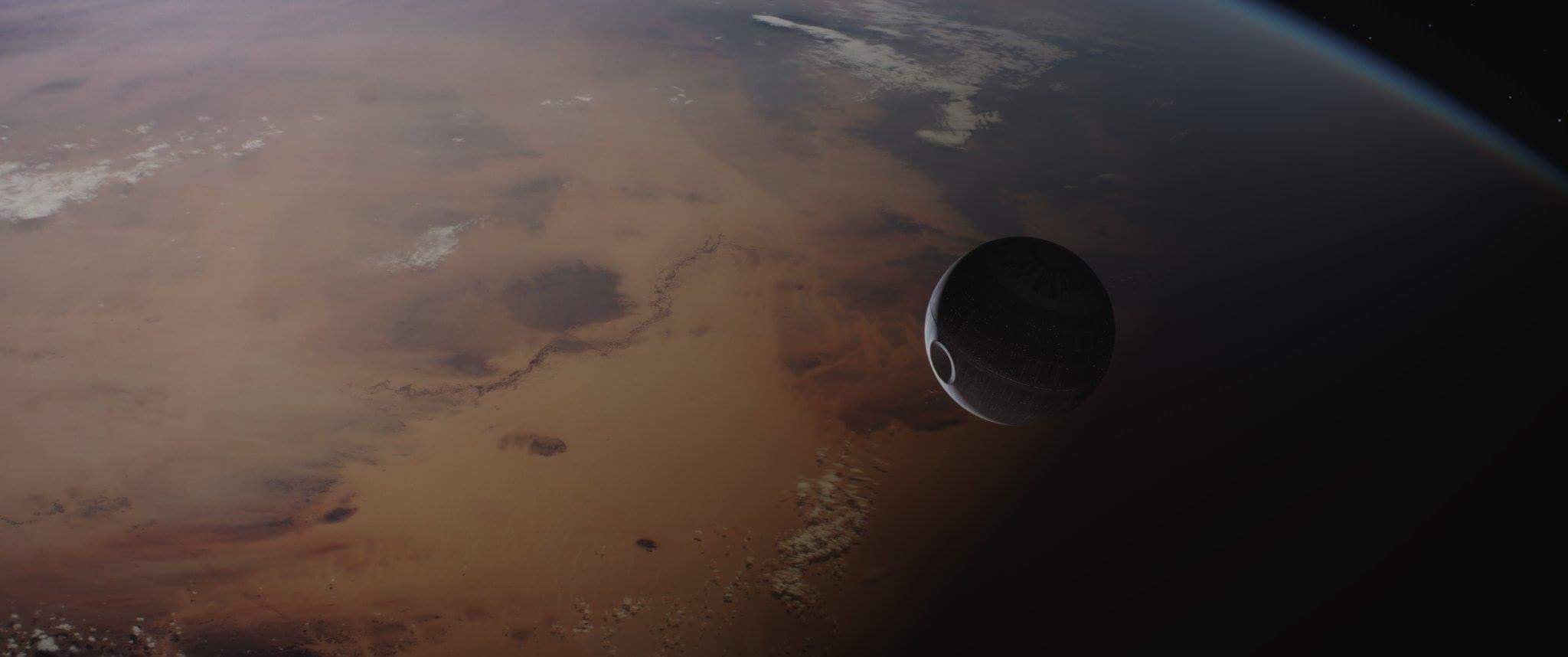 Rogue One sees a different start that fans have grown accustomed to. Yes, that's right, I can confirm there is no crawl but it didn't matter. I would actually go as far as saying that playing away from the usual Star Wars 'tropes' was a strength of this film. It didn't feel predictable and didn't feel shackled to certain elements you might have thought were requirements of a Star Wars film. It allowed director Gareth Edwards to truly make his own Star Wars film as opposed to making just any Star Wars film. It didn't ever feel like a cover song, more of a great new album where the band you love is experimenting in a slightly different genre, and it worked.
I'd love to break down the plot scene for scene and beat for beat, but truthfully I was shocked as to just how much I feel they left out of the trailers and TV Spots (despite it feeling like there was a new one released right after you watch one). It's because of that, that I'm instead going to talk more about the 'feeling' Rogue One gave me.

It gave me enough from the galaxy that it felt like it was set in the same place we all know and love, but it didn't pander… too much. There are certainly moments where it feels like we're in Gareth Edwards' bedroom and he's telling us a story with his favourite action figures, but it's a really compelling story and Gareth Edwards is a very good story teller. He of course got the brilliant story from the mind of John Knoll a VFX Supervisor at George Lucas' Industrial Light and Magic. Rogue One actually started as an idea for an unproduced Live Action TV show and he pitched the idea more than a decade before development on Rogue One had even begun. Once Disney picked up Lucasfilm and revived the franchise, he said he simply had to pitch it again rather than be left wondering "what might have happened if he had". Now we live in the world where he did. The script was then given to Book of Eli writer Gary Whitta to write before he parted ways in January last year to pass it off to Christ Weitz (American Pie, About a Boy, Cinderella (2015)) and Tony Gilroy who was nominated for a couple of Academy Awards including Best Director and Best Original Screenplay (both for Michael Clayton), but more on Gilroy later.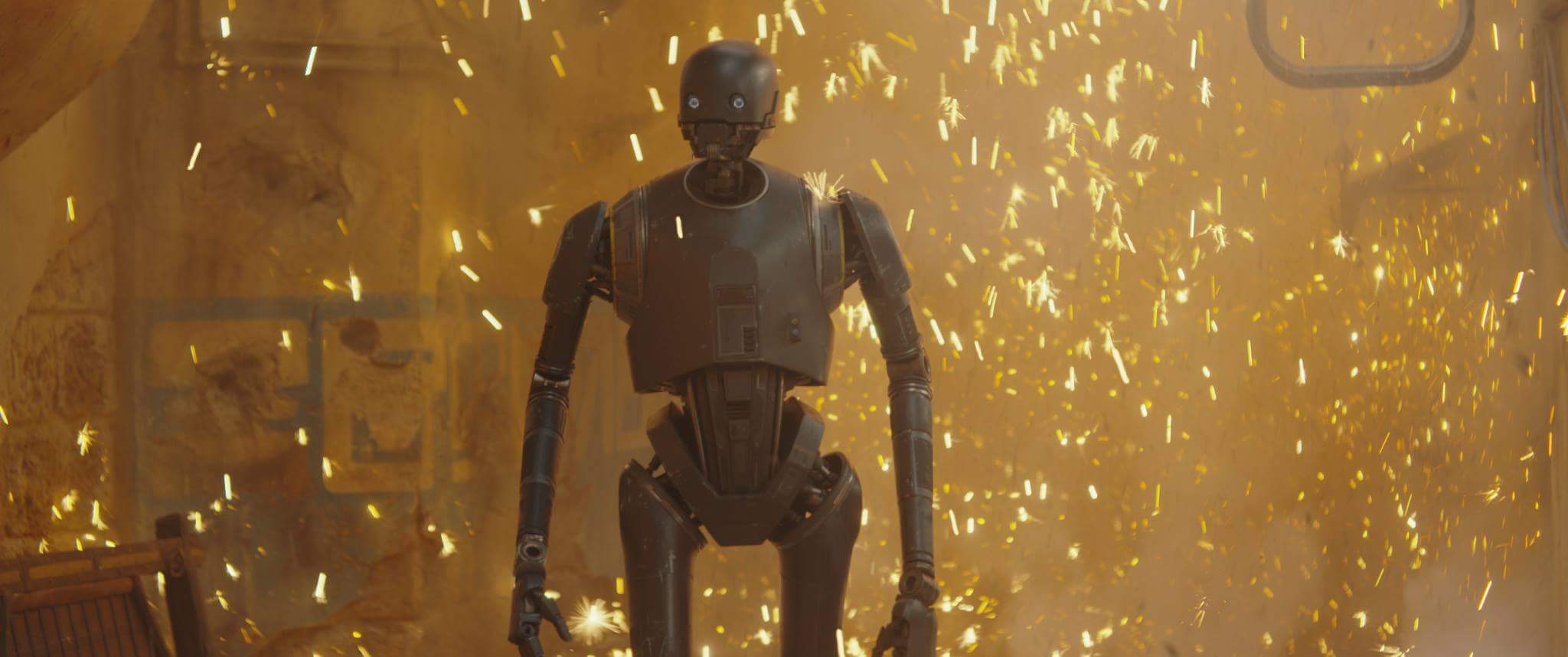 A big concern of this going in for me was the time it was set. It's such a well known time period for all Star Wars fans. A New Hope is probably the most magical of the original trilogy in terms of the awe it leaves you with when you first see it, so Rogue One had a lot to live up to. Thankfully, it succeeds in making everything feel like it's not something new they've created for this (although, it is) but rather it's just things you didn't see before. Every ship feels like it might have just been off camera and every vehicle just feels in place.
(Note: I have a bad feeling that I'm going to use the word 'feel' a lot, my apologies, I just really want to highlight how important the feeling is in the viewing experience – especially without talking about certain plot specifics.)

A big concern with everyone else however seemed to be the reshoots. Despite many reporters' best efforts at calming the mass hysteria that seemed to sweep the internet during the first rumblings of reshoots, there was an undeniable panic. To be honest, even though I was one of those reporters trying to distill the fear, I still couldn't help but sit down before the screening and hold my breath and cross my fingers – a lot of us Star Wars fans have been hurt before; but please allow me to fully comfort you; breath out, sit comfortably and know that you have nothing to worry about. Tony Gilroy apparently was heavily involved in the process towards the end, and yes that meant some reshoots and yes he was in the editing booth, but yes he was nominated for a couple of oscars including Best Director and Best Original Screenplay (as mentioned above). I'd be very interested to know what exactly it was he influenced but rest assured it worked. Edwards, Gilroy, Weitz, Whitta, Knoll, all of them together, made a truly fantastic film.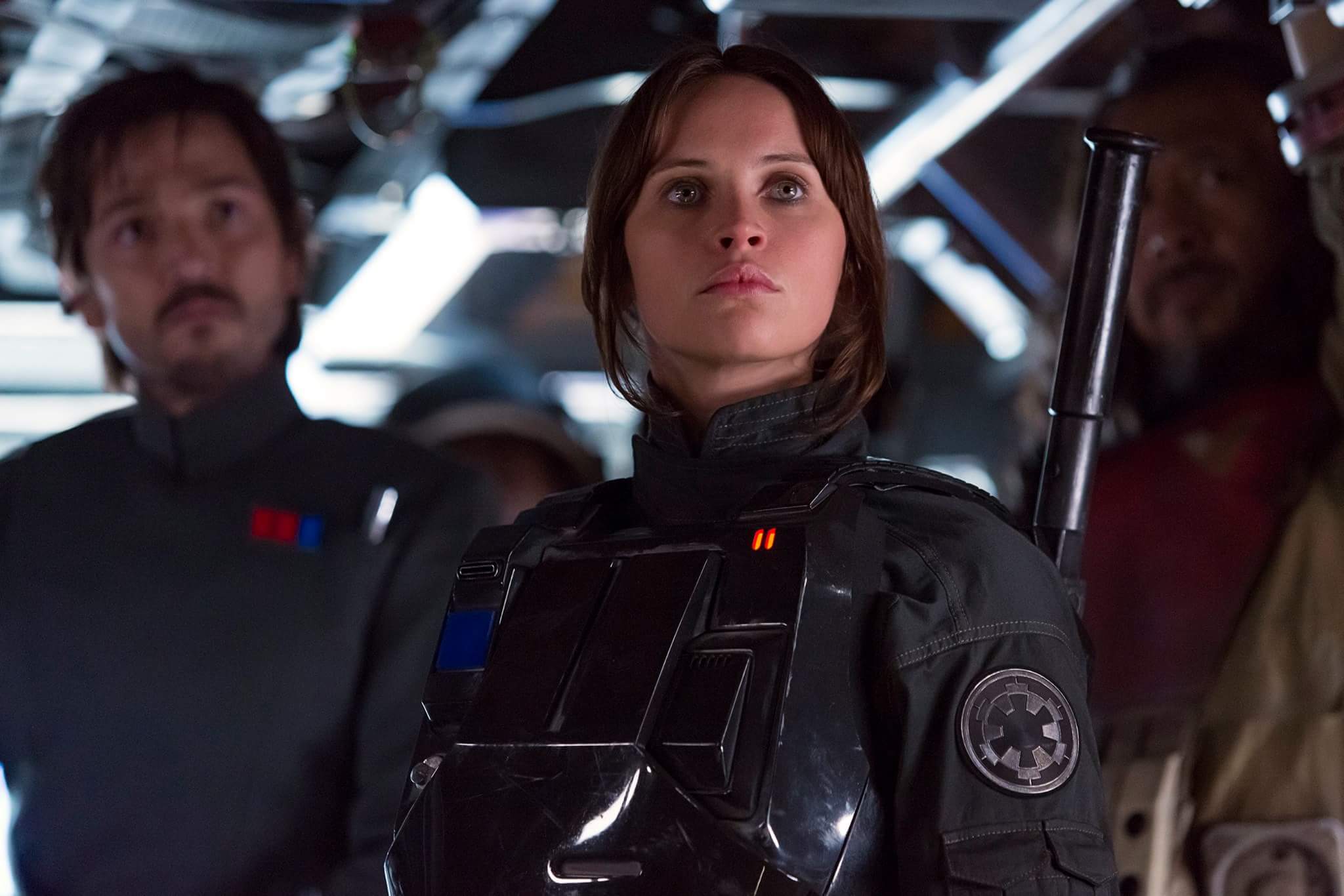 I could go on, reeling off synonyms about how raw and visceral it is but I won't (it is harrowing and frankly enchanting though…), instead I want to start talking about some of the fantastic performances this film gives us. First, our leading lady, Felicity Jones as Jyn Erso. Jones is another darling of the Academy as she was nominated for last year's The Theory of Everything where she managed to take my breath away in almost every scene. I can safely say that she doesn't fail to deliver here either. She manages to be bold and brave but still intensely vulnerable. Her scenes with her father Galen played terrifically by Mads Mikkelsen will leave you choked. Both actors lure you in and leave you blown away. The drama we got from just one film is remarkable (and enhanced even further if you've read Catalyst which I highly recommend as a strong companion piece to this film).
Diego Luna also tackles the mysterious Cassian Andor, a Rebel Intelligence Officer with a mysterious past. With the likes of Poe Dameron and of course Han Solo you'd think there wasn't much room for a roguish anti-hero with a side character that's either a large imposing companion, a droid or in Andor's case, both, thanks to Alan Tudyk's K-2SO. But Luna proves there's always room for more Rogues, especially in a film like this (see: the title). In fact, the support from the whole team was welcomed dearly with open arms. From all of their introductions, they feel natural, they are loveable in their own right and have enough depth that no one seems to be out of place or unrefined. Credit where credit's due for Riz Ahmed, Donnie Yen and Jiang Wen .

I think one of the things Rogue One does best is seamlessly tie in the prequels and other canon materials to the Original Trilogy and the greater story as a whole. Again, I won't reveal too much of what I'm talking about here but it could have very easily felt like fan service or forcing a square peg through a circular hole. A great example of this is the Clone Wars character Saw Gerrera who was brought to life and given some serious credibility by Academy Award winning Forest Whitaker. If there's one character that left me wanting more it's him. I officially want a comic series detailing everything from his last appearance in Clone Wars all the way up to this – I can't begin to imagine the dangerous yet heroic acts his band of extreme rebels got up to.
None of this works without a villain to truly capture the audience's hatred. Ben Mendelsohn would have had me booing and hissing if it were culturally acceptable. He was remarkable and had such gravitas it's hard to imagine any other take on the role. He seemed to really sink his teeth into this role and it looked like he enjoyed it. I would go as far as saying my faith in political characters in Star Wars is not only restored but heightened. I crave more Orson Krennic as much as he craves more power.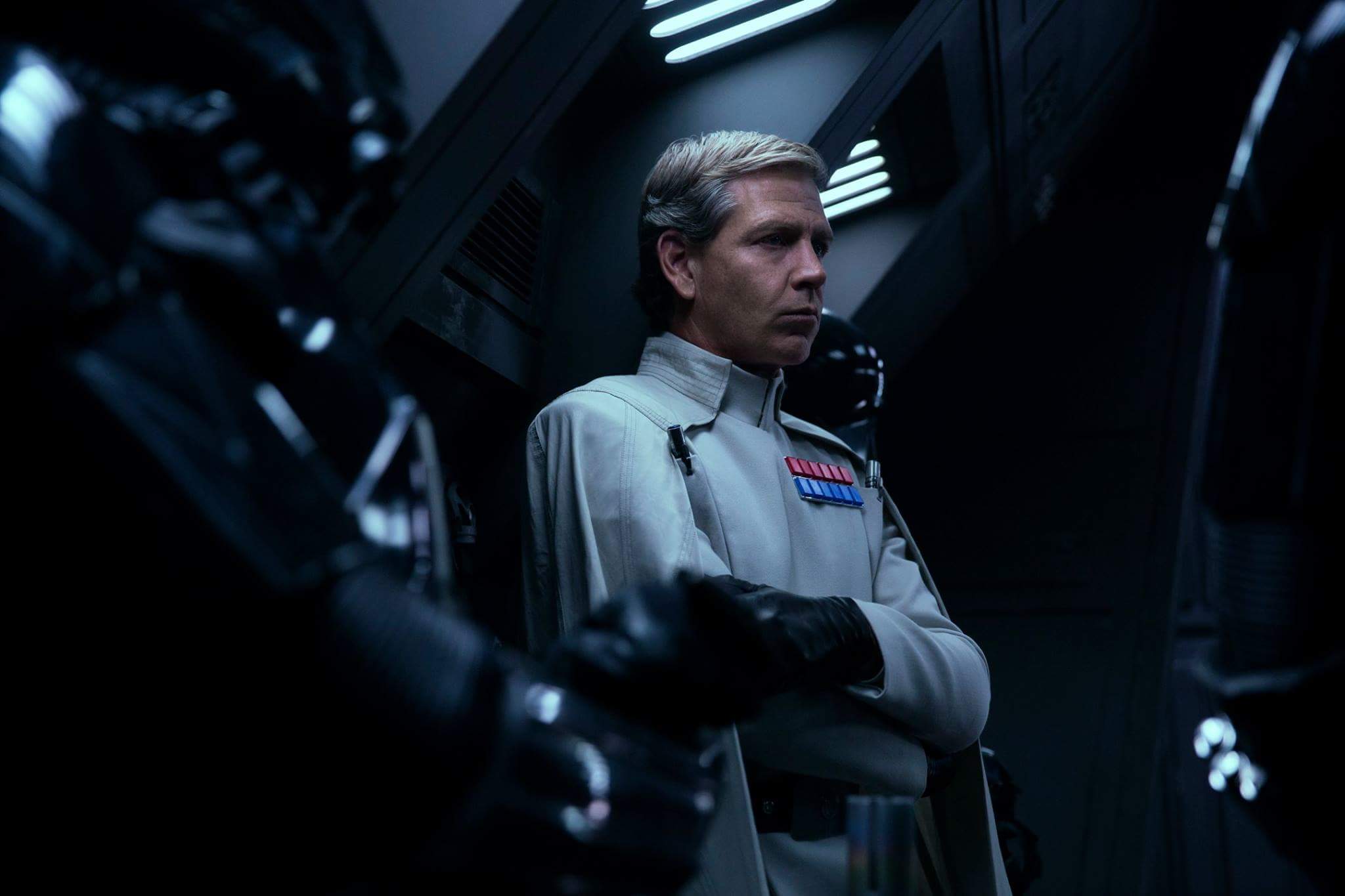 This is of course the first Star Wars film to not feature a score from the legendary John Williams. Williams has done so much for the franchise that it could be argued we wouldn't be here without him. That being said, Michael Giacchino took the reins on this one and delivered. His score was definitely different to the flavour we're used to but was still in the same family. Giacchino is also in the Academy Award family winning Best Original Score for 2009's Up, showing just how high Disney and Lucasfilm aimed and with good reason.
Rogue One: A Star Wars Story was intense, visceral and action packed. It's the darkest Star Wars film ever made. The action is like nothing we've seen in this universe and the acting is of the highest tier. A well crafted film front-to-back and an all round good time.

I think, universally the main criticism with Force Awakens was its close comparisons to A New Hope which, love or hate Force Awakens, is undeniable. But I think the best thing going for Rogue One is how unique it is. It escapes the shadow of the Saga films yet remains true to the core of what Star Wars is. Rogue One isn't just a Star Wars Story; it's a story of hope. I now have hope for more stories away from the Saga films, I have hope for the Disney machine working its magic, I have hope that people will never worry about reshoots ever again and I have hope that we will one day see a Star Wars film that will surpass Empire Strikes Back. This isn't that film, but it's certainly a step toward it. It proves that for Star Wars to succeed it needs to take big, brave and bold steps in exciting new directions. After all, that's what George Lucas did in 1977.