Daisy Ridley Thinks the Answer to her Parentage is in The Force Awakens!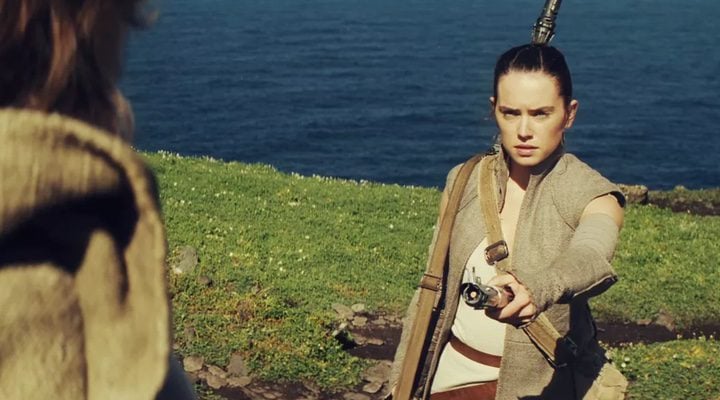 While speaking with Time Out London recently about the upcoming documentary she both produced and narrated, Daisy Ridley, the actress now best known for playing the lead character (Rey) in Star Wars Episode VII: The Force Awakens, talked about Rey's mysterious past.
When asked if it'd feel good to get the secret off her chest she replied:
"I thought a lot was answered in 'The Force Awakens'. Then after the screening I went for a drink with my agent and everyone and we were chatting away and I realised that 'oh, in their minds it's not answered at all!'"
This revelation could mean a number of things. First, that the answer has been staring us all in the face this entire time and we all need to go back and watch it again (I know, what a shame!). Second, is that perhaps with Ridley knowing the answer that she was able to pick up on certain nuances that aren't quite as clear to us yet, but if that's the case then it means The Force Awakens will make for a better viewing once all is revealed (I know, what a shame!). Finally, it could be that she is just messing around with us which, honestly, wouldn't surprise me, and I feel like I would probably do the same (sorry!).
Keeping the world in waiting certainly doesn't seem to bother her as she went on to talk about one of her experiences with keeping the secret:
"I think curiosity is a wonderful thing and I do find it quite funny that people keep asking about it. Just yesterday a guy asked to take a picture with me and went "Is Luke your Dad"? And I was like "chill out, you'll see!"".
It's true; we'll find out soon enough. But to be honest, unless they succeed in completely catching us by surprise, there seems to be only a few options regarding her lineage if there are indeed hidden hints in The Force Awakens.  For Rey to be the daughter of Han and Leia, a common theory for some time, doesn't really make any sense in the light of other canon material, especially Star Wars: Bloodline, a novel by author Claudia Gray, that makes no room for a second Solo child.
The most feasible options given the context of the film at this point are Luke being her father, or her being a descendant of Obi-Wan Kenobi.  The connection she has to Luke is obvious in the movie as the Force itself seems to be drawing her to the aging Jedi.  The fact that Leia sent Rey to find Luke instead of going herself after seeking him for so long may even suggest that Leia has some insight into the situation.
As for a possible Kenobi ancestry, the multiple lines from Obi-Wan in the "forceback" vision that Rey has when touching Anakin's lightsaber for the first time may suggest the connection. In one of these lines Obi-Wan even addresses her personally by name.  While the other voices in the vision are quotes from the past, the Obi-Wan lines are new and are seemingly meant specifically for Rey.
A third option might be a combining of the two, with Luke being her father and her mother the daughter of Obi-Wan.  Of course, we may be completely off with this speculation, but given the evidence before us, it's about as much as we can speculate at this point. And kudos to the writers if they are able to completely pull one over on us here.
I think for the time being we just need to learn patience and make Obi-Wan proud! For now, I think she's right; curiosity is a wonderful thing. Fans all across the globe are talking about their ideas and are speculating together, forming different theories. Isn't that part of the reason why we love Star Wars so much? We can explore it's every detail because it is one of (if not) the deepest and richest stories ever told.
In their last line of questioning they asked if she thinks people will be surprised when they find out the truth, and she said:
"I'd love to see the look on people's faces but with answers come more questions, and there's definitely going to be enough to keep people going for another two years!"
I can't wait to be asking these questions in roughly 13 months, and I know the Star Wars fandom will be right there with me trying to figure out the answers.