Rumor: Star Wars Battlefront 2 Trailer Drops at Celebration, Visceral Game Teased.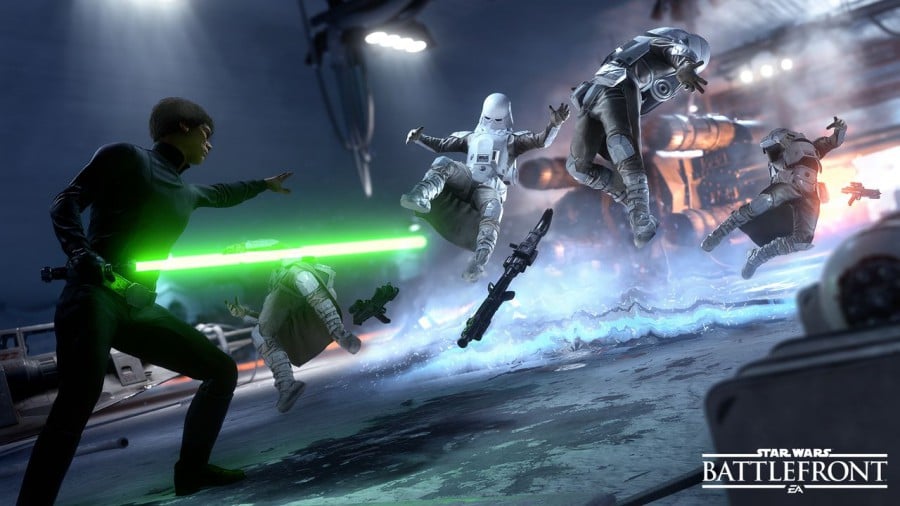 According to a new series of rumors, Battlefront 2 and the Visceral Games Star Wars title are going to be unveiled at Celebration Orlando. While the former is not exactly a surprise, word is that the Celebration panel for the game is going to focus on the game's campaign (something completely absent from the previous installment) while the EA Play presentation and the subsequent gameplay shown at E3 in a few months will shift focus onto multiplayer.
Star Wars Game Outpost found a handful of tweets of interest, mostly from Jordan Maison of Cinelinx. Maison has heard that the Visceral Games title is finally ready to be shown, but Battlefront 2 will be EA's biggest focus this year.
From what I've heard, bulk of #SWCO gaming presentation will be about #StarWarsBattlefront 2 & proving it's a different/better game.

— Jordan Maison (@JordanMaison) March 18, 2017
In addition, Jeremy Conrad of Furious Fanboys chipped in to this conversation and noted that his own sources told him that the Battlefront 2 presentation was going to be all about single player:
@JordanMaison yea bulk of SWCO is going hard on the SP campaign. Multiplayer stuff is being saved for E3.

— Jeremy Conrad (@ManaByte) March 18, 2017
All things considered, a Visceral reveal is long overdue at this point. It was previously mentioned that motion-capture work was being done for a Star Wars game trailer being developed last month, and it was speculated that the game would be Battlefront. In hindsight, it seems like mo-cap is a better fit for a more story-driven game like the one Visceral's been working on than a title that emphasizes instant action over story, even if the new Battlefront will have a story mode this time around. Speaking of which, it definitely sounds like DICE is focused on delivering a sequel that will blow the original out of the water, so expect the panel to focus on that instead of revealing a significant amount of details on a game that won't be out until 2018.
Grant has been a fan of Star Wars for as long as he can remember, having seen every movie on the big screen. When he's not hard at work with his college studies, he keeps himself busy by reporting on all kinds of Star Wars news for SWNN and general movie news on the sister site, Movie News Net. He served as a frequent commentator on SWNN's The Resistance Broadcast.