Review – Raiding The Rebels In Marvel's Doctor Aphra #34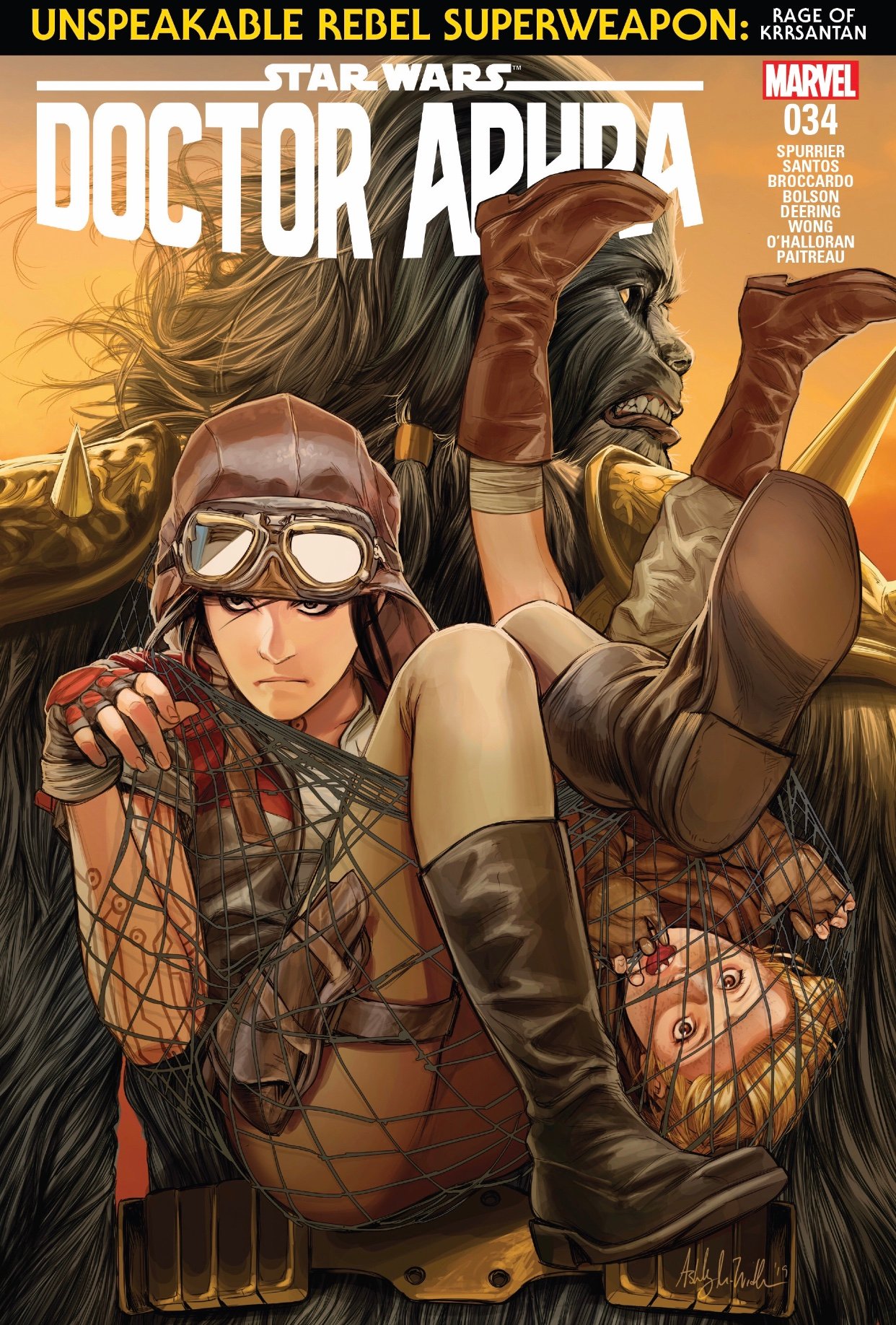 Doctor Aphra returns this week to give headaches to both the Empire and the Rebel Alliance. After walking away from Tolvan and the Rebel Alliance, Aphra and her new ward, Vulaada, must forge a new path in the unforgiving galaxy they exist in. Confronted with the ghosts of her past, Aphra must use her experiences to guide a better future for them both. SPOILERS AHEAD….
After the defunct heist and sale of the kyber-powered Farkiller, she and Vulaada have returned to her late mother's homestead, on the outskirts of Arbiflux's metropolis and shipyard. Aprha's reflecting on the memories of her mother and we get insight into the attachment issues that seem to follow our favorite doctor. Aphra remembers her mother's love and devotion and thinks that kind of love is so powerful it twists someone's mind. Yes, in a sense that is true (and we've sure seen that in Star Wars), but it's also an incredibly pessimistic way to look at maternal love. Aphra regards herself as a liability and catalyst to a love which got her mother killed. I've always been sympathetic of Aphra's cynical disposition, especially since learning about her absentee father, but this is a whole new level of sympathy. Aphra watched her mother die and blamed herself – a subconscious guilt that's kept her from finding love in Tolvan and friendship with Vulaada.
As she and Vulaada take refuge from the storm and go to sleep, Aphra's dreams recall more memories of her mother. I'm very grateful to writer Simon Spurrier for putting these in here. I think it highlights what a strong character Aphra is and how she's coped with her trauma but operating autonomously in the galaxy. From childhood, she's had to fend for herself, but more importantly she's been warned about people claiming to be righteous – making her skeptical of both the Empire and the Rebel Alliance. In the previous issues she's seen there are members of the Rebel Alliance just as willing to build terrible weapons to accomplish their goals and her mother's advice is coming to fruition. Yes, I still believe she will eventually join the Rebels, but I'd never expect her to just sign-up straight away. I'm a big believer Spurrier is showing us the journey and I appreciate the strong writing he's putting into Aphra's story.
Aphra wakes from her nightmares of her mother's death to a call from General Cracken, warning her the Empire has tracked her down and mercenaries are descending on her. Aphra quickly wakes Vulaada and they prepare for battle. While engaging the mercenaries, Aphra sends Vulaada's giant pet, Gurtyl, out against the mercenaries and catches a glimpse of a familiar Wookiee, who suddenly turns against the other mercenaries.
Black Krrsantan! After nearly strangling Aphra, she negotiates with the Wookiee and he goes to make friends with Gurtyl. Aphra offered Black Krrsantan a portion of the money she plans to make from Farkiller, which she's reluctantly decided to pursue. Unsurprisingly, Black Krrsantan doesn't trust the good doctor, so he's agreed to become a member of the team to keep her alive and make sure he get's his payday. The Farkiller was worth millions of credits. They escape the onslaught of stormtroopers and make their way aboard the Ark Angel.
Aphra realizes she's been set up by the Imperial Minister of Propoganda, who essentially created the Farkiller job to lure Aphra into the open. Unfortunately, she can't confide to Black Krrsantan that she's being set up, so she has to figure out a way to complete the job without him finding out – and without getting caught by the Empire and Rebel Alliance. Aphra decides to return to the Rebel Alliance, just as a squad of TIE Fighters nearly stop her.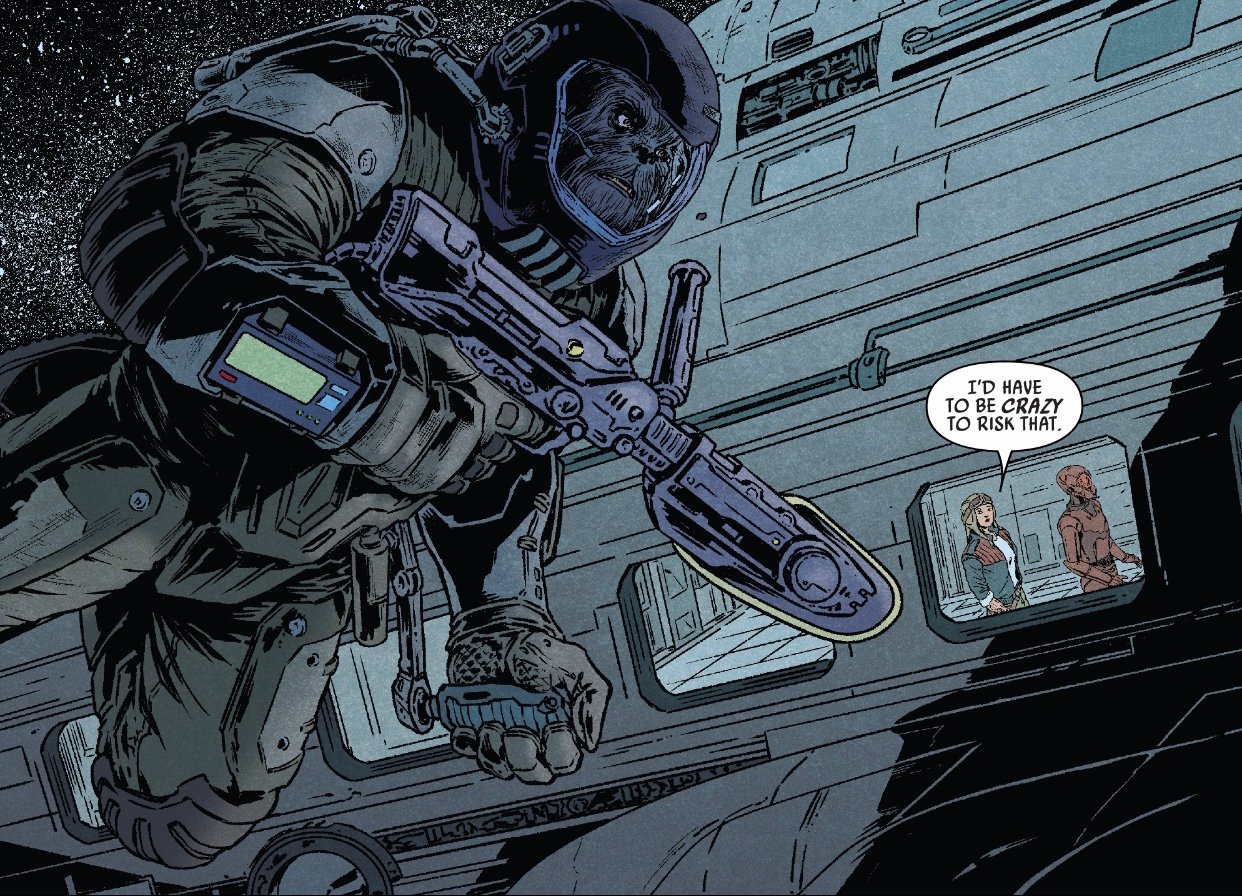 Aphra returns to General Cracken's Indigo Squadron and offers to help him reverse engineer the Farkiller to turn it into a miniature Death Star in the plot to assassinate the Emperor. Between dealing with Gurtyl and the haste in which Cracken's determine to make in his plan, he accepts Aphra's help but warns his droid counterpart, Teezee-Two, to keep an eye on Aphra. While Aphra gets reacquainted with the Rebel Alliance to start her own heist, Black Krrsantan waits outside the cruiser and certainly looks to be up to no good.
Aphra puts her plan into motion! In the previous issue, Teezee noticed Aphra sneakily placing hijack units on her, counting two of them she had to remove. Well, looks like Aphra put three on the droid and activates them, making Teezee completely under her control. She releases the security protocols so Black Krrsantan can board the Rebel cruiser. When Teezee asks what Aphra's plan is, she makes the classic villain mistake and reveals it. She'll double cross the Rebel Alliance, informing the Empire of the weapon the Rebels are building and hoping to get them off her back. To me, it doesn't seem very clever, but who knows if Aphra has something else up her sleeve to double cross everyone involved and make her escape. As she spells out her plan to the unfortunate droid, someone else is listening.
Tolvan! Yikes, but as far as these two go, anything is possible. I don't in a million years see Tolvan doing any harm to Aphra, but the doctor has certainly pushed the new Alliance captain to her limits. One thing I'm definitely grateful for is the story of Aphra and Tolvan doesn't appear to be ending anytime soon. The art in this issue is wonderful and comes from several contributors: Wilton Santos, Cris Bolson, Andre Brocccardo; inkers Marc Deering and Walden Wong; and colorists Chris O'Halloran and Stephane Paitreau. I hope this team of artists sticks together as this has been my favorite aesthetic for Doctor Aphra.
I love this "Unspeakable Rebel Superweapon" arc. Despite some complaints I've seen on Twitter from fans, I think it's a brilliant plot device to put Aphra in the middle of the Rebel's morally questionable decision to build their own mini-Death Star. I have to think most of the Rebels don't know and that General Cracken is acting out on his own, so maybe a turning point for Aphra will be when she sees Mon Mothma or someone else high in the ranks denounce this course of action. A morally ambiguous character like Aphra probably doesn't feel the Rebel Alliance is much better than the Empire if they're willing to go to such terrible lengths to win. Seeing an unequivocal rejection by the Rebels could be the catalyst Aphra needs to start working more closely with the Rebel Alliance. That…and a little love from Magna Tolvan.
RATING: 7.5/10