Dave Filoni Talks The "Chosen One" and the Kenobi vs. Maul Duel in Rebels: Twin Suns!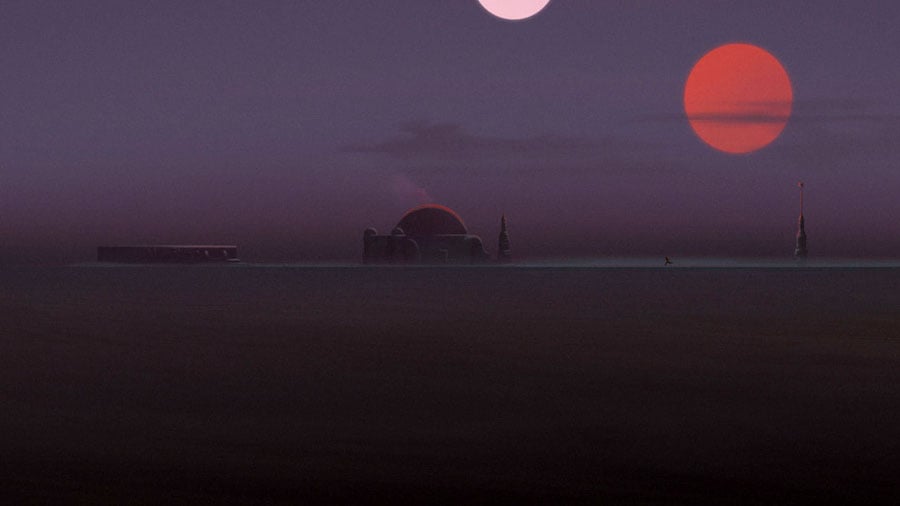 SPOILERS FOR TWIN SUNS
The latest episode of Star Wars Rebels, was an incredible piece of canon, and has serious repercussions for the universe as a whole. We saw an end to an iconic character from the prequels, we finally saw an older Obi-Wan in the desert becoming stronger in the force. There are certainly a lot of questions, and there's only one person who can provide some insight on what the motivations and background for the big changes, and obviously its the creator of Rebels, Dave Filoni. In a brand new interview with io9, Filoni dives deep into where Obi-Wan is at this point, the fight between Kenobi and Maul, who the "Chosen One is and a lot more, and its absolutely fascinating.
One of the most surprising aspects of the episode was just how short the actual showdown between old Ben Kenobi and Maul was. Every single preview for the episode built up to this epic moment between two old adversaries and many, like me, were expecting a long and epic battle in the desert. In about three short moves Kenobi kills Maul and the battle is over just like that. Filoni goes into great detail about the thought process behind the choice to make it the quick battle, as well as where he found inspiration for it. He compares Obi-Wan to the aster swordsman, Kyuzo, in the classic Japanese film Seven Samurai saying
"I felt strongly Obi-Wan, if he could help it, would really rather not kill Darth Maul. Obi-Wan is at a point, in my mind, where he's become rather enlightened. He's been in the desert discovering who he is, really evolving as a character. He's not that young brash kid that went into a fight with Maul out of anger for the fact his master was killed. It can't be that same situation this is so many years later. Maul, for his part, is pretty much hung up on that exact moment. That's where his life went wrong. He can't let it go."
This battle between Obi-Wan and Maul also represents the main differences between the Jedi and the Sith
"It really is to express the difference between the Jedi and the Sith. Which is the Jedi become selfless and the Sith remain selfish. When pressed, because Obi-Wan is protecting someone else in the end, he does fight. But because he is so true and knows who he is in that moment, you can't defeat that. So Obi-Wan is going to strike down Maul because Maul is such a broken and lost person, which I think is why in the end you see Maul being cradled by Obi-Wan.

This idea is that Obi-Wan is willing to forgive this person who is so cruel and terrible because he feels pity for him. To his dying breath Maul is hoping there will be some revenge exacted upon his enemies. And in my mind, Obi-Wan expresses sadness there because that means that Maul has never grown and will never be released from his suffering. So I felt that moment had to be beyond a lightsaber fight and had to be more an expression of their characters."
One of my favorite revelations from the interview is the similarities between how Maul killed Qui-Gon, and how he attempted to kill Kenobi. It shows actual growth since they fought all those years ago on Naboo. Here Obi-Wan has become this enlightened Jedi who is ready to move on and forgive, while Maul is still using his old tricks to try and defeat him. It plays into the old school samurai movies that inspired George Lucas,
"Maul tries to get Obi-Wan with a very similar move as he gets Qui-Gon. Which is he blocks and uses the blunt of his hilt to smack Qui-Gon in the face. So I had Maul try to do the same thing to Obi-Wan but again, to show growth, Obi-Wan is ready for that and slices it right in half. That slicing of the lightsaber hilt is to represent Maul being sliced."
While talking about the "Chosen One" line spoken by Kenobi, Filoni discussed the way they wanted to show that it is Luke. He never mentioned that this is according to Obi-Wan, but it has to be. As we know Filoni's mentor George Lucas was pretty specific in the past that the Chosen One is Anakin. But at this point of the Saga Anakin is lost forever for Obi-Wan and it's normal that he believes Luke is the "Chosen One". Here are Filoni's words on that:
"We have to look at every episode of Rebels as if you've never seen Star Wars before. So if you think of it that way whenever Maul and Obi-Wan are talking about 'The Chosen One' or 'Who are you protecting?' if you never see or we don't give the context of that, there are a lot of people who won't know whats going on there. The Star Wars fan will but the average person will not. So at the very least the scene establishes, in its simplest form, there's Obi-Wan, he was protecting someone, and there's a woman yelling 'Luke,' and we see what we think of as a young boy running. 'Oh, so Obi-Wan is protecting a boy named Luke.' It's designed to give you that specific bit of information that you need in the story.

Now, if you're a fan and you go 'OH MY GOD that's Luke Skywalker, that's even better. Now you're getting the whole thing… But from a sensible story point you have to have that scene at the end to give some idea of what this old man is doing in the desert. You can't rely on the Star Wars films as if they've been universally watched even though we know they're pretty popular."
It's so cool to see that there is so much thought, time, and effort put into these tiny little details and it really adds a lot to the canon. You can find the rest of the interview here and I really encourage you to read it, awesome insights with the man himself.
May the Force be with you!
All images property of Lucasfilm.