Stephen Stanton is Voicing Obi-Wan for Star Wars Rebels.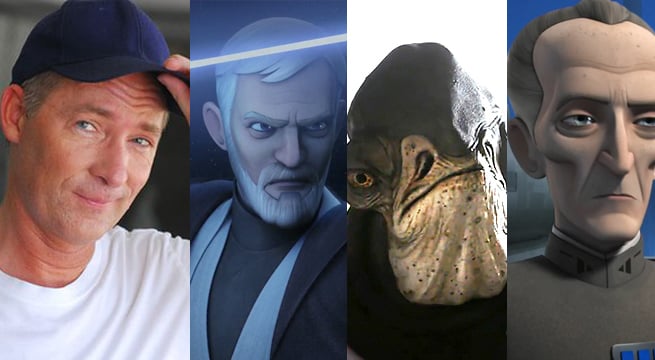 While Dave Filoni and company expressed interest in working with Ewan McGregor for an animated Star Wars project, it appears as though Rebels was not meant to be it. Instead, Stephen Stanton, who has previously voiced Grand Moff Tarkin in the show and Admiral Raddus in Rogue One, will be doing an impersonation of Alec Guinness' voice (though James Arnold Taylor has seemingly recorded a few lines as the younger version of Obi-Wan for his holocron message).
From ComicBook.com:
Veteran voice actor and Star Wars stalwart Stephen Stanton is providing the voice of Obi-Wan "Old Ben" Kenobi on Star Wars Rebels, Lucasfilm Animation confirmed to Comicbook.com. The actor has been working with the Star Wars family since 2005, when he voiced the same character, Ben Kenobi, as well as Darth Maul in the video game Star Wars: Battlefront II.

In more recent (and canon) years, however, he's also made a lasting imprint on the Star Wars landscape already. Stanton voiced Mas Amedda and Admiral Tarkin, amongst several other smaller roles, on Star Wars: The Clone Wars for several years. He'd continue on as Grand Moff Tarkin on Star Wars Rebels, as well as assorted other voices on the series like the droid AP-5.

Stanton also voiced the older Ben Kenobi in Disney Infinity 3.0, showing off his mimicry of Sir Alec Guinness, who played the role in Star Wars: Episode IV – A New Hope.
As you can tell from his credits, Stanton has a lot of great work under his belt and already has some professional experience imitating Alec Guinness. Hopefully, he can leave as strong a mark with his portrayal of Obi-Wan for Rebels as he did with Tarkin (who is also set to have more appearances on the show).
Grant has been a fan of Star Wars for as long as he can remember, having seen every movie on the big screen. When he's not hard at work with his college studies, he keeps himself busy by reporting on all kinds of Star Wars news for SWNN and general movie news on the sister site, Movie News Net. He served as a frequent commentator on SWNN's The Resistance Broadcast.