Lucasfilm President Kathleen Kennedy to Receive Irving G. Thalberg Memorial Award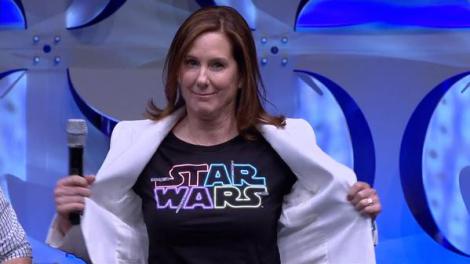 Kathleen Kennedy, longtime producer with Amblin Entertainment co-founders Steven Spielberg and her husband Frank Marshall, and current Lucasfilm President, is set to receive an award that Star Wars creator George Lucas previously acquired: the Irving G. Thalberg Memorial Award, an honorary type of Oscar given to producers with notable bodies of work.
The Academy revealed this information through their Twitter page yesterday alongside other announcements:
A season of firsts: Lucasfilm's Kathleen Kennedy is the first woman to receive the Irving G. Thalberg Memorial Award and Marvin Levy is the first publicist to receive an Honorary Oscar. Congratulations to all!

— The Academy (@TheAcademy) September 5, 2018
Per Wikipedia, the Irving G. Thalberg Memorial Award award is given to "creative producers, whose bodies of work reflect a consistently high quality of motion picture production". It was last given to to Francis Ford Coppola back in 2010; others who have received this award include influential Hollywood creators like Walt Disney, Cecil B. DeMille, Jack L. Warner, Stanley Kramer, Robert Wise, Alfred Hitchcock, Ingmar Bergman, Albert R. Broccoli, Stephen Spielberg, Billy Wilder, Clint Eastwood, Warren Beatty, and Dino De Laurentiis. As mentioned earlier, George Lucas received this 32nd iteration of this award in 1991. Kennedy will be the 40th award-winner, with her husband Marshall receiving the 41st award at the same time.
Aside from Star Wars, Kathleen Kennedy's credits as a producer and executive producer include (but are not limited to) E.T.: The Extra-Terrestrial, Gremlins, The Goonies, The Color Purple, An American Tail, Empire of the Sun, The Land Before Time, Who Framed Roger Rabbit, Hook, Schindler's List, Jurassic Park, The Sixth Sense, Seabiscuit, The Curious Case of Benjamin Button, War Horse, Lincoln, and every single Indiana Jones and Back to the Future movie. Almost all of those movies were made as part of her tenure at Amblin Entertainment, with The Sixth Sense and Seabiscuit being exceptions developed by Buena Vista and Dreamworks respectively.
George Lucas named Kennedy as his successor right as he sold Lucasfilm to Disney in 2012; by 2015, Kennedy and Lucasfilm were able to quickly to rejuvenate a dormant (though still successful) movie franchise for a new generation. The four Star Wars movies produced under Kennedy's reign as the head of Lucasfilm have grossed upwards of $4.8B worldwide, with more on the way alongside a fifth planned Indiana Jones film.
Grant has been a fan of Star Wars for as long as he can remember, having seen every movie on the big screen. When he's not hard at work with his college studies, he keeps himself busy by reporting on all kinds of Star Wars news for SWNN and general movie news on the sister site, Movie News Net. He served as a frequent commentator on SWNN's The Resistance Broadcast.