Gareth Edwards on the Missing TIE Fighter Scene in Rogue One, Opening Crawl and Wipes Were Used in Early Cuts and More
Empire posted a very interesting interview with Rogue One director Gareth Edwards, who reveals several interesting new details about the production, including the fact that Rogue One had an opening crawl very early during the production, written by Gary Whitta. Edwards explains what were the main reasons to go against this traditional Star Wars opening that many fans loved. He also reveals that "wipes" do exist in earlier cut of the movie. Read on for the details.
Empire's list features 13 revelations from Edwards. We will only include the most interesting ones and the ones we haven't discussed before. For the full list make sure to visit their site HERE.
Gareth reveals that even if Lucasfilm have asked him in the beginning to choose which movie he wants to direct between Rogue One and any other of the new saga films, he would have chosen Rogue One any time:
Honestly, I don't know what they're planning for the rest of the films, but I feel like if [I was] offered anything else, even the sagas, I would have been like, "no, I want to do Rogue One," because that's connected to the film that started me off wanting to do filmmaking, wanting to do everything.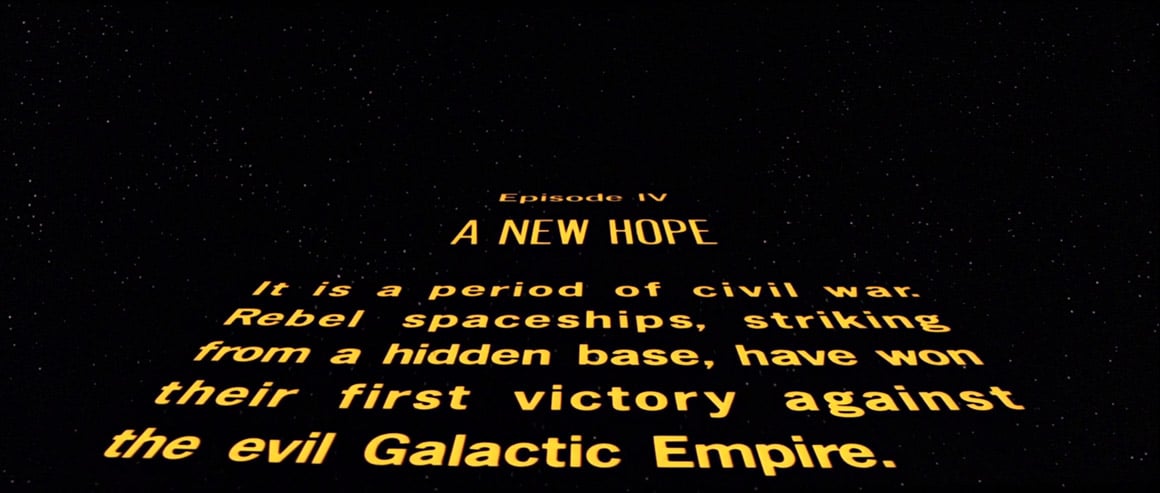 Curiously there was a crawl in the script's first draft!
The first screenplay that Gary Whitta wrote had a crawl in it – and you learn doing that that 'a long time ago in a galaxy far, far away' has four dots in it, not three. You get extra marks for that. And then at some point, probably like six months before we were filming, we were in a meeting, and they talked about not having an opening crawl, because these are standalone films, not part of the sagas. And if I'm honest, there was an initial kind of like, "whaaaa? I want the crawl!" The opening sequence is kind of the crawl of our movie. It's like the setup. And our film is also born out of a crawl – the reason we exist is because of a previous crawl, so it feels like this infinite loop that will never end. It's a small thing to give up to get to do Star Wars.
Many of you probably noticed the absence of another typical Star Wars element from the movie – the 'wipes'. It appears that they did use some in other cuts.
We did have versions of the film [with] wipes, and then it just felt like we were doing it because we could. The wipes are the cheesiest thing in the world. The only time you can ever do it and not be cheesy's in Star Wars. There's part of me that wanted the wipes and things like that, but the film is supposed to be different. We were given a license by the studio to be unique from the others, and we just took that license and ran with it as an excuse to try and be a bit more out there.
Edwards gives a clue about his cameo in the movie:
I got a cameo in the film as well, I was at the very end. I'm not sure I should say [where]…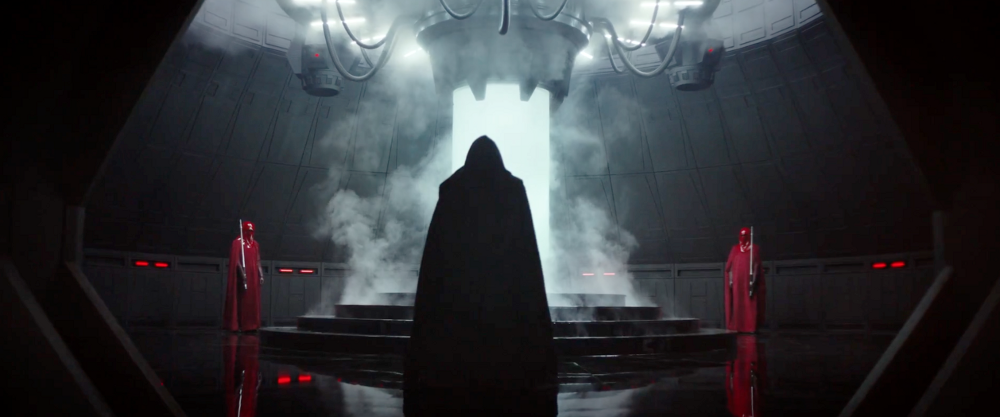 Gareth on that infamous bacta tank scene and Vader:
I'm jealous of moments like in Empire Strikes Back where you see the back of [Vader's] head and you just go, "oh my God, that is so cool," and wanted to try and find something like that in our film. [The bacta tank scene] was actually a Chris Cunningham-inspired thing of the idea of being in milk [like in the Bjork music video] All Is Full Of Love. He's really a burns victim, and it's not going to be fun for him when he's not in the suit – he's going to be uncomfortable. I love the idea of showing that he's vulnerable as well. Vader's very, very bad, and so you try and just glimpse something of him that gives him some humanity, or it makes you empathise with him. Just seeing those scars and realising that he's, you know, an amputee, and just reminding you of that before he does all his stuff, it makes you torn, I think. He's just such a rich character, in so many ways.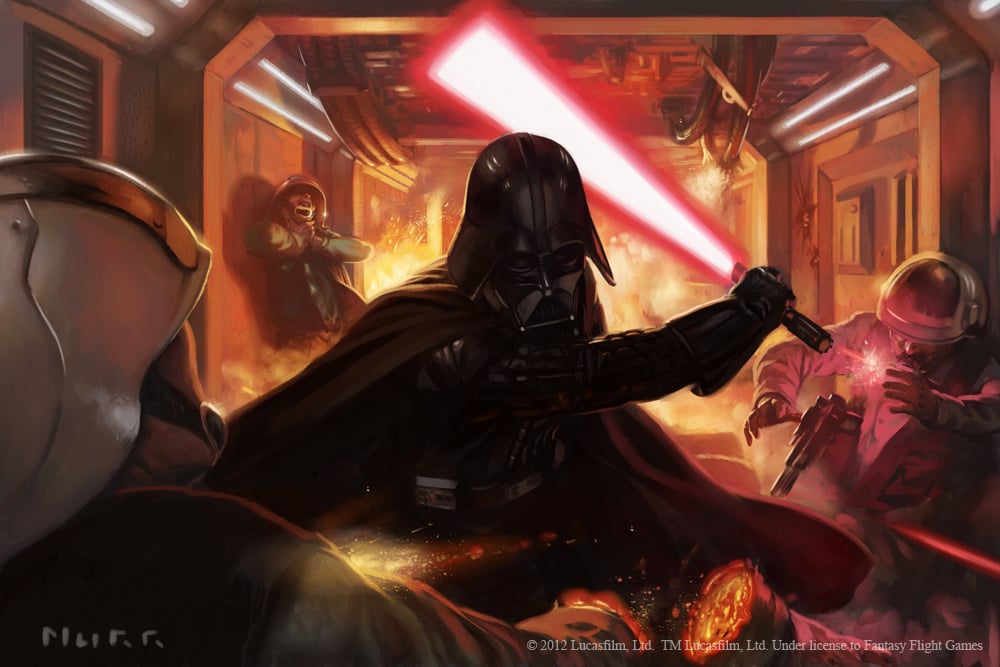 Peter Jackson was on set during the filming of the Vader scene at the end of the movie. Lucky guy. 🙂
We were at Pinewood, and Peter Jackson was in town. And we were like, "oh we should get Peter along, we should try and get him to come." I was there, about to shoot that scene, and I thought, "ahh, you know what, screw it", and I just wrote an email saying, 'Peter, about to film Darth Vader if you want to come, it's happening now', and he's like, 'I'll be there in half an hour!' And then he perfectly timed it, he walked in literally for that shot where it goes from darkness to the lightsaber turning on. Whatever I do in my career, whatever happens next, it's gonna be hard to top the honour of getting to direct that scene.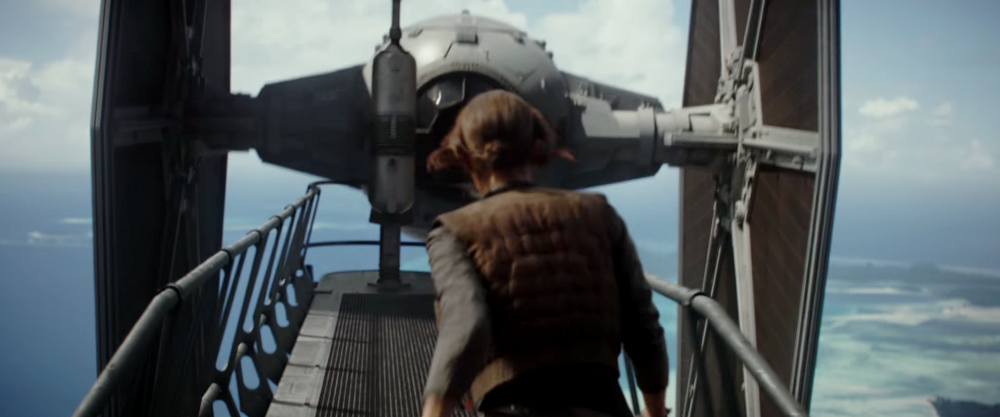 There is a reason why we didn't see in the movie the super cool TIE fighter against Jyn Erso scene, seen in some of the Rogue One trailers :
There was a bit of a process to refining the third act in terms of the specific shots and moments, and so certain things just fell away. But then what happens is marketing love those shots, and go, "oh, we've got to use that." And you say, "well, it's not in the movie". And they say, "it's okay, it's what marketing does, we just use the best of whatever you've done". And so there's lots of little things, but towards the end you go, "I know that's not in the film, but the spirit of it's in the film".
The word "hope" that Princess Leia speaks at the end of the movie is taken from A New Hope:
The dialogue is taken, yes, but not the image. It's a 3D [composite].
For all the revelations by Gareth Edwards make sure to visit Empire.