Rogue One Editors Reveal Which Scenes Were Added to the Movie After the Reshoots
Rogue One finished principal photography in February 2016. Then in June the movie started doing a scheduled reshoots which caused quite a stir in the fan community mainly because of several rumors and the fact that a new writer (Tony Gilroy) was added to the crew very late in the game. Now Yahoo Movies posted an extensive interview with the editors John Gilroy, Jabez Olssenand, and Colin Goudie, revealing what exactly was added by the reshoots and what else changed during the production.

Editor Colin Goudie revealed that very early in the production (September 2014) Gareth Edwards asked him to do a story reel for Rogue One.
There was no screenplay, there was just a story breakdown at that point, scene by scene. He got me to rip hundreds of movies and basically make 'Rogue One' using other films so that they could work out how much dialogue they actually needed in the film.

For example the sequence of them breaking into the vault I was ripping the big door closing in 'Wargames' to work out how long does a vault door take to close.

So that's what I did and that was three months work to do that and that had captions at the bottom which explained the action that was going to be taking place, and two thirds of the screen was filled with the concept art that had already been done and one quarter, the bottom corner, was the little movie clip to give you how long that scene would actually take.

Then I used dialogue from other movies to give you a sense of how long it would take in other films for someone to be interrogated. So for instance, when Jyn gets interrogated at the beginning of the film by the Rebel council, I used the scene where Ripley gets interrogated in 'Aliens'.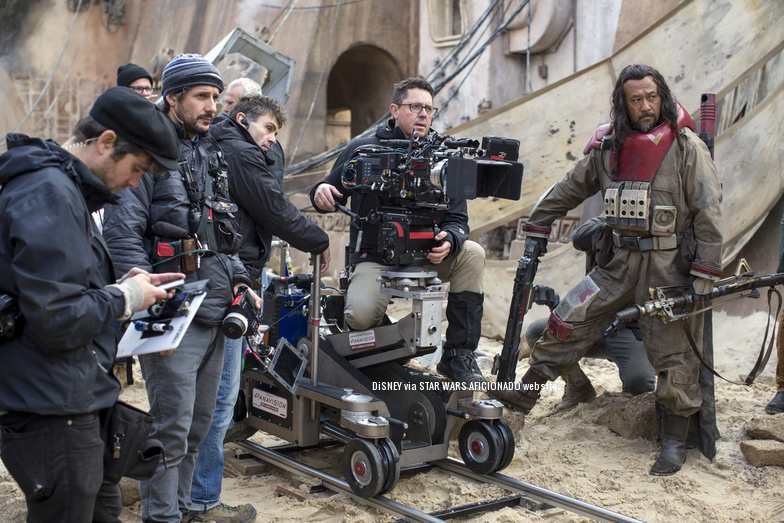 Also Goudie once again confirmed that the pickups were scheduled from day one and everyone knew which parts required reshoots.
Colin Goudie: It was just something that was on the schedule. We were always going to be there and it was a case of working out, as the story went on, which pieces need a bit more clarification, which places needed a bit more character.
Many fans are hoping to see many deleted scenes on the Rogue One Blu-ray release of the movie, mainly because there were lots of shots from the trailers that didn't end up on the final cut. Unfortunately it seems that the first cut of the movie was not much longer that the finished film:
Colin Goudie: It was not much longer than the finished film. I think the first assembly was not far off actual release length. Maybe 10 minutes longer? I genuinely can't remember because that was nearly a year ago now. There's no mythical four hour cut, it doesn't exist.
Well, I would say – 10 minutes is all we need then. 🙂
The Rogue One editors were directly asked if there are any deleted scenes that they're proud of and if we might end up seeing them in the future.
John Gilroy: I don't know. For me, no. I can't think of anything.

Colin Goudie: There's a handful that if people see them they'll be like 'oh that's interesting', but I don't think there's anything whereby you'd be like 'why did they cut that out?'

John Gilroy: We were in a different position. It wasn't like 'the movie's great, but we have to lose 10 minutes' or whatever. It was a different situation.
When asked how the reshoots changed the film, John Gilroy directly revealed which were the main scenes that were added to the movie:
John Gilroy: They (the reshoots) gave you the film that you see today. I think they were incredibly helpful. The story was reconceptualised to some degree, there were scenes that were added at the beginning and fleshed out. We wanted to make more of the other characters, like Cassian's character, and Bodhi's character.
The scene with Cassian's introduction with the spy, Bodhi traipsing through Jedha on his way to see Saw, these are things that were added. Also Jyn [Jyn Erso, the reluctant leader of the film, played by Felicity Jones], how we set her up and her escape from the transporter, that was all done to set up the story better. So having her in prison and then a prison break out, with Cassian on a mission… everybody was a bit more ballsy, or a bit more exciting, and a bit more interesting.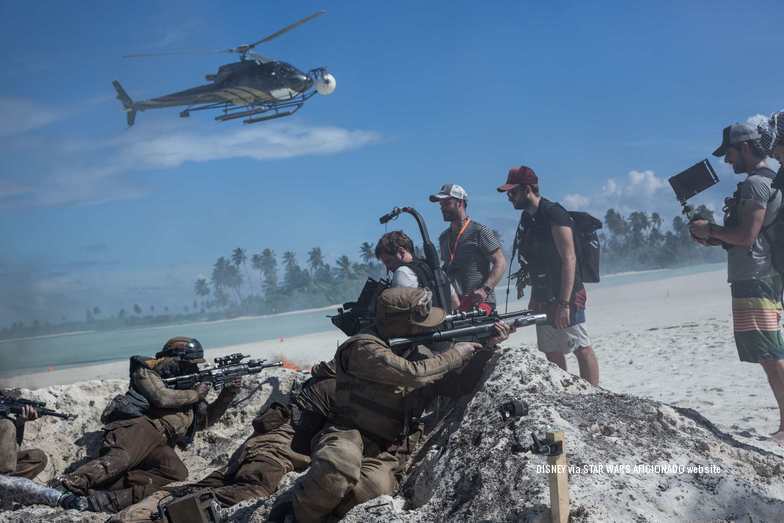 John Gilroy confirmed Ben Mendelsohn's words from a few days ago that the final third of the film was heavily changed:
John Gilroy: It changed quite a bit. The third act has a lot going on. You have like seven different action venues, the mechanics of the act changed quite a bit in terms of the characters, and I don't want to go into too much detail about what had been there before, but it was different.

We moved some of the things that our heroes did, they were different in the original then they were as it was conceived.
For the full interview go to  Yahoo Movies