John Knoll Discusses Rogue One Planet Size.
A few days ago, Ain't It Cool News reporter Copernicus took an estimate the distance of the Death Star from the planet it was orbiting in the recent Rogue One teaser. Not one to be out-nerded, ILM tech wizard (who also came up with the Rogue One story) John Knoll crafted one HELL of a response to Copernicus's estimations by explaining the physics of the brief pre-production teaser.
Knoll started by explaining that the Death Star in the trailer was initially 100 miles in diameter, and that the planet itself was 8000 miles. However, with those proportions, the Death Star would intersect the planet – or, in layman's terms, the two objects would collide, and their surfaces would be fried. To get around this, they re-classified the planet as a "moon" by shrinking the diameter down to 590 miles – a size comparable to the planetoid Ceres in our Solar System's Asteroid Belt. (So yes, that is both a moon and a space station that you're looking at in the below "money shot".)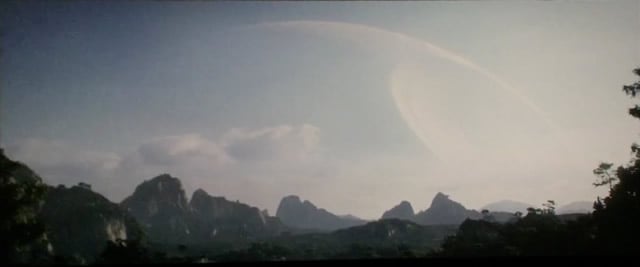 From there, Knoll explained that this hypothetical moon would have to be pretty dense in order for the surface gravity of the moon to work. That TIE that flew by, therefore, had to be pretty sturdy, as did the fauna that flew by. The explanation of how exactly two such objects could exist in close proximity is discussed even further here.
The moral of this story? We love Star Wars not because of its science fiction qualities, but because it's a science fantasy where any science-defying thing can happen for the sake of memorable visuals. That also probably explains why there was never an Endor Holocaust, Legends universe or not.
Grant has been a fan of Star Wars for as long as he can remember, having seen every movie on the big screen. When he's not hard at work with his college studies, he keeps himself busy by reporting on all kinds of Star Wars news for SWNN and general movie news on the sister site, Movie News Net. He served as a frequent commentator on SWNN's The Resistance Broadcast.