Jordan's Review of Star Wars: Complete Locations by DK Publishing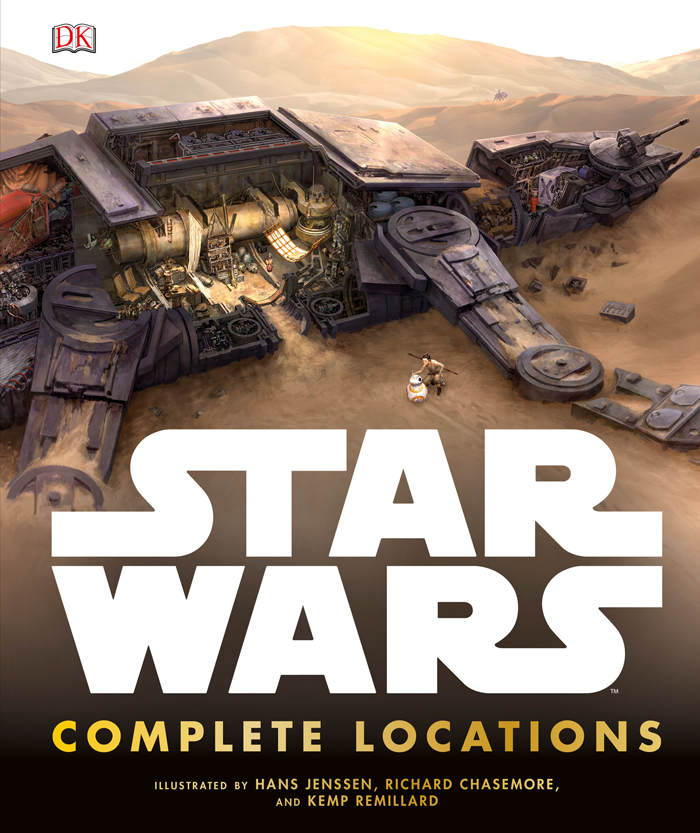 I'm sure that by now, many of you have already had the chance to check out Star Wars™: Complete Locations from DK Publishing.  If you were one of these people than you will no doubt second the advice I'm about to give…buy this book!  Of all of DK's Star Wars™ offerings, this one is by far my favorite.  I'm just now getting around to reviewing it simply because it has so much content that I haven't had the time to give the book its fair due until now, and I still haven't soaked in every single nugget it has to offer.  Read on for the full review…
(from DK Publishing)
Packed with more than 50 full-color, intricate cross-section artwork and 3-D maps, Star Wars™: Complete Locations is an amazing visual guide into the incredible worlds and locations of a galaxy far, far away….

From the towering skyscrapers of Coruscant to the terrifying technology of the Death Star, see in astonishing detail the numerous worlds, bases, cities, landscapes, and battles from the Star Wars galaxy. Discover the secrets of the Jedi Temple Complex and tour Yoda's House on Dagobah.

With brand-new cross-section artwork, Star Wars: Complete Locations is the definitive one-volume collection that takes you inside the world of the Star Wars saga.

© & TM 2016 LUCASFILM LTD. Used Under Authorization.
Star Wars™: Complete Locations is a huge collaborative effort with multiple contributors and artists that helped to bring its pages to life.  The attention to detail in this book is nothing short of astounding, and some of the inventive explanations of the smallest to the largest of details in each location are quite clever, bringing every facet of the Star Wars™ universe together like never before.
This book takes you beyond the walls, bulkheads, and landscapes that you see on screen in the films to understand the locations of the Star Wars™ saga from an architectural and engineering perspective.  Every little detail that George Lucas would have signed off on just because he liked the aesthetic is given a practical purpose and explanation. The amazing thing about this book is that you can go as deep as your heart so desires.  You can skim any given page at random, or you can dive in head first from start to finish.  The choice is yours.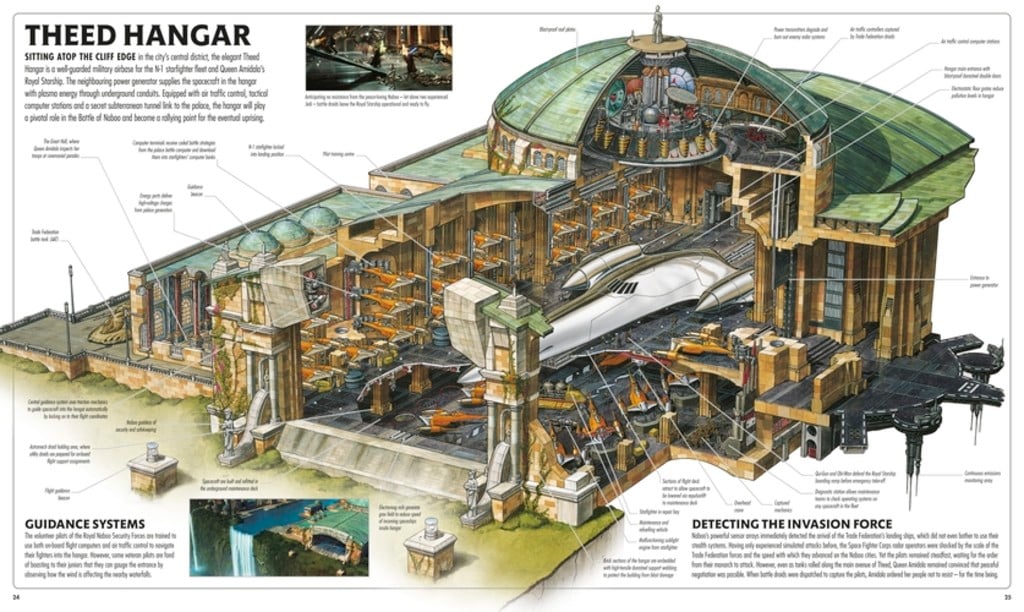 Star Wars™: Complete Locations is laid out to follow the flow of the saga films as they unfold chronologically, beginning with The Phantom Menace and ending with The Force Awakens.  There are so many cool things in this book that it is hard to narrow down what I loved the most about it, but some of my favorite revelations had to do with the Jedi Temple and Palpatine's secret lair on Coruscant.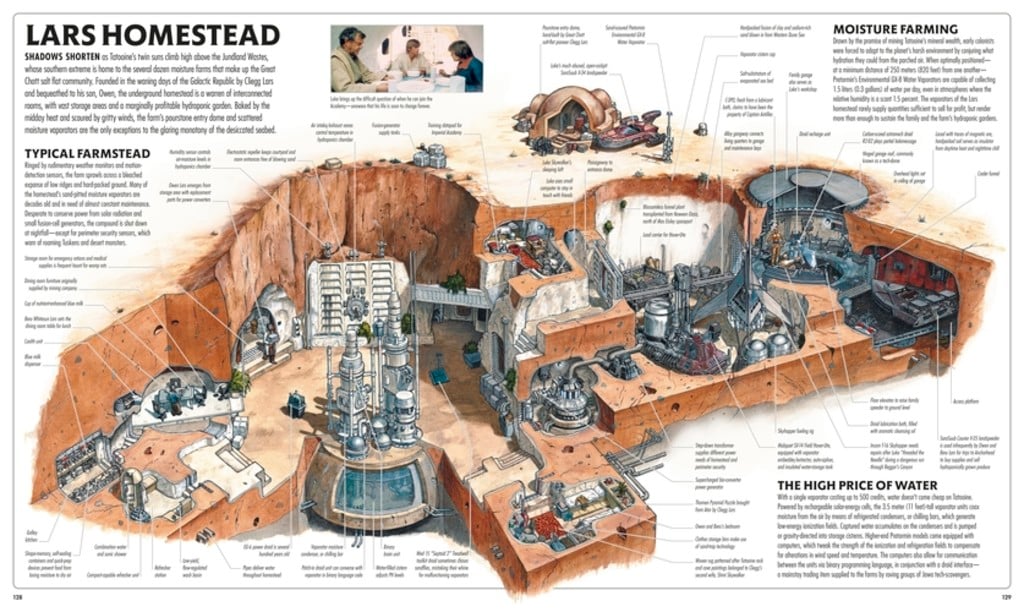 The Jedi Temple grounds are layed out facility by facility and room by room, as the reader discovers the purpose of each section of the temple and what goes on beyond what you see in the films.  I also very much enjoyed reading about the design of Yoda's hut on Dagobah and how he implemented parts from his crashed escape pod into its construction in practical and useful ways. The illustrations are simply beautiful and the text extremely well thought out. The galactic map and planet profiles in the beginning of the book are also welcome additions to this comprehensive volume.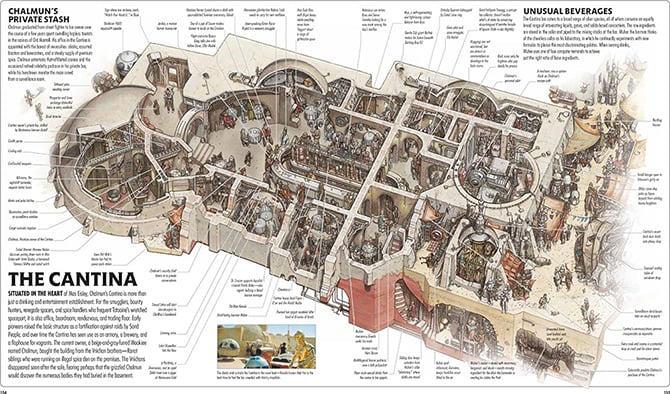 My favorite section by far was the medical facility on Coruscant.  I know…that seems kind of lame, right?  What's so cool about a hospital on Coruscant?  Well, how about the fact that it was the one that Palps used to rebuild Vader after his little mishap on Mustafar?  Still not interested? Okay, how about the fact that Palpatine was housing ancient Sith artifacts in the bowels of the facility? Among these artifacts was a giant kyber crystal from which the Sith lord and his apprentices extracted small pieces to use in their lightsabers.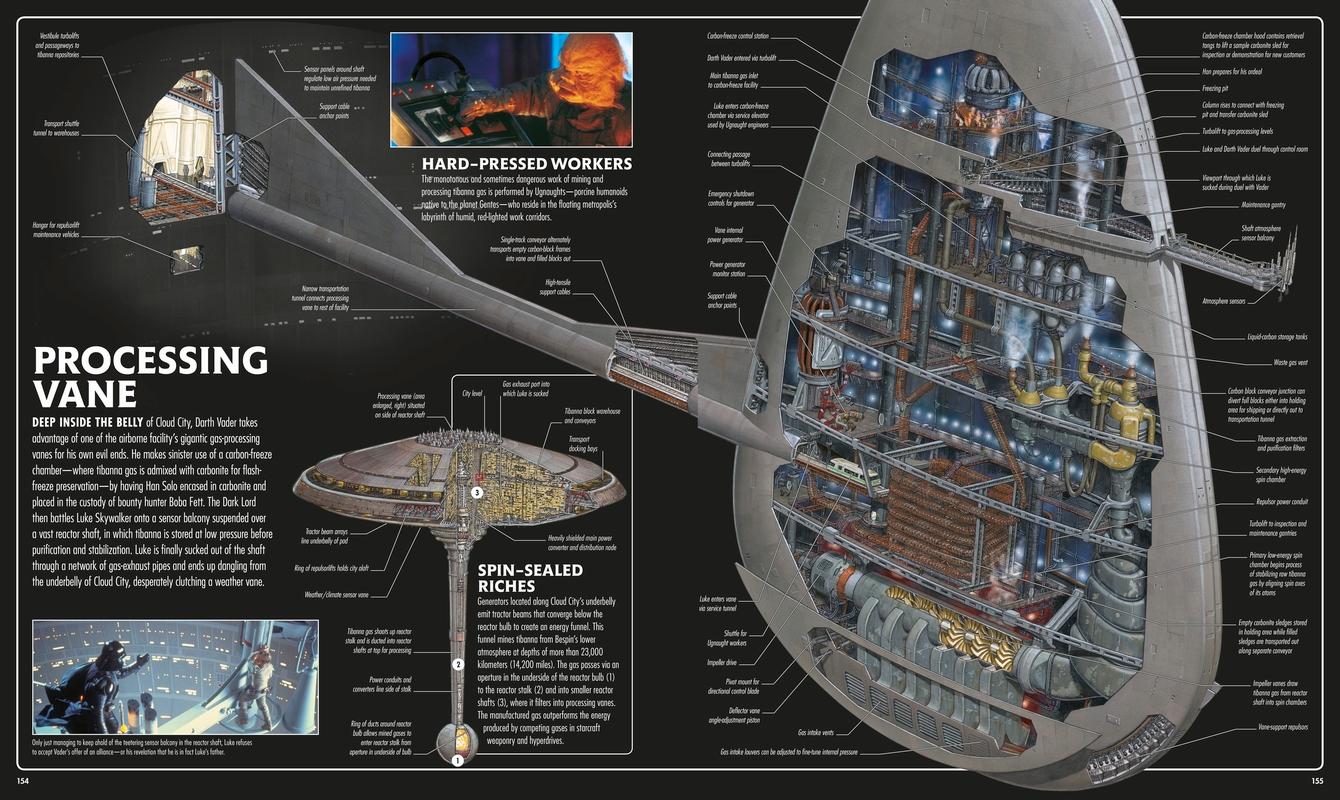 I could go on and on about this book, but rather than reading me telling you about it, go check it out for yourself. With the amount of great content in this book, it seems crazy to offer up much criticism.  That being said, it should be noted that there is not as much content from The Force Awakens as I would have liked, and I would have also loved for some important locations from the Clone Wars series to have been included as well.  But now I feel that I'm just being greedy.
Whether you are a moderate Star Wars™ fan or a die-hard superfan, you'll no doubt find something you like in this book.  At about 10" x 12" and 192 pages, you may have a hard time stuffing someone's stocking with this one, but if you can wrap it and slip it under the tree of that special Star Wars™ fan in your life, it would definitely make a great gift this year.
Jordan Pate is Co-Lead Editor and Senior Writer for Star Wars News Net, of which he is also a member of the book and comic review team. He loves all things Star Wars, but when he's not spending time in the galaxy far far away, he might be found in our own galaxy hanging out in Gotham City or at 1407 Graymalkin Lane, Salem Center, NY.