More on The Last Jedi First Order Judicials and Speculation on Finn's Fate!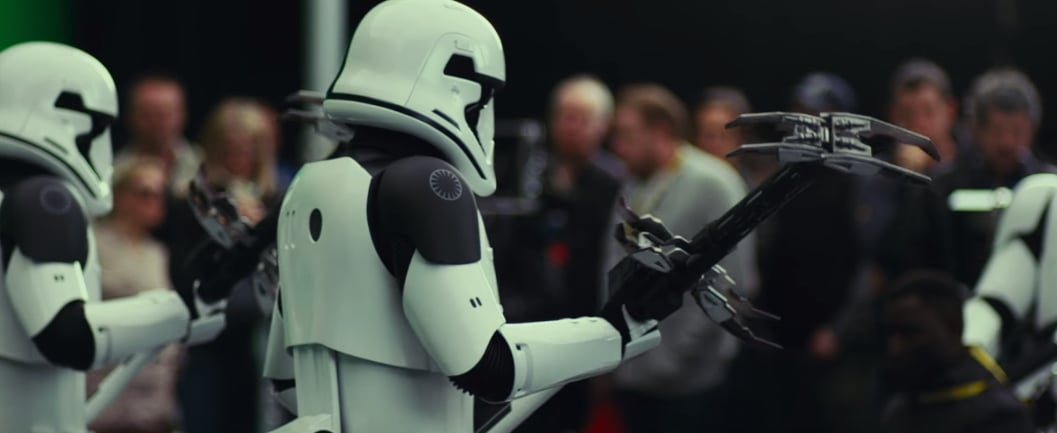 Troopers…a staple in the Star Wars galaxy. From the first time we saw them appear blasting through the door of Princess Leia's CR90 to the stalking black-armor clad Death Troopers in Rogue One, Troopers have been a constant in every film. Varying in style and purpose based on terrain and task, we have seen many varieties of Troopers to this point, and the Judicials will add to that list, and although we expect Finn to have his hands full with a vengeful Phasma, he may have other helmeted foes to deal with in The Last Jedi.
The First Order, grown from the ashes of the Galactic Empire, seems set on learning from the failures that lead to the demise of the Empire (destroyed super weapon aside). One aspect of their functionality is to maintain obedience and loyalty from their ranks. To employ this through fear and ultimate execution, we now have the First Order Judicials, a new brand of Trooper whose purpose is to dole out the ultimate punishment where they see fit. In a character description provided here on Reddit, we learn that:
The First Order can only operate effectively with the absolute loyalty of its followers. Should any soldier be found guilty of treason, it is up to this special branch of Stormtroopers to dispense final justice.
That ultimate service of justice will be served with axe-like electric current weapons, shown beautifully in one of the new Black Series figures:
Based on a previous post we posted here, we see from the Disney Elite Series figures that the official title of these Troopers (see bottom left of box) in The Last Jedi can be confirmed to be "First Order Judicial". Now it's possible they may go by other nicknames even in the film itself, remember that Tusken Raiders were often referred to as Sand People, but their official title looks to be "Judicial".
Here are the Judicials as seen in The Last Jedi behind the scenes footage: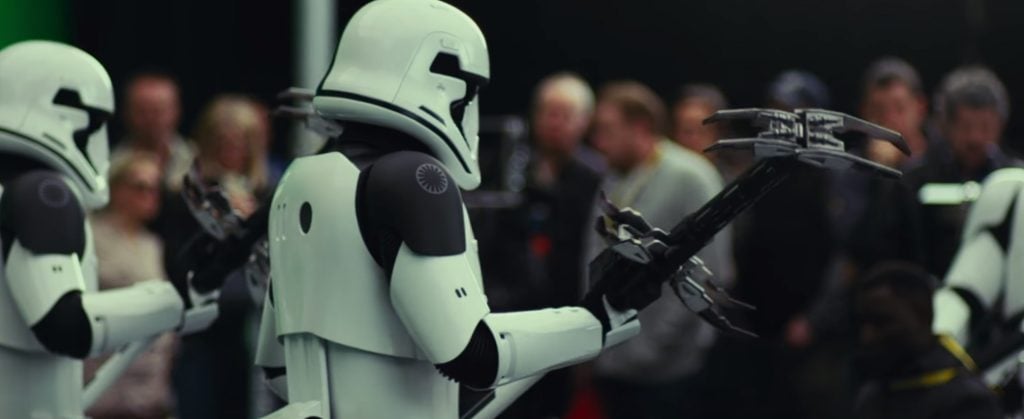 FINN'S FATE?
As you can see in the lower right corner of the image above, there is a man brought to his knees in front of the Judicials. This is definitely not John Boyega, but it's possible that this is his stunt double Adam J. Bernard? (see image below).
In the photo it seems that this man is wearing dark clothes that fit with the First Order uniform that we've seen in another shot from the BTS footage:
If this is slated to be Finn, it looks like the First Order probably captured him when he went undercover, found guilty of treason, and sentenced to execution.
In the BTS reel we see a shot of Finn in a jail cell and you can see that Rose is there too, on the left of the cameraman.
Finn is wearing his jacket, and Rose appears to still be in Resistance attire, they both look to be in similar attire to this photo which we speculate happens early in the movie:
Now this is speculation on our part but we are guessing after a lengthy chase, they are captured by Canto Bight Police and thrown in a cell. How they get out remains to be seen, and while we don't believe this cell scene is directly tied to Finn's First Order capture and sentencing for execution, it could be a triggering chain of events that leads them to donning First Order disguises and go undercover once they break out of jail.
In the long rich history of Troopers in Star Wars, where do you think the Judicials will rank with you? They certainly don't look like the type that will bump their head on doors. It looks like Finn and newcomer Rose are going to have their hands full in The Last Jedi too, what do you make of all this?
John Hoey is the Lead Editor and Senior Writer for Star Wars News Net and the host of The Resistance Broadcast podcast
"For my ally is the Force, and a powerful ally it is."