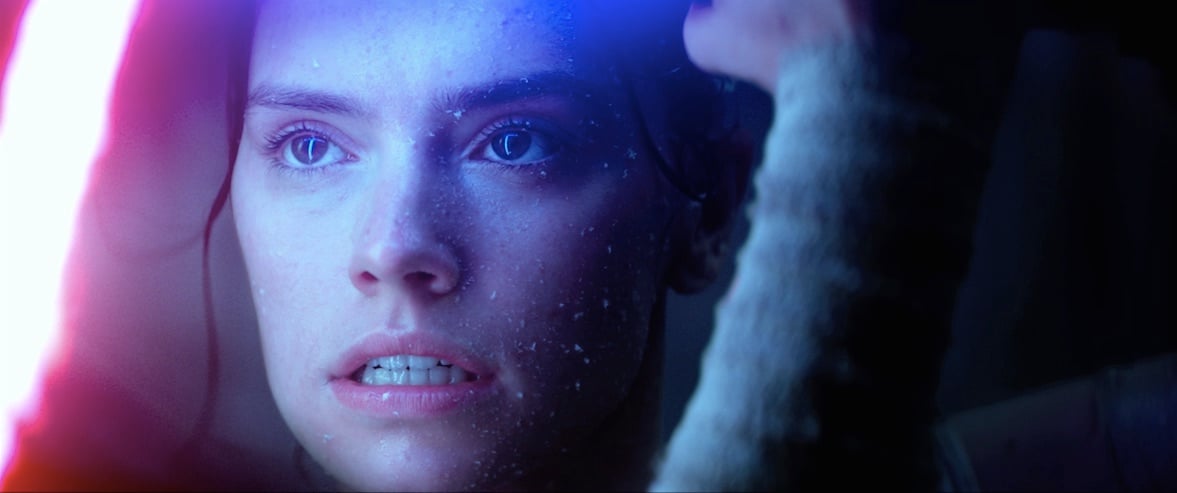 Just like what they did last year with Star Wars: The Force Awakens, Vanity Fair is covering Star Wars: The Last Jedi this week for their summer issue with an exclusive never-before-seen look at the next installment of the 40-year-old franchise. The most recent article just posted by Vanity Fair discusses Rey's lightsaber in The Last Jedi and why Lucasfilm decided to give her ownership over the classic weapon.
It is getting harder and harder to stay completely spoiler free on Star Wars: The Last Jedi, especially with such stunning photos, interviews and behind-the-scenes videos from the set rolling out over the last couple of days. During the past few days Vanity Fair has revealed four exclusive covers and several additional photos from its exclusive first look at the Rian Johnson-helmed sci-fi adventure. The exclusive covers and additional photos were shot by legendary celebrity photographer Annie Leibovitz, who has taken numerous portraits of characters from the Star Wars universe over the decades.
Today, Vanity Fair continues its coverage from the epic photo shoot with even more details. Variety writer David Kemp got an inside scoop about the photo shoots of Hamill as Luke and Carrie Fisher as his twin sister, General Leia Organa together. Apparently, VF's very own senior photography producer Kathryn MacLeod, came up with a last minute idea of getting an up-to-date photo of the two Star Wars stars together. This eleventh-hour idea gives fans one last chance to see Fisher more vibrant than ever, a much appreciated gift since her passing last December.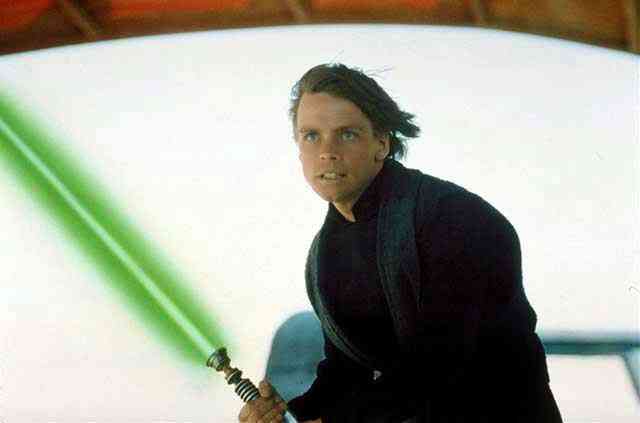 Also, Vanity Fair's Joanna Robinson received some interesting new details about the reason why Luke's lightsaber is green in Star Wars: Return of the Jedi. Robinson caught up with Pablo Hidalgo, one of the members of the Lucasfilm Story Group, and he revealed the previously unknown reason as to why the saber color was changed.
"The intent was the lightsaber was going to be blue," Hidalgo explains of the story that has passed into Star Wars lore. "In that universe, at that time, as far as anyone knew, lightsabers were red or they were blue." But Luke's weapon was changed to green so it would stand out against the bright blue sky and yellow sand, in scenes such as the Jedi's daring rescue of Han, Leia, and the rest. "As much as we like to mythologize why it's green and what that all signifies," Hidalgo explains, "sometimes there are very pragmatic filmmaking reasons behind these things."
Pablo also goes on to explain that the saber is attached to the person who actually built it.
"In general," Hidalgo explains, "a lightsaber belongs to the person who constructed it." Obviously not the case here with Rey. "In The Force Awakens, Maz says that the saber is calling to Rey now. Whether or not it's literally calling to her to become hers or it's calling to her because she knows it will be taken back to Luke—we'll see," Hidalgo hints.
Either way, the blade is no longer considered Anakin's lightsaber by the Lucasfilm marketing department. It has now officially been dubbed "Rey's." As for that green lightsaber Luke made for himself, it has yet to resurface in any of the marketing materials surrounding the current trilogy. Has Luke abandoned it along with, potentially, his faith in the Jedi way? Will we see Luke wield it again in The Last Jedi?

Hidalgo says vaguely yet reassuringly: "We take to heart the lesson that Obi-Wan tried to impart to Anakin: 'This weapon is your life.' We're not ones to lose track of lightsabers."
And here's another explanation by Hidalgo about the name change: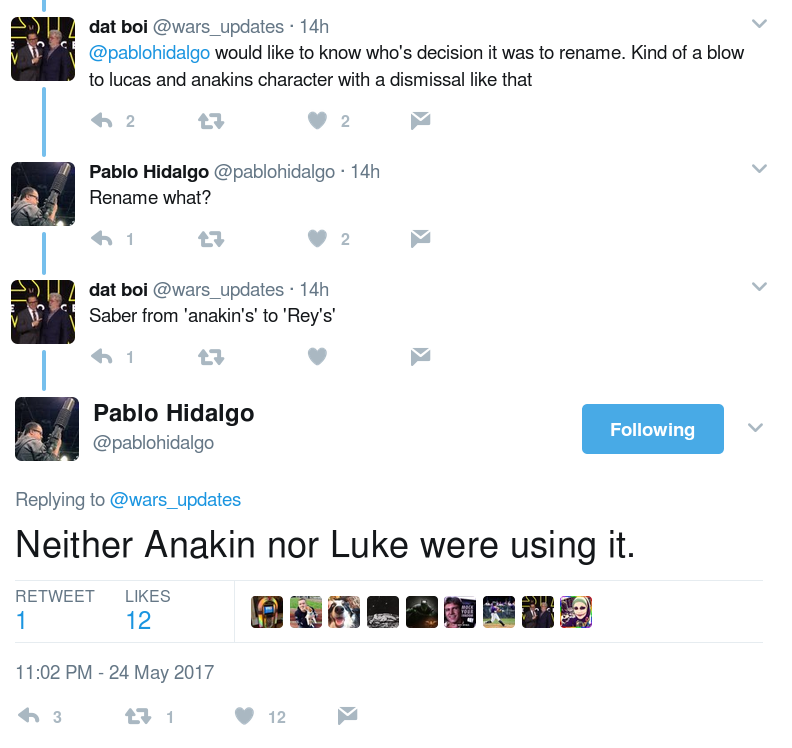 Let's be honest here – Vanity Fair is doing a fantastic job rolling out the incredible and interesting first hand details about the upcoming next chapter in the Star Wars saga. The theory of what happened to Luke's original green saber in the Star Wars Universe will continue to be hotly debated, I'm sure, we'll most likely get the definitive answer – in Rian Johnson's film or maybe even in Colin Trevorrow's Episode IX.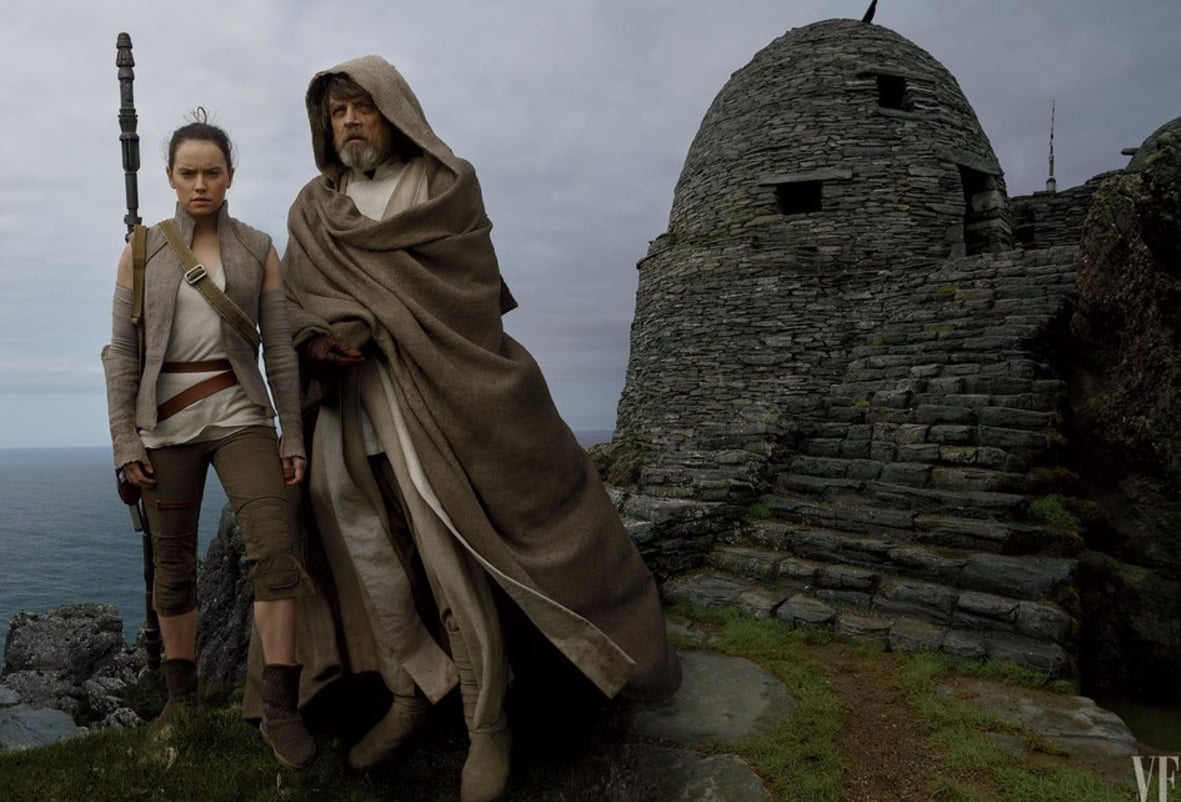 I personally think Luke has evolved beyond the lightsaber…. but I still want to see the saber, perhaps on a ledge or during a conversation with Rey on the island refuge that he's been hiding at for the last 30 years. I Guess We'll Wait & See.
Don't forget to follow me on Twitter @ChadMStevens
May the force be with you….
Click HERE to check out and comment on this topic in our forum The Cantina