It's Not Wise To Upset A Wookiee: New 'The Force Awakens' Blu-Ray Deleted Scene Details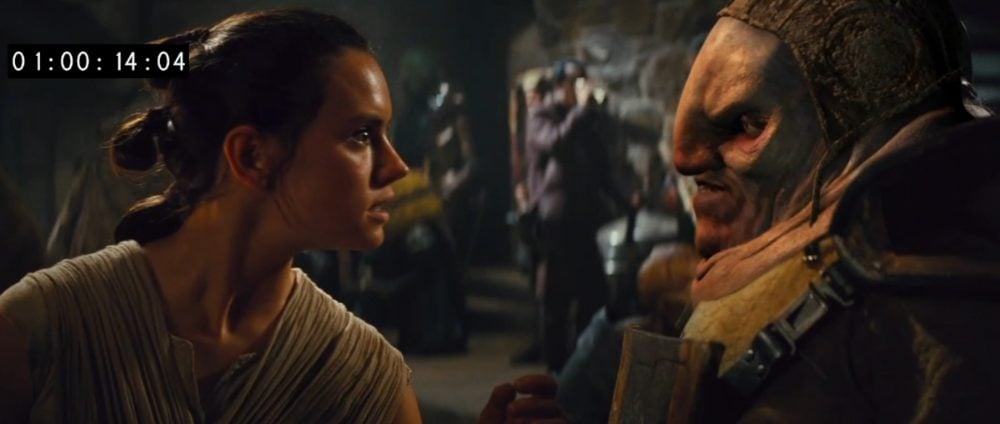 An all-new never-before-seen deleted sequence from Star Wars: The Force Awakens has been revealed via EW. The scene involves the junk dealer Unkar Plutt, Rey and one big "walking carpet". Read on for more!
Entertainment Weekly has a first look at a new 'Star Wars: The Force Awakens' deleted scene that will be included in 'The Force Awakens' 3D Collector's Edition Blu-ray, due for release on October 31 and arriving in the US on November 15th. The four-disc collection features hours of brand-new bonus material that includes additional deleted scenes, behind-the-scenes conversations with cast and crew, and never-before released audio commentary by director J.J. Abrams.
In this never before seen, deleted footage, Unkar Plutt makes his way to Maz Kanata's castle in an attempt to reclaim his stolen property – The Millennium Falcon. You probably remember that one of our readers have revealed this scene to us back in the day even before the movie was released.
In the sequence Plutt threatens Rey, and everyone's favorite Wookiee steps in to share his thoughts and growls regarding the situation. Without giving the scene away before you watch it, let's just say that Chewie gets his point across in a very Wookiee way….
Check out the clip below:
May the Force be with you…