Star Wars Rebels: Thrawn Explained, Two New Clips.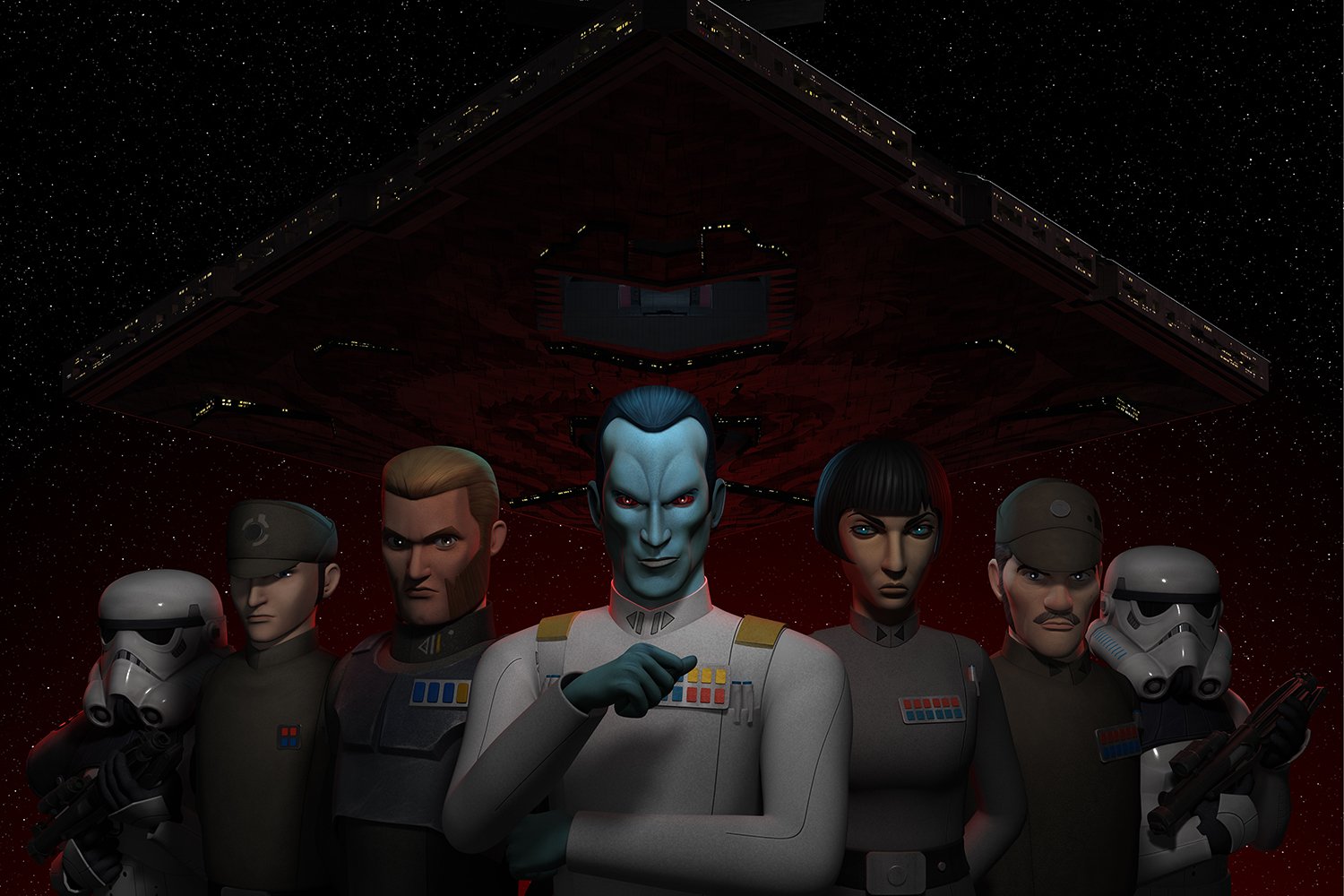 Integrating Grand Admiral Thrawn into Star Wars Canon after Legends was deemed an alternate continuity is absolutely a big deal to the fans. Along with an article featuring a brief interview with series creator Dave Filoni, Entertainment Weekly has just released a new clip showing Thrawn encountering Hera in disguise.
From Entertainment Weekly:
Filoni says this speaks to why Thrawn remains such a compelling bad guy. "He really stuck out because he was through and through an Imperial officer. He was not facing doubt, he didn't have these abilities that make all the big arch villains up to that point arch. He wasn't inept so much like Piett, he wasn't playing politics like the rest of the Imperial officers, he was purely a military strategist."

Also, he had savoir faire. Sophistication. He was like a Bond villain in a Star Wars movie. "His love of art, his study of that was something that really stuck with me," Filoni says. "That's really smart because he is getting to the root and tendencies of people, and I never heard of anybody attacking it that way. He stars to remind you of people like Patton, very into history and poetry."

"I needed an actor that could bring this kind of marvelous intellect and I wanted a voice that wasn't just another British officer," Filoni says. "He's this really evil character that is just dripping with intellect and you're like, 'Wow, he's going to see right through me.' But Lars [Mikkelsen] couldn't be a more fun, happy guy to be involved with Star Wars. He's so excited about it and he will do it again and again, and he wants to get it right. I love that in an actor, when there's that enthusiasm."
The full interview can be read on EW's website. Here's the clip showing Hera's infiltration intercepted by Thrawn:
And here's yet another new Rebels video shared by Disney XD (via our buddy Alex):
The Force never sounded so good! 🎵🎶 Tune in for the new season of #StarWarsRebels Saturday at 8:30P! pic.twitter.com/BAkrRrcA4T

— Disney XD (@DisneyXD) September 21, 2016
Grant has been a fan of Star Wars for as long as he can remember, having seen every movie on the big screen. When he's not hard at work with his college studies, he keeps himself busy by reporting on all kinds of Star Wars news for SWNN and general movie news on the sister site, Movie News Net. He served as a frequent commentator on SWNN's The Resistance Broadcast.