Amy Hennig Talks Visceral's Action-Adventure Star Wars Game
Another couple of months, another article on what comes out of the Lucasfilm-Electronic Arts deal aside from a ton of Battlefront sequels. Amy Hennig talks more about the Visceral Games project she's overseeing after the jump.
Hennig was speaking about the highly anticipated Star Wars action-adventure game during a panel at Pax West. A little is known about this game, apart from it being an original story and that perhaps Han Solo will be involved in some capacity. Back in January 2015 one of our sources revealed to us that the game will be a third person shooter with a youngish Han Solo. A few months later Amy and co-writer Todd Stashwick, together with several other EA employees posted several messages clearly hinting at Solo's involvement. Whether things have changed in the last year and a half, we don't know. We do know that the game is aimed for a 2018 release, and I doubt it's just a coincidence that the Han Solo spin-off movie is also scheduled for a release on May 25, 2018. Most likely those two projects will end up connected in some way.
Here's what Amy Hennig (who previously worked on Naughty Dog's Uncharted series as a writer and director) said at Pax West (from DualShockers via GameSpot):
We're working really close (with Lucasfilm), and I've been blessed to be working really close with the Lucasfilm story group and Doug Chang, who is their Art Director and Senior Creative Director over there, and that whole team, to say "what is Authentic Star Wars and how do we make more?" Because our project is an original story."

"You need guides, that have done it for a while and are also looking at everything else, because we're part of the same sort of emerging track of properties that, like obviously seven, eight and nine, is evolving that story further, but films like Rogue One and the Han Solo one that is coming, even shows like Rebels and stuff like that… A lot of projects are in the works, and the question is "is this authentic Star Wars?" right? And to understand what that is, and to have people there at LucasFilm that have helped us define what that is.

Authentic Star Wars can mean that we get the AT-ST right, right? And of course we have to do that too, but it's all about the new stuff, the new characters, the new story, the new locations, the new creatures, the new tech. All of this stuff that has to sit authentically alongside the Star Wars that we're so familiar with."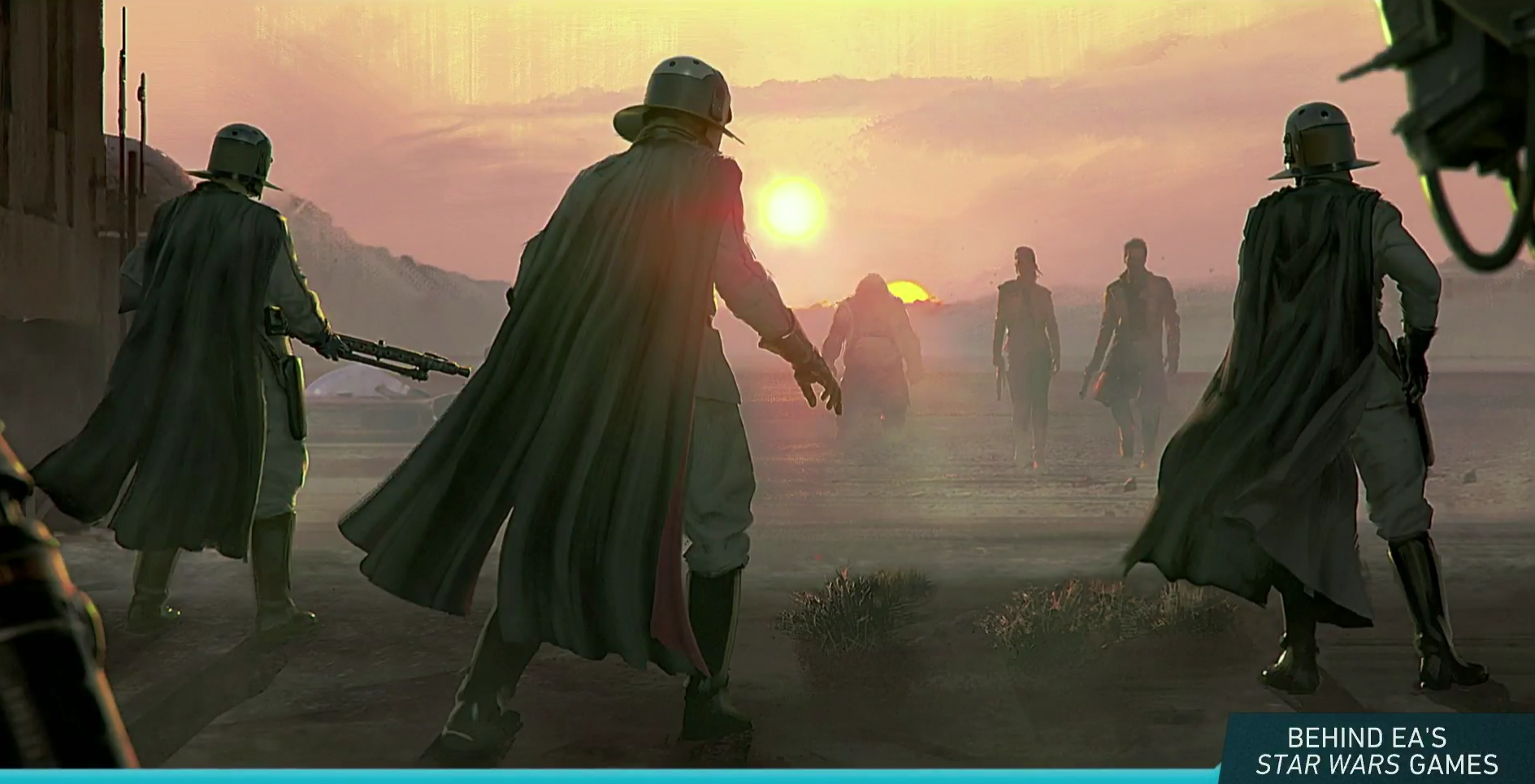 Hennig also spoke about the differences between Uncharted and Star Wars:
"When I broke it down, of course the genre is action-adventure, so it shows a lot of similarities, but there are a few things that jumped out that were really different about Star Wars. So I thought that some of the rules I had used making Uncharted no longer applied.

In Uncharted or in Indiana Jones you actually kinda stick with Indie the whole time. There are times you cut away, but it's always something that informs you on what he is doing, like Marion in the tent. You don't cut away to the bad guys, for instance.

In Star Wars you're always cutting away to the bad guys, and seeing what they're doing: "Meanwhile, back at the villain ranch…"
Hennig also explained what their main goal is with this game and how they are going to accomplish it:
"Our goal in this game is to tell an authentic Star Wars story in an interactive context. That carries with it a whole lot of rules and baggage, that we have to kind of deconstruct, and reconstruct and honor.

That was one example, but the other main example was that the side characters in Indiana Jones and that type of films are just that. They're kind of along for the ride, but if you think to that compared to Han and Leia, and the other characters in Rebels, and the other characters in Rogue one, you can see that these are all ensemble stories. So if our game wasn't an ensemble game, and we weren't telling an ensemble story, then it wouldn't pass the litmus test on whether it feels like Star Wars."

And the other thing is honoring the fact that these characters are underdogs. They're going to always be outgunned, outmatched, outmanned, right? They have to work together and they have to be cleverer than their enemies. Therefore, how do you turn that into gameplay. How do you take that idea and then deconstruct it as mechanics, sequences, that then play to that core principle. That's the challenge of making these kinds of things."
For the full interview make sure to go to DualShockers