Star Wars Weekly Social Buzz!
This week on the Star Wars Social Buzz, Mark Hamill's receives a very cool looking art piece from Jim Lee, we check out one of George Lucas's original film he created as a student in college, the car company Nissan goes 'Rogue', Billionaire Bill Gates agrees that Star Wars can be used as a learning tool, Pablo Hidalgo sets the record straight on a fan remembering of Bothans, an extended version of Kevin Smith's interview on 'The Star Wars Show', and more…
This week we start with Daisy Ridley and her appearance on the My Dad Wrote A Porno podcast that we mentioned yesterday. Here's a selection from the podcast in which Daisy talks Episode VIII and gave a few tine hints about the movie:
Mark Hamill receiving the piece that artist Jim Lee created just for him (as we shared on a previous Buzz).
New art book titled Star Wars Propaganda: A History of Persuasive Art in the Galaxy will be released on October 25.
"Star Wars Propaganda: A History of Persuasive Art in the Galaxy" arrives October 25. More: https://t.co/KS4ATM2gmf pic.twitter.com/IqieNoN14U

— Star Wars (@starwars) August 26, 2016
Next up! IndieWire recently uncovered a student film from George Lucas before he built his Star Wars empire. Back in those days, George was a simple a student at the University of Southern California film school where he made a very cool three-minute short called "Freiheit,"!
Check out this rarely seen student film below.
Nissan goes Rogue.
The automaker begins its partnership with Lucasfilm in a promotional campaign in support of the Rogue One film. Much like Duracell and others did with their marketing campaign last year for Star Wars: The Force Awakens, General Mills, Gillette and Verizon also have joined the Rebellion for the marketing campaign of the spin-off film. Note: Notice the Death Star's reflection in the cars windshield? Very Cool!
More on the Lucasfilm announcement of its Rogue One promotional campaign sponsors can be seen here…
Lucasfilm announces "Rogue One: A Star Wars Story" promotional campaign partnershttps://t.co/GCv9edIdMH

— Inside the Magic (@InsideTheMagic) August 22, 2016
Bill Gates agrees that 'Star Wars' can get kids excited to learn. He talks about it in a recently released Forbes magazine article. Gates wrote about Nate Bowling on his Gatenotes blogspot, Nate was 2016's Teacher of the Year in Washington state. The teacher uses Star Wars to get kids excited about education. Gates even admit he has been a long time Star Wars fan… Bravo! Mr. Gates!
Check out the video here!
Disney's Star Wars Land Update!
Concrete walls are being built at an amazing speed at Disneyland for its "Star Wars Land" project. Recently, construction crews have built the first walls around the new channel for the Rivers of America in Frontierland. You can check out the progress being made in this video courtesy of the OCregister.com.
An extended clip from Kevin Smith's interview, which aired on Episode 15 of the 'The Star Wars Show', was released this week on the official StarWars youtube channel. Smith talks more about how Star Wars has created a generation of dreamers and filmmakers. Check it out!
The latest episode of the Star Wars After Show is here. This week Andi and her guests talk about the history of Star Wars and Disneyland, the new Stormtroomers in Marvel Star Wars, and more!
WhytheLongPlayFace.com via Collider has posted a series pop cultural imagery that takes classic shots of Star Wars characters and meshes them with similar poses and aesthetics from some of music's most timeless album covers. Artist Steven Lear, a.k.a. WhyTheLongPlayFace, has meshed images that include Harrison Ford's Solo replacing David Bowie's on the Heroes album cover, Pink Floyd's Dark Side of the Moon essentially becoming Dark Side of the Death Star, and several more. You have got to check the entire collection out. Very cool indeed!
And last but not least, here's a different take on the Rogue One trailer…
The Pablo Hidalgo Spot
Pablo posted a few interesting Tweets via his Twitter page about fans misremembering the cold hard facts about Bothans.
Just based on ROTJ, the Bothan data told the rebels 1) where the DS2 was, 2) that it wasn't operational 3) that the Emperor was there.

— Pablo Hidalgo (@pablohidalgo) August 23, 2016
Odd thing: Beyond people misremembering the Bothans stole the first DS plans, they never stole plans at all. pic.twitter.com/i4mMtAF0OR

— Pablo Hidalgo (@pablohidalgo) August 23, 2016
On the Story Group involvement with the Marvel comics:
@ForrestJSS The team works pretty closely with the editorial team in publishing and at Marvel.

— Pablo Hidalgo (@pablohidalgo) August 25, 2016
On Luke, Leia and Han's agein TFA:
@SamMarksGreen Luke and Leia were about 53 or 54. Han's age is unknown (I don't think he's ever known his actual age)

— Pablo Hidalgo (@pablohidalgo) August 24, 2016
On the conflicting info from TPM and AOTC novels:
@Retzius75 I'd go with what's in the TPM movie. Yoda says he's against it. Always go with the movie.

— Pablo Hidalgo (@pablohidalgo) August 24, 2016
This one doesn't need comment:
@Joseph_Plant @jamesjawa @MagnesD3 i don't want to be a clickbait headline. LFL Guy Sheds Light On Huge Mystery (by stating obvious)

— Pablo Hidalgo (@pablohidalgo) February 23, 2016
On who came up with Snoke's name:
@JediMasterPlant Either JJ or Larry. Don't know which.

— Pablo Hidalgo (@pablohidalgo) August 22, 2016
On if Kylo is a Sith:

On Rey's Force-Back:
On padawans: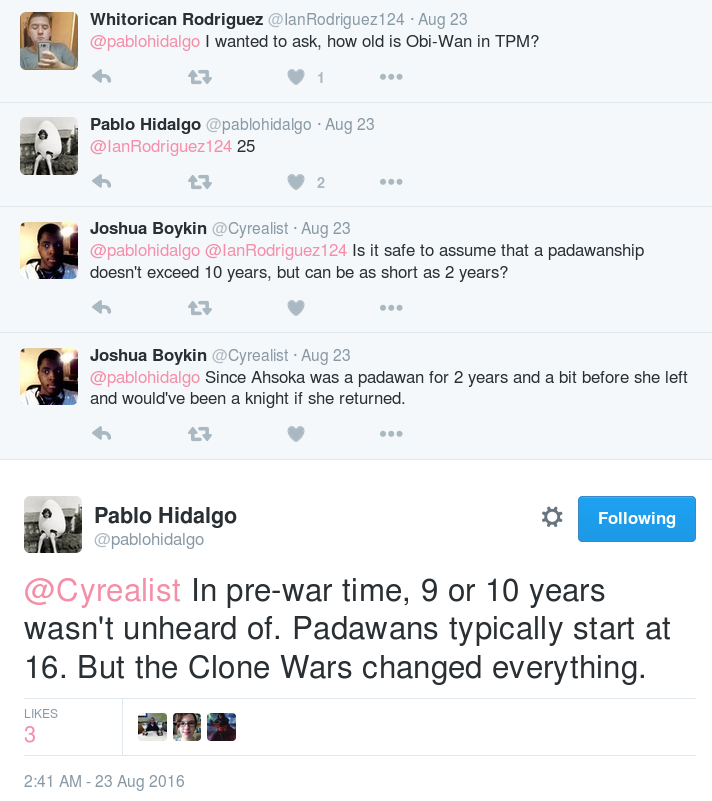 On the guidelines and limits for new stories in comics and books:
Stay tuned for more next week.