Star Wars Creators & Fans Honor R2-D2 Actor Kenny Baker.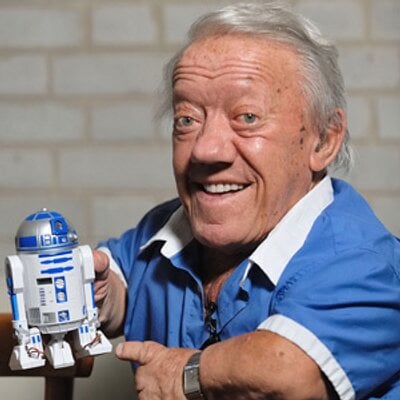 Though Kenny Baker is sadly no longer with us, the Star Wars cast and crew that he worked with have joined the fans in mourning the loss of the man who brought R2-D2 to life.
Kathleen Kennedy, CEO of Lucasfilm, said the following about Baker: "We're all saddened to learn of Kenny's passing. There is no Star Wars without R2-D2, and Kenny defined who R2-D2 was and is. He will be greatly missed." While George Lucas is no longer involved in the franchise he helped create, he also took a moment to say a few words in tribute to the brave little droid. "Kenny Baker was a real gentleman as well as an incredible trooper who always worked hard under difficult circumstances. A talented vaudevillian who could always make everybody laugh, Kenny was truly the heart and soul of R2-D2 and will be missed by all his fans and everyone who knew him."
On Twitter, many other creators tied to the Star Wars franchise have sent out their condolences to the actor and his loved ones:
Goodbye #KennyBaker A lifelong loyal friend-I loved his optimism & determination He WAS the droid I was looking for! pic.twitter.com/rd94OEYaHi

— Mark Hamill (@HamillHimself) August 13, 2016
Rest in peace Kenny Baker. It was a pleasure to meet you & thank you for all the joy you brought us #R2D2forever ❤️ pic.twitter.com/3wnnj8Ekc3

— Gwendoline Christie (@lovegwendoline) August 14, 2016
So sorry to hear about this. It was lovely working with Kenny. Kenny Baker, Star Wars R2-D2 actor, dies aged 81 https://t.co/9HW6f3MWZl

— Ewan McGregor (@mcgregor_ewan) August 13, 2016
Very sorry to hear about Kenny. He was a great personal friend that I thoroughly enjoyed working with. #KennyBaker pic.twitter.com/z6mwhrZOi0

— DARTH VADER (@isDARTHVADER) August 13, 2016
#RIP #KennyBaker. Sad to say goodbye to a small man with a huge heart & personality. He paved the way for short actors of a generation. x

— Warwick Davis (@WarwickADavis) August 13, 2016
Farewell to the heart of the heroic little bot. RIP Kenny Baker. #Starwars #R2D2 #mtfbwy pic.twitter.com/hB73Bsiur5

— Dee Bradley Baker (@deebradleybaker) August 13, 2016
RIP Kenny Baker. You made my childhood better.

— Chris Weitz (@chrisweitz) August 13, 2016
So sad to hear one of my dearest friends passed away. Rest in peace Kenny Baker. Love you. Will miss you! pic.twitter.com/FosdwNysGk

— Daniel Logan (@Daniel_Logan) August 13, 2016
— Pegg News (@simonpegg) August 13, 2016
RIP 'Star Wars' Kenny Baker. So sad. https://t.co/RAbQN5vnoP

— Greg Grunberg (@greggrunberg) August 13, 2016
I've made it no secret that R2-D2 was my first Star Wars love. RIP Kenny Baker who helped bring life to my hero.

— Pablo Hidalgo (@pablohidalgo) August 13, 2016
Sad news… you will be missed, Kenny Baker. :'( pic.twitter.com/vd6uvcHRM2

— Peter Townley (@TownleyPeter) August 13, 2016
Outside of Star Wars, other celebrities within geek culture took to the platform to offer grief:
Rest in Peace @starwars legend #KennyBaker – whose name I learned at age 7 because he brought #R2D2 to life. Feels like losing family…

— KevinSmith (@ThatKevinSmith) August 13, 2016
The loss of a legend. Rest in God's peace, Kenny Baker. #KennyBaker #StarWars #R2D2 pic.twitter.com/CMUaf03uOJ

— Doug Jones (@actordougjones) August 13, 2016
A great one- And, like Napoleon, his stature was measured not from head-to-ground but head-to-sky. A brilliant man. https://t.co/wQMsQ5Sjoz

— Guillermo del Toro (@RealGDT) August 13, 2016
RIP R2D2. Farewell Fidget, Time Bandit. Goodbye Mister Kenny Baker. pic.twitter.com/wuiQuCH7g6

— edgarwright (@edgarwright) August 13, 2016
#KennyBaker is gone. #RIPR2D2 You will live on in this galaxy for years to come!

— Josh Gad (@joshgad) August 13, 2016
You left your legendary marks #KennyBaker #rip to a lovely gent and a fantastic legacy. @starwars

— Dominic Monaghan. (@DomsWildThings) August 13, 2016
Wherever you may now be out in the cosmos, our world is a little bit brighter for the life you brought to one of the most iconic characters of the 20th century. May the Force be with you, old friend.
Grant has been a fan of Star Wars for as long as he can remember, having seen every movie on the big screen. When he's not hard at work with his college studies, he keeps himself busy by reporting on all kinds of Star Wars news for SWNN and general movie news on the sister site, Movie News Net. He served as a frequent commentator on SWNN's The Resistance Broadcast.