SWNN Review: Obi-Wan and Anakin #5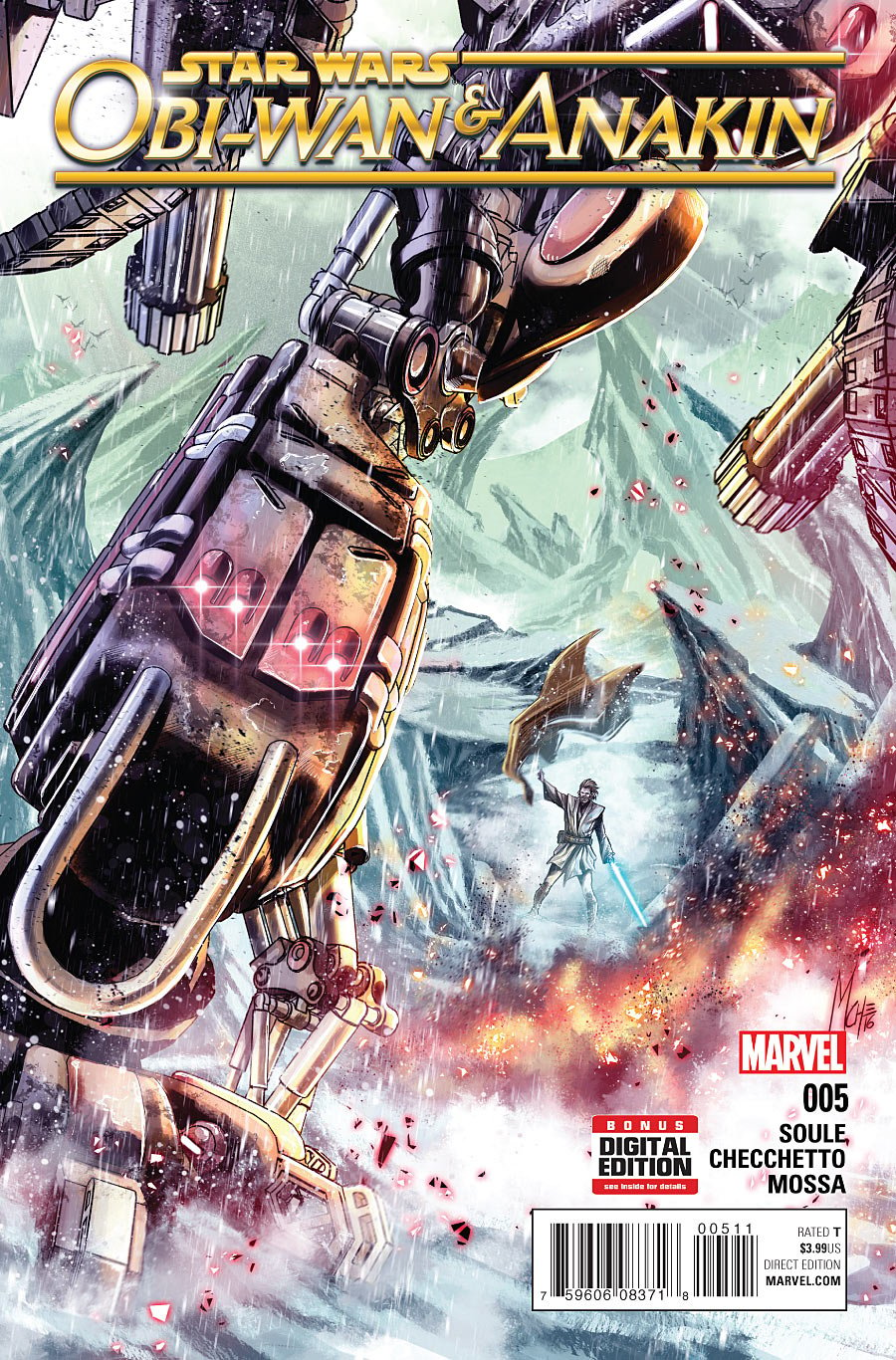 War breaks out…with our Jedi caught in the middle!
Master and apprentice come to an important realization.
Marvel's first Jedi-centric miniseries draws to a dramatic close!
Story by Charles Soule
Art by Marco Checchetto
Colors by Andres Mossa
Today on the comic book menu, we have the last issue of Marvel's miniseries Obi-Wan and Anakin. Set between The Phantom Menace and Attack of the Clones, the series describes a mission the master and padawan undertake on Carnelion IV after answering a mysterious distress call. They find themselves caught between two warring sides – The Open and The Closed. When we left them in the last issue, Anakin was still a prisoner of the Open, while Obi-Wan met the person responsible for distress call – a woman named Sera who is trying to inspire the young people of the shattered world and preserve the future.
Spoilers for issue #5 follow
As this issue opens, Anakin, left with the Open young ones, learns that they all know the mysterious caller as Scavenger. The Scavenger is sending them beautiful items from the past. Anakin teaches them that this is art and proposes that together they can fix the machines and stop the adults from killing the Scavenger – something they are doing out of fear.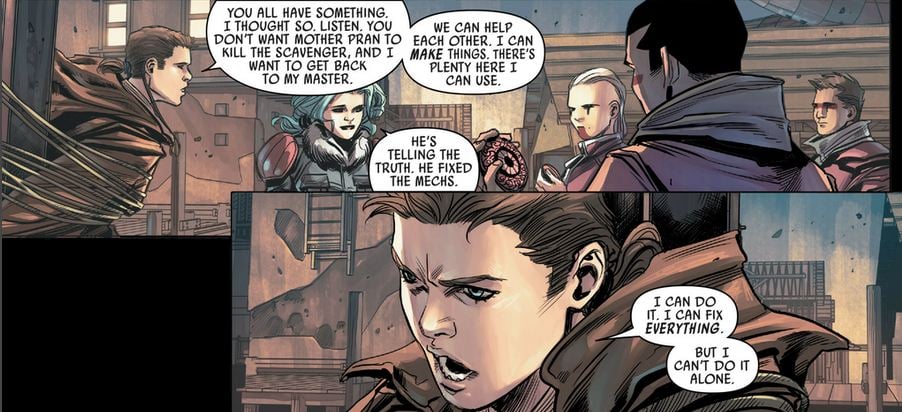 In the meantime, Obi-Wan is questioning Sera because she knew the phrase specific to Jedi order in her distress call. She has a recording of the warrior with the sword of light – recording that doesn't work anymore and is stuck on single, black and white image. Something in the image prompts Obi-Wan to ask what color the lightsaber was.
Sera discloses that the saber used to be red, but Obi-Wan has no time to explain to her what that really means because the Closed, called by Grecker's flare, converge on their location calling for Scavenger's surrender. Sera encourages Obi-Wan to kill them, which he obviously cannot do. He tries to talk to the Closed to convince them that he is not their enemy and that Sera is trying to save this world, but they are not willing to listen.
The appearance of the Open complicates the situation with Mother Pran trying to kill Obi-Wan. He is saved by Anakin. The young Open meet with Sera who discloses that she want every adult to die so she can start anew with young children. But, Obi-Wan is not willing to serve that purpose. Instead, he brings Anakin to fix the communication unit. Sera is left alone as the young ones join the all out war. It seems that there is no hope for this world.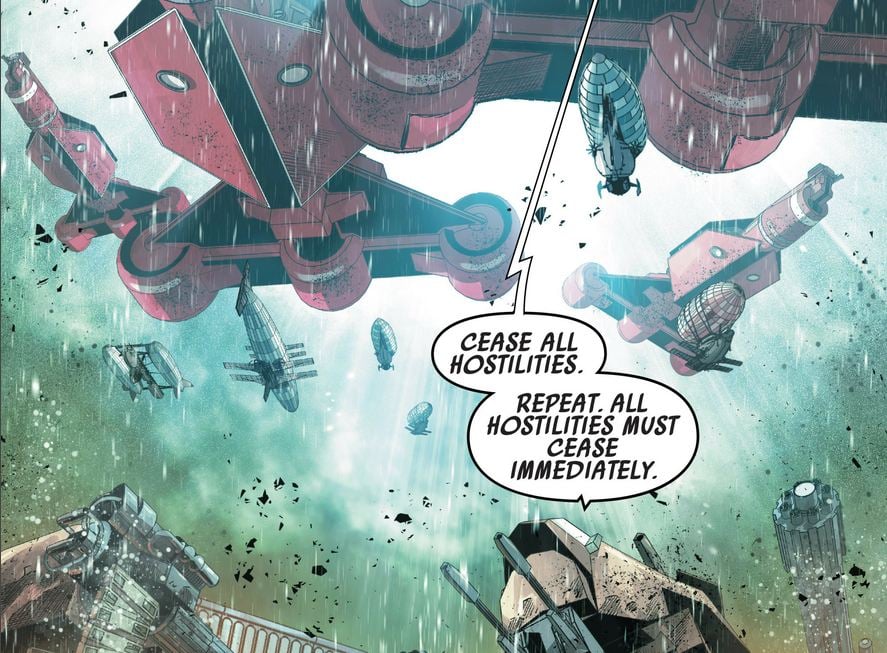 The Republic forces arrive in full strength and stop the bloodshed. Obi-Wan has told them that planet's atmosphere contains the precious gas, thus giving the people of the planet a chance to embrace peace. Anakin is surprised that only Obi-Wan's word was enough for the Republic to come.
We are treated to another flashback, only this time not between Anakin and Palpatine but Obi-Wan and Yoda.  Obi-Wan blames himself for Anakin's wish to leave the order. He believes that Anakin belongs to the Jedi order and that he is not ready to stand alone. Yoda replies that Anakin is still a child and, considering his difficult past, his questions are natural. Obi-Wan is young himself. Yoda sends them to the mission on Carnelion IV. If Anakin still wishes to leave after it, he will be released. Obi-Wan would not break his promise to Qui-Gon Jinn whether Anakin is part of the Order or not. Yoda agrees, but also says that Council will never allow that which means that if Anakin leaves, so will Obi-Wan.
Luckily, Obi-Wan was able to demonstrate to Anakin that Jedi are part of something bigger than themselves and Anakin agrees to stay in the Order.
I am of two minds about this miniseries. In the current slate of Marvel's Star Wars comics, it is refreshing to have a story set in the prequel era and covering the elements some of us found lacking in the movies themselves, namely Obi-Wan and Anakin's master/padawan relationship. Another big plus for the comic, possibly the biggest one, is the relationship between Anakin and Palpatine. It seems that the chancellor had his claws in young Jedi much earlier than it was shown to us. He exploited Anakin's past and weaknesses in a way that builds the credibility of Anakin's fall to the Dark Side in the future. Talk about the long game!
I also liked that Obi-Wan's youth and his difficulty with dealing with powerful and demanding student is acknowledged. It is still arguable that Anakin's fall wouldn't happen if someone else took the task of teaching him, considering what we know about his relationship with Palpatine now, but Obi-Wan's inexperience certainly didn't help the matter. Still, it was important to me to also see that Obi-Wan is Jedi through and through despite his youth and that he is not blind to Anakin's flaws and dangers he is facing.
The art of Marco Checchetto, helped by Mossa's coloring, is often breathtaking, implying scale we rarely see in the comics.
On the down side, I feel that the story of the Open and the Closed is a complete throwaway. Once the Republic and other Jedi arrive, none of them appear on the page again – not Mother Pran, not Sera, not even Kolara. The only function they had was to teach Anakin a lesson and once the point was made – their utility ceased to exist. We don't know how any of them ended up. I guess I hoped for more effective secondary characters like the ones we already got in these comics, characters like Aphra, Queen Trios or Eneb Ray.
In the end, Obi-Wan and Anakin is a decent addition to the new Star Wars canon, especially in terms of exploring Anakin's relationship with Palpatine and Obi-Wan. Even for a canon completist like I am, reading this comic does not seem necessary. But, if you are tired of the same time period set between A New Hope and The Empire Strikes Back, this comic might be a nice change.
Obi-Wan and Anakin comic will be replaced by Han Solo on June 15th.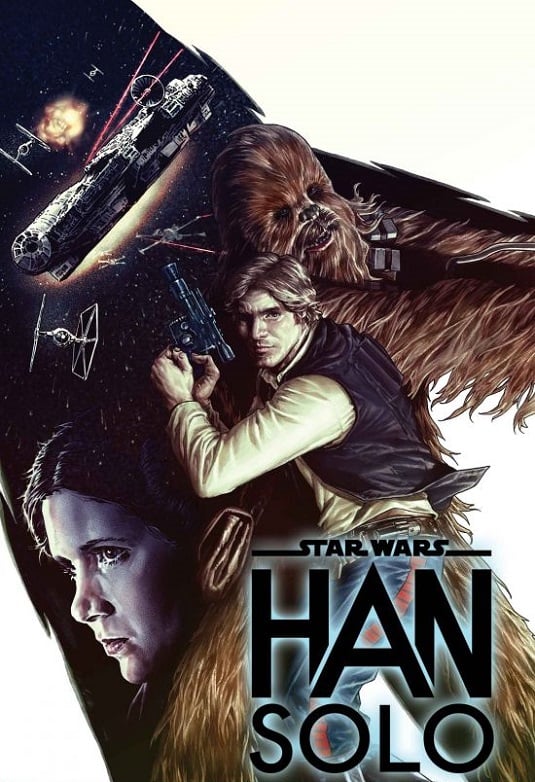 Staff member, comic and book reviewer. Cheers for the Light Side, but would drink with Grand Admirals.