Speculation: Ben Mendelsohn's Character in Rogue One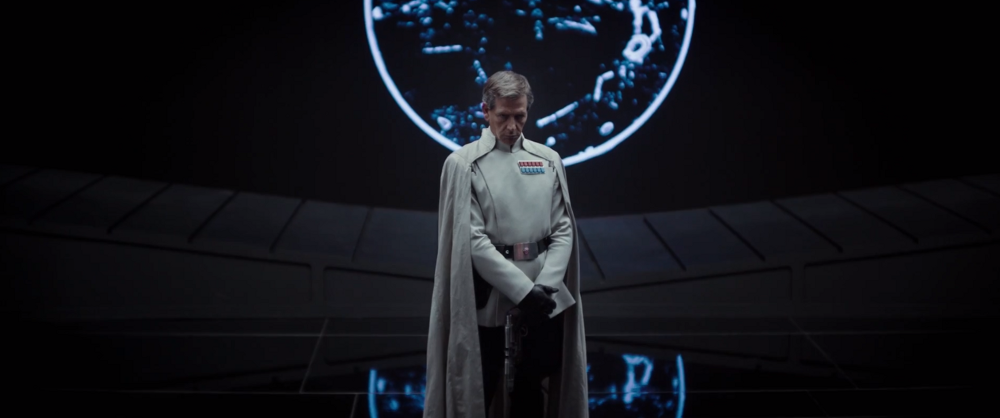 The dust is starting to settle after last week 's Rogue One teaser drop, and rumors and speculations surrounding the film's characters continue to fly.  One of the big eye-catchers in the teaser was Ben Mendelsohn's regal-looking Imperial officer.  Read on for my speculation on who Ben Mendelsohn might be playing in the film…
Like many of you, I was waiting patiently at my computer on Thursday for the promised teaser to drop with an anticipation I haven't felt since last December.  I am happy to say that my patience was greatly rewarded, and although I could go on and on about the teaser, let's get down to business with the Mendelsohn speculation.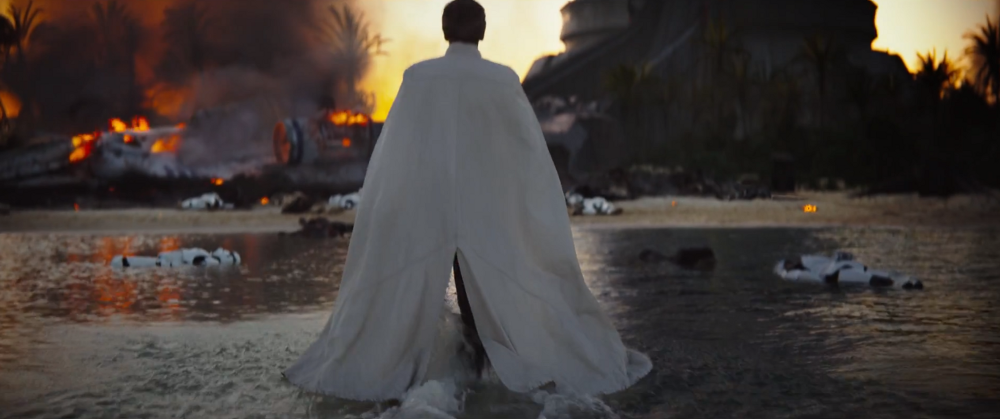 Immediately when I saw Mendelsohn's character on screen, I noted his regal appearance with his snow white Imperial officer uniform, his many tiled high-ranking insignia plaque, and that beautiful cape that even Lando would be jealous of.  My brain couldn't help but offer up its own comparison between Mendelsohn's Imperial officer and Sir Ian McKellen's Magneto and Gandalf the White all piled into one.  Needless to say with a comparison like that, I thought this new character looked amazing.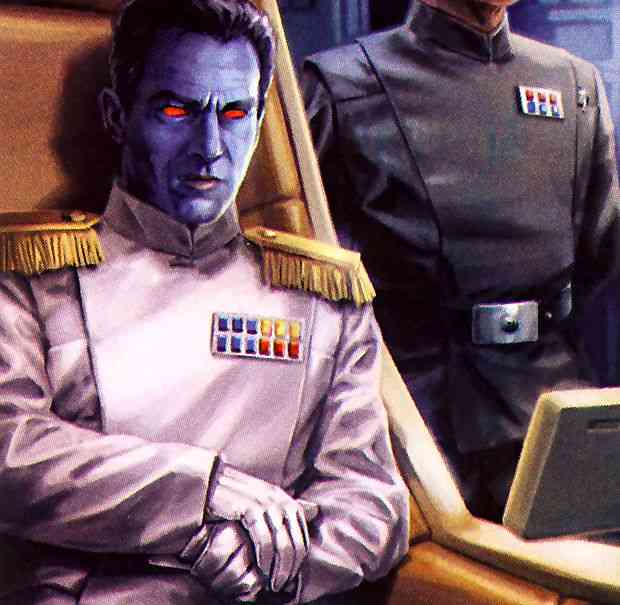 I also noted the fact that one my favorite (and I'm not alone in this) villains from the expanded universe (Legends), Grand Admiral Thrawn (above), had a similar appearance to Mendelsohn's new character.  And on second glance, Mendelsohn's rank insignia is definitely that of a high admiral.  However, it should also be noted that the Grand Admiral insignia from Legends is quite different from the plaque we see on Mendelsohn's uniform (see below).
Grand Admiral Insignia (Legends)
Admiral Insignia
It should also be noted that although there are differences, the Grand Admiral plaque has not been presented in the official canon, so it is possible that the rank insignia coupled with Mendelsohn's white uniform designates such a prestigious rank.  He very well could be the canonical version of the formerly blue-skinned Grand Admiral Thrawn, or at least a character of the same type.  However, given some other evidence that we find in the official Star Wars canon, I do not believe this is the case.
My current theory on this new caped officer is that he is the Chief/Director of the Imperial Security Bureau. The Imperial Security Bureau (ISB) was a law enforcement and intelligence agency of the Galactic Empire that was charged with matters of state security and ensuring the loyalty of citizens to the Empire.  Some of the more notable members of the organization include Agent Kallus (Rebels), Commander Alecia Beck (Smuggler's Run), and Colonel Wullf Yularen (A New Hope).
One of the really awesome things about the ISB is how much weight they carry within the Empire – for ex. – a lower ranking ISB officer can pull rank over a higher ranking officer in the Imperial Navy.  So if Mendelsohn is ISB, his rank insignia shows that he could be one of the most powerful men in the Empire, possibly even reporting directly to the Emperor himself.
Voice actor Stephen Stanton, who voiced Tarkin in the Clone Wars and Rebels, hinted in a tweet last week (which has since been deleted) that fans should look at the Tarkin novel by James Luceno for hints on the identity of Mendelsohn's character.  Looking back on the novel, I can't really see him being any of the officers in the book.  However, I did take note that the mention of ISB deputy directors Harus Ison and Wullf Yularen in the book implied that there was another figure above them, a director or chief to whom they would report.
Although he is not directly in the book, I hold to the belief that Mendelsohn's character is this unnamed director of the Imperial Security Bureau.  This would actually make a lot of sense in the context of the Rogue One storyline.  With rebel spies on the loose trying to steal the plans to the Emperor's most top secret and deadliest weapon, one would think that Imperial Security would play a big part in finding these spies and recovering whatever intelligence they may have acquired along the way.  One would also assume that the director would have an ear with the Emperor and be part of his inner circle of power, which would add no small level of menace to Mendelsohn's character.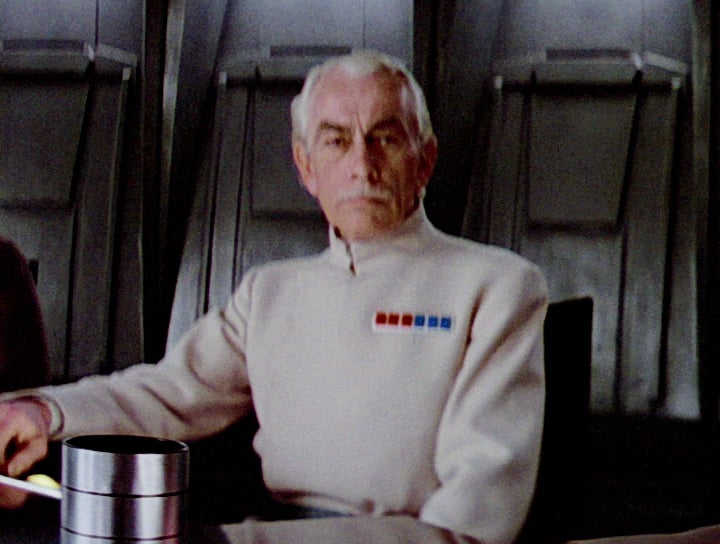 Perhaps the most telling of all of the evidence surrounding this theory is the appearance of ISB officers previously in the Star Wars canon.  Whereas we have never seen a Grand Admiral on screen, we have seen that white uniform before, and it belonged, not to an admiral – but to ISB officers who appeared in ANH – starting with Colonel Wullf Yularen (above) and later with a couple of other officers taking a stroll through the halls of the Death Star (below).
But if this isn't enough to convince you of the probability of Mendelsohn's character at least being a high-ranking ISB officer (if not its director), maybe this next image will.  The image below is a screen capture of ISB officer Commander Alecia Beck in an animated comic based on the Smuggler's Run junior novel.  Take note of her white uniform and the cape around her shoulders.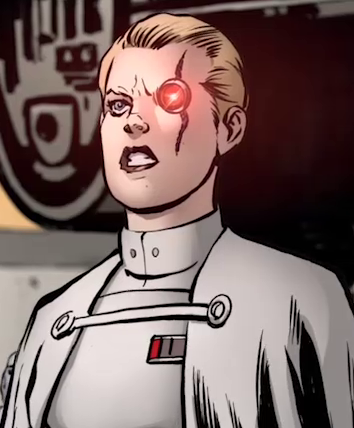 To me, this is all the evidence I need to validate this theory, but what do you think?  Who do you think Ben Mendelsohn's character is in Rogue One?  Share your thoughts in the comments section below.
Jordan Pate is Co-Lead Editor and Senior Writer for Star Wars News Net, of which he is also a member of the book and comic review team. He loves all things Star Wars, but when he's not spending time in the galaxy far far away, he might be found in our own galaxy hanging out in Gotham City or at 1407 Graymalkin Lane, Salem Center, NY.