Star Wars: Rebels Footage With Darth Maul Teases Dark Times on the Horizon!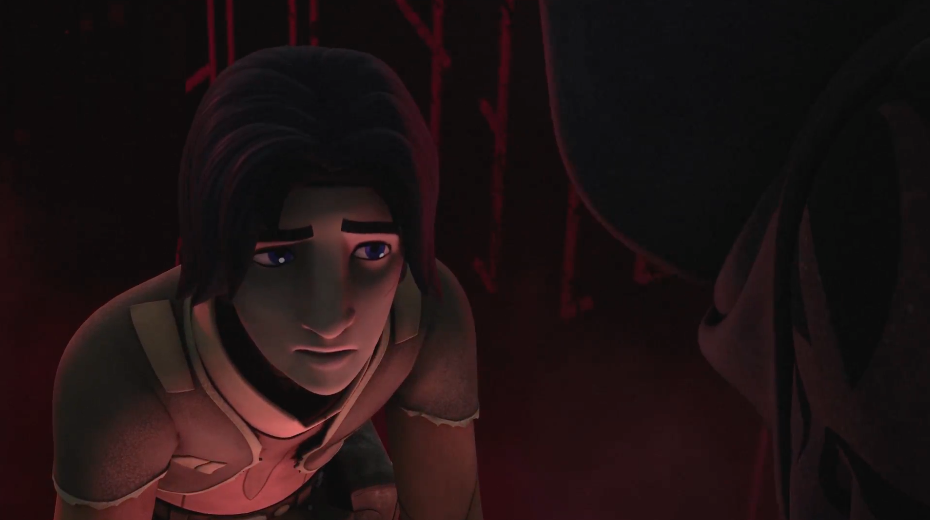 As many already know from watching the mid-season trailer that was released several weeks ago, the latter episodes of Rebels season 2 will feature the return of fan-favorite character Darth Maul. A recent video on the web reveals an interesting glimpse at things to come surrounding his appearance on the show.
Warning: Spoilers Ahead
As of right now, there doesn't seem to be any other postings of this clip on the web. There has certainly not been an official release of the clip, so this may actually be something Disney did not intend for us to see just yet.  It looks like it may even be a TV spot for the season finale on March 30th. We apologize for the quality, but it appears to have been recorded off of a TV in someone's living room. But for now it will have to do.  If you want to remain unspoiled regarding the rest of Rebels Season 2, stop here. Otherwise, proceed at your own risk.
So here's a recording of that amazing teaser that sent me into full geeking out mode. #StarWarsRebels #DarthMaul pic.twitter.com/kVbRA393wq

— Gerardo Yanes (@LLAPSherlock38) March 3, 2016
Many have speculated a dark ending for our beloved crew of the Ghost by the conclusion of the series, and from the looks of things, that dark ending may come sooner rather than later for a few of the show's main characters. Of course, even though it's obvious that Ezra has been teetering on the edge of darkness for some time now (and it appears that this slide will continue in future episodes), it could all turn out to be misdirection in the end on behalf of Filoni and his crew of writers.
To add even more intrigue to the possible direction of Ezra's character in the season finale, German website Wundschliste recently posted the German titles for the Rebels Season 2 episodes (click here for the episode listing).  While some of the titles translate to their English equivalents, there are some notable variations among them.  Perhaps the most interesting is the title for the season finale.
The title "Ezras Versuchung" translates to "Ezra's Temptation", which adds more fuel to the fire concerning the speculations around his character arc.  We know that Ahsoka and Vader will have a confrontation at some point in the remainder of the season, and many have speculated that the finale's title "Twilight of the Apprentice" refers to Ahsoka's impending demise.  But what if the apprentice the title speaks of is not Anakin's former apprentice, but Kanan's?
Ezra's inevitable fall from grace has been teased for a while now on the show, and only the question remains: Will they actually go there?
Well, it certainly seems so, but time will tell. So, what do you think? Will Ezra turn to the Dark Side? If so, will he be redeemed from that darkness or will it forever dominate his destiny? Share your comments below.
Jordan Pate is Co-Lead Editor and Senior Writer for Star Wars News Net, of which he is also a member of the book and comic review team. He loves all things Star Wars, but when he's not spending time in the galaxy far far away, he might be found in our own galaxy hanging out in Gotham City or at 1407 Graymalkin Lane, Salem Center, NY.