Star Wars Weekly Social Buzz! Daisy Ridley not Part of the Dubrovnik Shoot. Snoke is not Sith and More!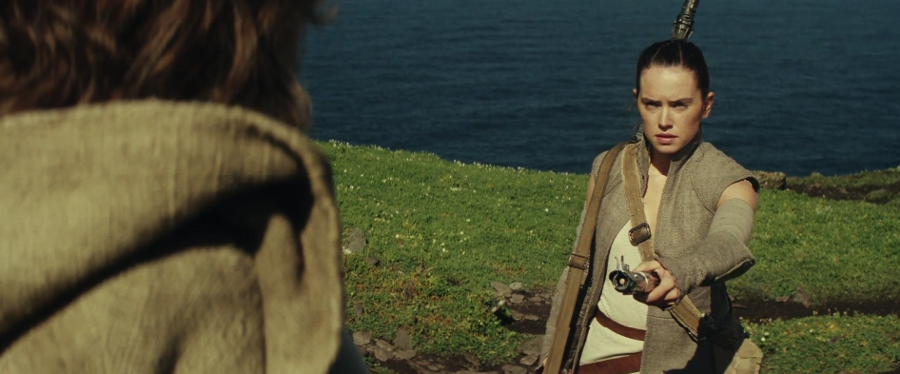 In this weeks social recap we have more interesting posts by Mark Hamill, Daisy Ridley, John Boyega, Pablo Hidalgo and more. Check them out…
First here's some interesting tidbits from BBC's Lizo Mzimba who interviewed Daisy Ridley. Daisy will not be part of the Dubrovnik shoot as rumored before:
Couple of @StarWars VIII tidbits. Interviewed Daisy Ridley briefly in LA. She says she's not part of cast filming in Dubrovnik soon.

— lizo mzimba (@lizo_mzimba) March 4, 2016
Also here's another minor character that will appear in Episode VIII:
And according to StarNow profile, in StarWars Episode VIII Lamin Tamba plays character Daika https://t.co/xEhxCqH74n pic.twitter.com/O7ubxhzvTA

— lizo mzimba (@lizo_mzimba) March 4, 2016

Next is this post by Pablo Hidalgo on Twitter. We are all anxious to find out want the title for Episode VIII will be, but we have to remember that the title for TFA was revealed in September. So if the promo campaign is similar, we should be still very far from such reveal.
For those playing the title game, TFA didn't have one until after September 2014.

— Pablo Hidalgo (@pablohidalgo) March 3, 2016
Not sure how many of you are familiar, but in the last few weeks there were several reports with potential titles for Episode VIII. We intentionally didn't report those since they are all fake. So, no. Episode VIII will not be called "Tale of the Jedi Temple" or "The Order of the Dark Side". These are just fans' fabrications. We've checked this info and we are pretty confident that these are not legit.
The next tweet by Hidalgo is also interesting, especially for the people who thought that Snoke is a Sith lord: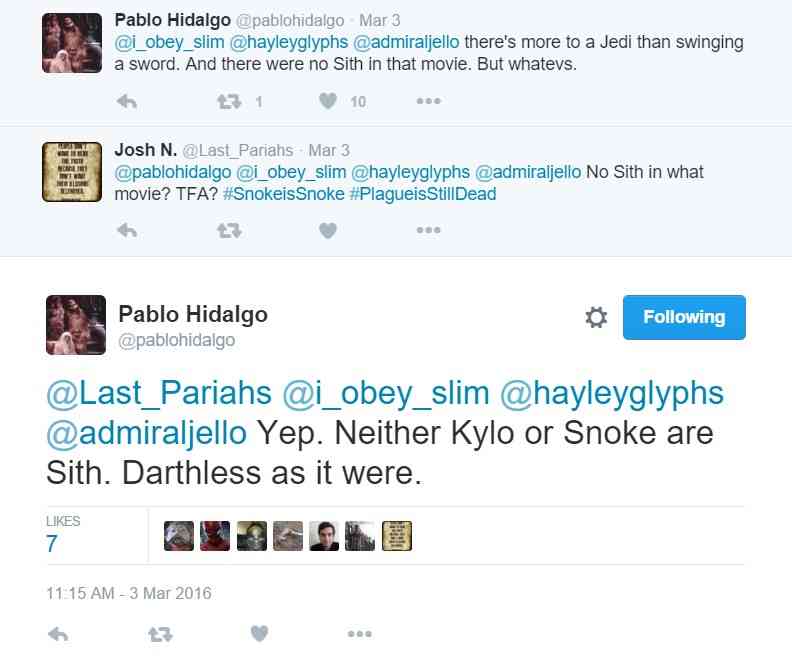 That's another nail in the "Snoke is Plagueis" coffin. 🙂
Another interesting post by Pablo:
@maribfcosta 2) Wait till after Bloodlines comes out and ask again. 3) Because he did so in the script – seems Leia & Snoke knew each other

— Pablo Hidalgo (@pablohidalgo) March 3, 2016
Next stop is one innocent statement by Mark Hamill that was immediately turned into a news story by a few tabloids. You probably remember that a few days ago we reported Mark Hamill's visit at Cambridge University in the UK (HERE). During the interview he said:
Daisy is incredible, so genuine, appealing, lovable, she beams. She has a wonderful charisma, I adore her. She's my daughter's age – and that's how I relate to her.
Some people read too much into this and thought that Hamill has just revealed a huge spoiler. Here's Mark's comment on this:
Exactly-Talking about Daisy the person, not Rey the character! I have prior spoiler-protecting experience, btw #LOL https://t.co/JsixC2FzJC

— Mark Hamill (@HamillHimself) March 3, 2016
Complete honesty or damage control? You be the judge.
Next is Daisy Ridley. A few days ago Daisy hinted that she is going to record a song with an unnamed person, who is a massive superstar. Now she revealed on Instagram who that person is:

That's right. Daisy has just done a duet with Barbra Streisand! #Talents
Also here's Daisy backstage at the Oscars:

It suits her, right? #Soon
Also it appears that Daisy thinks Finn is Force sensitive. 
Another interview with Daisy, discussing her collaboration with Episode VIII director Rian Johnson:
John Boyega is in the gym again:
Spent the last hour filling the pick n mix and also freaking out about my adventures on set tomorrow 😁😁 #showingoff #blatantly

— John Boyega (@JohnBoyega) March 1, 2016
And he has a simple wish like we all do. Here's Boyega's brief exchange with EA about a single player campaign for Star Wars: Battlefront:
Here are two of the more interesting script excerpts that Peter Mayhew posted this week.
#Chewscript 013 Enter a 8ft savage looking creature & a tough James Dean style starpilot… @starwars @HamillHimself pic.twitter.com/G3HalynAqW

— Peter Mayhew (@TheWookieeRoars) March 1, 2016
#chewscript 014 Han Shot First. Period. @starwars pic.twitter.com/4tGOOsRp2l

— Peter Mayhew (@TheWookieeRoars) March 2, 2016
I am sure we're missing some posts, but this will have to do for this week.